UWC Student Assistants
Haley
Hey! I am a first year majoring in animal science in hopes of continuing in a career focused on animals. I love spending time with my family and pets, and being outside as much as possible. I can't wait to see everyone visiting the Undergraduate Writing Center!
Erick
I am a senior who is majoring in sport management and minoring in public relations. Some fun facts about me are that I speak 2 languages (English and Spanish), I have a passion for sports, and my favorite app is Spotify. I feel honored to be a part of the Undergraduate Writing Center.
Amy
Hi! This is my first year working as a student assistant in the Undergraduate Writing Center! I am a psychology major with a minor in women's and gender studies, and my goal is to one day obtain my Ph.D. and work as a child and adolescent therapist. I love creative writing and reading poetry, and I spend a lot of my time involved in different organizations here on campus. I am so excited to be a part of the team!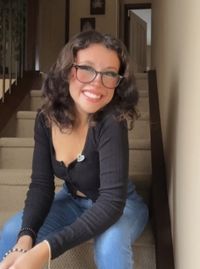 Elene
I am sophomore public relations major. I have recently started out as a Dean's Student Ambassador at the College of Media and Communication, where I get to represent the CoMC College and serve students, prospective students, faculty, alumni and others associated to the College. I am also a features reporter at The Daily Toreador, which is the Texas Tech University student newspaper. Fun fact about me is that I am from a small town called Batumi, located in the country of Georgia, which is approximately 7,000 miles away from Lubbock.
Chidera
Hi! My name is Chidera, and I'm a second-year computer science major. I enjoy going to basketball games and watching action movies. This is my first semester with the UWC, and it has been a wonderful experience!
Rosemary
Hello! I'm a junior here at Texas Tech, and I'm an English major with a history minor. I plan on going to law school after I graduate. Wreck 'em!
More Writing Center Staff
Writing Centers of Texas Tech
Address

Weeks Hall, Third Floor, 2508 15th St., Lubbock, TX 79409-5033

Phone

(806) 742-2476