Recent Events
APPLIED LINGUISTICS and ENGLISH AS A SECOND LANGUAGE
Full Scale Formative Evaluation Completed for Spoken English Fluency course
Spring, 2014 was a busy time for ESL 5310 Spoken English Fluency as Greta Gorsuch, Director of the ITA program, completed a full-scale formative evaluation of the course. Drawing on systematic and theoretically motivated classroom observations; interviews with students, teaching assistants, and instructors; and surveys with students and teaching assistants, the evaluation resulted in over 50 specific suggestions for improving use of ESL learning materials and expanding the collection of materials for students to use in and out of class.
Applied Linguistics Professional Development Talk Series: Writing a Conference Proposal for Applied Linguistics and Language Teaching Conferences
Dr. Drew Farley gave the first of four annual professional development seminars for applied linguistics students and other interested individuals at Texas Tech, including any CMLL graduate student teaching a language. Applied linguistics will be offering four professional development seminars per calendar year with each applied linguistics faculty member offering their own topic of expertise, including writing a language teaching philosophy (Dr. Dale Griffee), writing curriculum vitae (Dr. Greta Gorsuch), and using library databases for applied linguistics literature searches (Dr. Kimi Nakatsukasa).
Dr. Farley's presentation was presented as a podcast to showcase the April 5, 2014 Texas Tech University Applied Linguistics and Language Teaching Conference.
Back in the Saddle: 3rd Annual Applied Linguistics Conference on Language Learning and Teaching
On April 4th, the 3rd Annual Applied Linguistics Conference was organized by the CMLL Applied Linguistics program with the goals of promoting applied research on second and foreign language teaching and learning, and of encouraging graduate students and faculty members in applied linguistics, and second and foreign language to present their research.
Dr. Erin Collopy, Interim Chair CMLL gave some opening remarks followed by presentations by both professors and graduate students. Fields of Interest included but were not limited to curriculum, testing, course and program evaluation, course and program administration, pedagogy, second language acquisition, international teaching assistant (ITA) research, psycholinguistics, sociolinguistics, materials design, literature as sources of cultural literacy.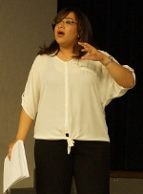 Presenters included:
Dr. Kimi Nakatsukasa (CMLL) & Dr. Dominik Wolff (Michigan State University), "Bridging the SLA Research and Teacher Training: The Responses from the Teachers"
Larissa Caye & Rosadriana Rodriguez (CMLL), "Writing to mean: How to approach cultural and social issues in an L2 Writing Class"
Yanlin Wang (TTU-Education), "The Influence of Multimedia Presentations on Learning the Culture of a Foreign Language: The Influence of Multimedia Presentations on Learning the Culture of a Foreign Language: To Personalize or Not to Personalize?"
Almekdash, Mhd Hasan (CMLL), "The Morphosynatactic Features of Arabic Language and the Microtonal Scales in Arabic Music"
Dr. Dale Griffee (CMLL) "Test Score Reliability for Qualitative Research"
Amanda Harris Rosadriana Rodriguez & Wei Jiang (CMLL), "Good Cop, Bad Cop: Exploring the Effectiveness of Oral Feedback"
Thomas Leverett (CMLL), "Cultural Flexibility as a Characteristic of Good Language Learners"
Hsiu-Chen Huang & Rena Sawano (CMLL), "Effects of Two Types of Corrective Feedback in Basic Level Japanese Classrooms: Recast & Elicitation"
Dr. Griffee's Research Methods book tops 17,000 downloads
Dale Griffee's 2012 book, An introduction to second language research methods: Design and data, topped 17,000 downloads in 2012 and 2013. This makes the book the third most downloaded publication of the entire TESL-EJ publication list, including all journal articles, special issues, and books. This new kind of e-publishing reaches wider audiences than traditional paper-and-ink book. Because many of the downloads appear to be from international sources, this book raises the profile of Texas Tech University globally.
ARABIC
The Arabic Club meets every other Thursday at the Barnes and Noble Cafe for lively discussions and fun activities.
The Arabic Club was featured in the February 19th issue of the Daily Toreador, in an article titled:" Arabic Club offers students look into culture" To read the article click here.
Drs. Hafid Gafaiti and Amani Zaier participated in the Egyptian student association debate "America vs The Middle East: Cultural and Political Misconceptions" held at the International Cultural Center, Friday 28th March 2014.
All the section of the Arabic program met at an Arabic restaurant in town. Students we divided into three groups: beginners intermediate and advanced and they played games. Two winners from each level enjoyed a paid meal. The cultural event was very successful and students enjoyed the Arabic food and the interaction in Arabic with their teachers.
Arabic Instructors Bring Awareness to the TTU Arabic Program
The Arabic program participated in the O.L. Slaton Career Fair. The Arabic program instructors enjoyed answering students' questions about the Arabic language, the Arabic world and the Arabic culture in general. For participating students having their names written in Arabic was exciting for them and heightened awareness of different languages with different alphabets.
New Traditions- 1st Annual Arabic Banquet
On May 5, the Arabic program hosted the "First Arabic Program Annual Banquet". Students and instructors feasted on traditional Arabic cuisine. Among the cultural activities the Arabic program has started a new tradition of hosting an annual banquet at the end of the spring semester. The goal of the banquet is to encourage more students to enroll in Arabic, and promote Arabic culture. Arabic food, Arabic tea and deserts were served. The first year was successful. The Arabic program is looking forward to making this event bigger in the upcoming years.
On May 6th, learners of Arabic ended the semester with a sampling of an array of Arabic treats.
ASL
January 30th, the Silent Raiders kicked off the spring semester with at Serious for Cereal where students enjoyed a delicious bowl of cereal and practiced their signing skills.
On February 13, the Silent Raiders hosted a Deaf panel with guest speakers, Ralph and Kelly Lynch.
On March 27, the Silent Raiders hosted movie night in the FL Qualia Room. Interviews for ASL Silent Raiders Club were held for the election of new officers for the academic term 2014-2015.
ASL Students Tour Southwest Collegiate Institute for the Deaf
On April 7, a group of ASL students went to tour Southwest Collegiate Institute for the Deaf (SWCID) in Big Spring. SWCID is a campus of Howard College and is the only self-contained post-secondary institution in existence. We were able to sit in on a variety of classes, including a dental lab, working with Deaf-Blind individuals, graphic arts, interpreting and English.
Everyone on campus was so welcoming. TTU students declined the offer of a voice interpreter, and they did an excellent job of keeping up with a full day of communicating in a second language. The tour guide was deaf, along with most of the instructors and staff. This is the first time that the ASL program has taken a group to SWCID and would certainly like to do it again.
ASL Silent Raiders End of Year Party
On May 4th, the Silent Raiders ended the semester with the annual Silent Raiders End of the Year Party. This year's event was held at the Grove Apartments Club House and Pool where Luke Adams and Mercedez Lemons were guest speakers. A Wii Mini, a digital camera, and an iPod shuffle were some of the great prizes that were raffled off during the event.
Silent Raiders Elect New Officers for 2014-2015
President: Nicole Hartman
Vice President: Mariah Reed
Secretary: Natalya Lopez
Treasurer: Effy Stockton
Events Coordinator: Clay Craig
CHINESE
Culture Presentations- New Feature in Chinese Beginning Level Course
As a way to familiarize students with Chinese culture 8 students in Chinese 1501, under the instruction of Yanlin Wang, gave culture presentations on Chinese Spring Festival, Chinese Zodiac, Chinese Lantern Festival and Chinese Martial Arts on January 31st and February 14th. Students gained insight into the history of Chinese festivals; experienced hands-on exploration of the weapons used in Chinese martial arts, practiced Chinese calligraphic and created Chinese traditional lanterns. Culture presentations are a new feature of the Chinese beginning-level class which is aimed at familiarizing students with Chinese culture.
CLASSICS
The Classics program hosted several Archaeological Institute of America lectures during the spring semester. The lectures series began on January 23rd with Ömür Harmanşah from Brown University.
The Story of the Red Mountain: Memory and Landscape in Hittite Anatolia
Ömür Harmansah, Assistant Professor, Joukowsky Institute for Archaeology and the Ancient World, Brown University
Dr. Ömür Harmansah works in the field of archaeology, architectural history and material culture of the Near East. He has written on cities, urban space and architectural technologies in ancient Turkey, Iraq and Syria. His academic interests involve intersections of place and landscape, bodily performance, local knowledge, collective memory, and political ecology.
Harmansah currently directs the Brown University funded Yalburt Yaylasi Archaeological Landscape Research Project, a diachronic regional survey project addressing questions of place and landscape in Konya Province of west-central Turkey. He also serves as a Commissioner at the State of Rhode Island Historic Preservation and Heritage Commission. Photo credit www.brown.edu
On February 27th, the Classics Program presented two lectures at "An Evening of Greek and Roman Combat Sport". Horn Professor David H. J. Larmour presented a talk titled, "A Roman in the Arena? The Case of Gracchus the Retiarius." Joshua Willms, Classics major, presented a lecture titled, "Solving an Ancient Combat Mystery with Brazilian Jiu Jitsu: The Death of Arrichion the Pankratiast".
On February 28th, The Classics Research Forum presented a talk by Corby Kelly, Assistant Professor of Classics, titled "Latin Poetry: Text, Performance, and Interpretation" in the FL Qualia Room. Dr. Kelly discussed how Roman poetry was composed not only to be read, but also to be listened to. He argued that using techniques drawn from contemporary theater studies can help us open up new avenues of interpretation for Roman poetry.
"Julian Suppe CLASSICS STUDY ABROAD PRIZE" in the amount of $500. Awarded to a Classics undergraduate major for Study Abroad. Recipient in 2013: Ryan Glidewell
"David S. and Elizabeth Larmour GREEK COMPOSITION PRIZE", awarded to the best translation into Greek of a set passage by a current Classics graduate student $250 for Winner, $150 for Runner-up. For 2103, for a passage from Lord of the Flies, the winners are: 1st Place: Cait Mongrain; 2nd Place: Jordan Piel. Honourable mentions to Edgar Garcia and Brandon Baker.
Howard & Fotini Perlmutter Classics Scholarship
Prof. David Perlmutter, Dean of the College of Media and Communication, has endowed a Classics Scholarship which will be eligible for awarding in 2016. This prize is in memory of Dr. Howard Perlmutter and in honor of Dr. Fotini Perlmutter to be designated for an undergraduate student majoring in Classics. The prize will be awarded to the student with the best essay or project on Roman or Greek Civilization as selected by the Classics faculty.
The Classics Program hosted a lecture presented by Dr. Thomas K. Hubbard, University of Texas, Austin, titled, "Changing Attitudes toward Homosexuality in the Athenian Democracy" on March 3, 2014.
In his lecture Hubbard pointed out a decline of the pederastic themes in the visual arts and literature from the end of the VIth century BC onward. In his analysis of the potential causes which decreased the representation of pederastic relationships, the speaker took into consideration demographic, political and social changes associated with the emergence of democracy, the end of the Persian Wars, and the Athenian contact with foreign cultures. Due to these factors, Athens needed to increase its population by encouraging its citizens to seek marriage and family life at the expenses of other types of relationships.
On April 2nd, Professor Tim Johnson, Chair of Classics- The College of Charleston, presented a lecture entitled, "Lyric Madness: Playing Politics with Rage" to students and faculty. (Photo credit)
On April 3rd, Dr. Katherine Huntley, Boise State, gave a talk entitled, "Identifying Children's Graffiti in Roman Campania" as part of the AIA lecture series.
Dr. Huntley completed her PhD in ancient history and archaeology at the University of Leicester in the UK. Her primary research focus is Roman material culture, particularly related to daily life, women, gender and children; her doctoral thesis was specifically concerned with the material evidence of children and childhood from the first through the fifth centuries CE. Her other interests include family and domestic life in the ancient and medieval world, religious belief and experience, and graffiti. She has participated in archaeological projects throughout Italy, Romania and England. For the past four years she has worked as an archaeological illustrator at Pompeii.
On April 10th, the Classics program and the Lubbock Chapter of the Archaeological Institute of America hosted a lecture given by Stephen Harvey, Assistant Professor at Stony Brook University titled, "Egypt's Last Royal Pyramids: The Monuments of King Ahmose at Abydos".
Attendees learned that over the past 20 years of excavation, the Ahmose and Tetisheri Project at Abydos, Egypt has revealed a surprising amount of information about the monuments of the founder of Egypt's New Kingdom, the warrior-king Ahmose (ca. 1550-1525 BCE) and his family. Although Ahmose's monumental pyramid at Abydos has been known since its discovery in 1900, the existence of a series of other temples at its base went unsuspected until work was resumed in 1993. A startling discovery came in the form of fragments of the pyramid temple decoration, including the oldest images of horses and chariots in battle ever found in Egypt, and these are the only known representations of Ahmose's defeat of the Hyksos, rulers of Syro-Palestinian origin who occupied northern Egypt for a century. More recently, a second royal pyramid built by Ahmose could be identified in the form of a smaller brick structure first excavated over a century ago. Fragments of a monumental stone inscription within it have long been known, describing Ahmose's intentions in creating a monument to his grandmother, Queen Tetisheri. However, recent excavations have brought to light not only additional fragments of this text, but also proof of the structure's identification as a pyramid, in the form of its limestone capstone, or pyramidion. Taken together with evidence for worship of King Ahmose and his family for three centuries, these discoveries raise important questions about the end of the tradition of royal pyramid building in Egypt, and the birth of a new era best symbolized by the hidden tombs in the Valley of the Kings at Thebes. (Photo credit)
CMLL
On February 25, CMLL welcomed back previous Chair, Dr. Laura Beard, University of Alberta, who presented a lecture entitled, "Getting to the Heart of the Matter: Transforming Language and Literature Degrees for a New World".
The addition of new tables and chairs to the 2nd floor lobby provide a quiet environment for students.
COMPARATIVE LITERATURE PROGRAM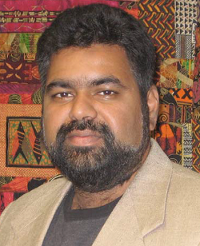 On February 14, 2014, the Comparative Literature Program sponsored a talk which arose out of some of the central concerns in Dr. Gaurav Desai's recent book, Commerce with the Universe: Africa, India and the Afrasian Imagination (Columbia University Press, 2013). Desai, Professor of English, and African and African Diaspora, Tulane University, gave a talk titled, "Gandhi as Allegory" which focused on Gandhi's conceptions of race after having spent two formative decades in South Africa in his early career . The talk asked, "How are we to evaluate ideological claims across history?"
Gaurav Desai is the author of Subject to Colonialism: African Self-fashioning and the Colonial Library (Duke University Press,2001) and editor of Teaching the African Novel (MLA, 2009). With Supriya Nair he has co-edited the landmark Postcolonialisms: An Anthology of Cultural Theory andCriticism (Rutgers University Press, 2005). Among his other publications are articles in PMLA,Genders, Representations,Boundary2, Interventions, Research in African Literatures, African Studies Review and Cultural Critique. Recipient of a residential fellowship at the National Humanities Center in 2001, Desai has also been awarded a Rockefeller Foundation award, a visiting fellowship at the Center for Research in the Arts, Social Sciences and the Humanities at Cambridge University, and an ACLS Burkhardt Fellowship for his research. In 2004, Desai was made a life member of Clare Hall, Cambridge University.
On Wednesday, April 16, 2014, Nancy Armstrong, PhD (Gilbert, Louis, and Edward Lehrman Professor of English at Duke University and Journal Editor of Novel: A Forum in Fiction) presented a lecture entitled, "The Double Life of Variation in Darwin's Garden". The lecture was sponsored by the Comparative Literature and Italian Programs, the Department of Classical and Modern Languages and Literatures, Horn, Qualia, and Mellon Professor Hafid Gafaiti, and the College of Arts and Sciences.
46th Annual Comparative Literature Symposium
On April 11-12, The Comparative Literature Program hosted the Annual Comparative Literature Symposium: Representing Reality in Text and Image: Clichés, Stereotypes, and Caricatures. Over 60 national and international scholars gathered to discuss the topic. The interdisciplinary symposium was organized by Drs. Christopher Bains and Anita McChesney. It obtained significant funding from across campus.
Text and image have traditionally been the dominant concepts for understanding and questioning our relationship with reality. They also constitute the fundamental building blocks of literature, cinema, photography, and digital media. From theories on mimesis (Aristotle, Quintilian, Lukács, Ricoeur) to more recent reflections on simultaneous media-based realities (Benjamin, Barthes, Baudrillard, Lyotard, Flusser), we have come to see reality as primarily constructed and mediated through the interplay of text and image. Artistic representations of reality and the illusion of transparency that they perpetuate lead us to question whether we inhabit a parallel world of our own creation.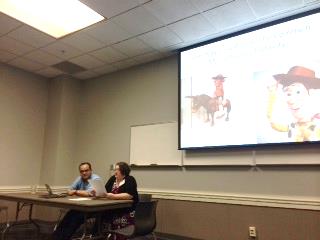 This conference focused on artistic representations of reality and their consequences, in particular the construction of clichés, stereotypes, and caricatures. These figures often take on a life of their own and escape all efforts to contain them. They create a self-sustaining world of textual and iconographic reductionism, which professes to capture the essence of truth by poking fun, questioning, celebrating, or even demeaning its subject. The distinct relationship that clichés, stereotypes, and caricatures have with reality—either as heightened reality or insidious misrepresentation—is determined in the contextual instant, and invites us to probe the conditions and boundaries between fact and fiction, reality and representation.
Keynote speakers included:
Kenneth Calhoon, University of Oregon
Gerald Gillespie, Emeritus Stanford University
Abigail Solomon-Godeau, University of California, Santa Barbara
Alexandra K. Wettaufer, University of Texas at Austin
Hafid Gafaiti
Jérôme Royer
Victoria Surliuga
Ibou Tall
Guelilia Teferra
Juan Morilla
Dora Aranda
Alberto Pérez Martinez
Monica Fernandez
Irina Mozuliova
Bettina Christner
Julio Cesar Pérez
Janie Covarrubias
John Baron
Ruben Varona
Leah Michele Thorne
Joe Price
Alecia Davis
Tony Qualin
Don Lavigne
John Beusterien
Erin Collopy
Charles Grair
Karlissa Black
Corby Kelly
FRENCH
French Club Activities
This semester, the French Club, organized by the French graduate students, met twice weekly meetings at J&B Coffee Shop, making it possible for French learners to share a cup of coffee with native and fluent French speakers, thus getting closer to the French culture and to the French graduate program.
Games: Through popular games such as Le Jeu des Loups-garous (the Werewolves game), Time's Up! (an extended version of Taboo), or a Word Pictionary, meetings were enriched because they incited players to think and stimulate reflection and knowledge. French club is a good way to make friends, create social bonds, and in doing so, practicing the language – a practice which is very much needed by any second-language learner.
Tutoring Provided : French is a living tongue; it is not only a sum of grammatical terms, fixed literature references and knowledge, but also a medium that opens up the whole world, in relation to daily life, and life itself.
Movie Nights: Tech French Club showed free popular contemporary French movie in the Foreign Languages Building to French students present also a representation of the French culture through the cultural lens of French speaking filmmakers and actors. We try to show a least one movie every other week.
World-Wide Showcase, CMLL Cultural Day: Our members have also been involved in other cultural events such as the World-Wide Showcase, the Cultural Day in the Foreign Languages Building, or the assembly of Pi Delta Phi.
"Special thanks go to this year's officers: Kelly Closse, Sarah Miller, Jesse Latimer, Iboo Tall, and all the students who helped create such a wonderful social club." - Jérôme Royer (French Club Vice-President)
On April 25, Pi Delta Phi held the annual initiation ceremony during which 6 new members were added. Elections of officers were held and scholarships were awarded for the Academic Year 2014-2015.
The French Club elected new officers include:
President: Janice O'Connor
Vice President: Dalel Ourajini
Secretary-Treasurer: Rachel Hicks
2014-2015 Scholarship recipients include:
Smiling Angel Fund for Study Abroad in Reims, France
Megan Ansari
Ashlyn Bennett
Gabriella Cabello
Joseph Gardner
Lisa Hon
Kaitlyn Lawver
Emily Nelson
Kendra Snelson
Kelly Wells
Alexander-Conway Fellowship and Scholarship
Joseph Gardner
Melissa Langston
Emilie Mathis
Janice O'Connor
Dalel Ourajini
Gauthier Petit
Emeline Tetevuide
Kelly Wells
Christine de Pizan Endowed
Victoria Howard
Kendra Snelson
Beatrice Alexander
Ibrahima Tall
The annual French Club held a picnic at Wagoner Park on April 27th.
On Friday, May 2nd, French Day took place in the FL Qualia Room which mobilized more than 60 students and resources in order to celebrate both the French language and the end of the semester. Students enjoyed authentic French food, oral readings of students' original French poems, a lecture about "la francophonie" by graduate student, Ibou Tall, watching a French play written and directed by the Tech French Club President, Kelly Closse and enacted by French students.
Spring Lectures in French
Dr. Starra Marie Priestaf, Emory University, presented a talk entitled, "Artificial Boundaries: On Monsters and Marvels in Early Modern Culture" on February 14 in the Qualia Room.
GERMAN
Kaffeeklatsch and Stammtisch
Weekly meetings for Kaffeeklatsch at J&B Coffee Co and Stammtisch at Crickets provided language skill practice for learners of German.
Spring Lectures in German
On February 13, Dr. Belinda Kleinhans, University of Manitoba, Winnipeg gave a talk entitled, "Encountering the Other in a Time of Crisis: Animals in Post WWII Literature".
German Top Chef Competition
On March 7th, the German Club organized the German Top Chef annual competition and tasting fair. Participants included individual students, small groups, and entire classes. Learners of German vied for prizes for best table decoration, best savory dish and best sweet dish. With excellent culinary skills demonstrated by each participant, judges had their worked cut out for them in determining the winners of this year's competition.
Winners:
Beste Hauptspeise – Best Savory Dish
Bastian Bräuninger (Labskaus)
Greg Charlesworth (Leberkäse)
Logan, Harrison, Allison (2302-002) (Kartoffelsalat)
Beste Süßspeise – Best Sweet Dish
Charles Elliott (Apfelkuchen)
Ali Ahmed (Rote Grütze)
Karla Bonenberger (Haman-Taschen)
Beste Speise – Best Food
Ali Ahmed (Rote Grütze)
Beste Tisch – Best Table Decoration
German Class 2302-002
German Class 1502-002
German Class 1507-002
German Immersion Weekend
The weekend of April 5-6, the Texas Tech German Club hosted an immersion weekend at Palo Duro Canyon State Park near Amarillo. The event was attended by several students and a faculty member, and its purpose was to give students an opportunity to practice their German skills in an immersion environment. Participants camped, cooked, hiked and went horseback riding in the scenic canyon. The trip was a successful experience for all involved!
On Thursday, May 1st , the German Program held their annual Awards Ceremony at Gardski's Loft. More than 40 students and faculty attended the event, which gave recognition to the outstanding German students. The first round of awards went to the two top students in each of the undergraduate German classes. They received a certificate and a German book as recognition of their excellent work in the class. The German scholarships for 2014-15 were also announced, which included: 8 graduate and 1 undergraduate awards from the Theodore W. Alexander Scholarship, German study abroad scholarships for Summer 2014 (to Andreas Lauren, Courtney Fry and Tanner Haynes), a CMLL designated scholarship to the 11 students studying in Munich Summer 2014, and Charles B. and Jeanne Qualia Scholarship awards to Kathryn Shepherd and Allison Burrell. The German Faculty congratulates these students for their active engagement and excellence demonstrated.
Outstanding Student Achievement awards:
First Year:
Alex Baker
Kristen Beck
Sarah Hohstadt
Luis Jimenez
Maireem Maneje
Preston McDonald
Andrew Stephens
Second Year:
Edward Auitevis
Joseph Bryan
Jonathan Clark
Shannon Jackson
Joel Lee
Melissa Rafferty
Kathryn Shepherd
Third Year:
Tanner Haynes
Sarah Mende
Robert Brock
Jackie Valdez
Scholarships Recipients for the Academic Year 2014-215:
Study Abroad:
Lauren Andreas
Kristen Beck
Greg Charlesworth
Taylor Chew
Matthew Finch
Courtney Fry
Tyriece Hampton
Tanner Haynes
Michael Brian Lindsey
Kristen Weasenforth
Theodor W. Alexander Scholarship in German:
Bettina Christner
Rachel Doran
Jeremy Hogan
Kristen Weasenforth
Matthew Stallings
Allison Burrell
Bastian Braeuninger
Matthew Woodard
Lennart Manthei
Charles B. and Jeanne Qualia Scholarship in German:
Kathryn Shepherd
Allison Burrell
RUSSIAN
KORSHUNOV Speaks to Learners of Russian
On January 24th, Mr. Georgy Korshunov, Vice President of Administration and external Affairs of USTU, Chief of Staff in the President's Office of Ukhta State Technical University, and Coordinator of Russian National Consortium of minerals, oil, and gas complexes, gave a talk to learners of Russian on January 24 in FL 103. He works closely with Lukoyl and Gazprom which are leading Russian oil companies.
In his talk, Mr. Mr. Korshunov presented opportunities to work and study abroad with his university and how financial assistance is available for students who are pursuing degrees in engineering, playing basketball, or learning the Russian language.
A Valentine to remember!
On February 14th, students of Russian enjoyed learning popular Russian love songs. Students discovered some dialogue-style songs every Russian knows and loves to sing.
Maslenitsa Celebration
On February 26th, the Russian Club celebrated Maslenitsa, an Eastern Slavic Spring festival whose origins are found in both pagan and Christian traditions. The most traditional food of Maslenitsa is bliny (crepes). Round and golden, they resemble the sun and symbolize ongoing circle of life. Celebratory activities during Maslenitsa include children's entertainment such as snow ball fights, sledding, wrestling competitions, and plenty of sleigh rides. Russians consider Maslenitsa a suitable occasion to celebrate Russian culture, traditions, Russian spirit, and simply enjoying great food, outdoors, and celebrating together upcoming Spring. Russian Club members enjoyed learning and experiencing this traditional festival during which they learned famous Russian proverbs, and tried traditional food that is served for this popular festival.
Metropolitan Opera
On March 1st, learners of Russian and faculty went to see "Prince Igor" by Alexander Borodin. The Metropolitan Opera broadcast was sponsored by the TTU Honors College. Students enjoyed Borodin's amazing style of music, practicing comprehension skills listening to spoken Russian, an innovative stage design by Dmitri Tcherniakov, and the intermission interviews with lead singers.
Russian Spring Lectures
On March 27th, Peter DeFonce, the Parish Priest of St. Andrew Greek Orthodox Church of Lubbock, presented a lecture entitled, "The Storytelling Capacity of Russian Icons". DeFonce explained the symbolism of Russian icons and their storytelling capacity. Students of Russian practiced how to "read" icons from 12-15centuries, the visual aid for ancient Russians, and continue to be the largest part of Russian history and culture to the present.
On April 2nd, the Russian Club hosted a dynamic and historically informative lecture by Political Science Professor Michael Rybalko entitled, "Vladimir Lenin: The Man Who Shook the World". Rybalko shed light on the Revolutionary Russia, Lenin, and the Soviet economy. A question and answer session provided students the opportunity to ask questions regarding Lenin, Stalin, and other former Russian Communist Party leaders. An interesting discussion was evoked on current Russian political affairs and the effect it has on the world's stability, politics, and economy.
Roundtable Discussion on Ukraine
On April 25th, Professors Frank Thames, Anthony Qualin, and Alan Barenberg welcomed Ukraine specialist Professor Stephen Bloom for a roundtable discussion on the situation in Ukraine.
Russian End of the Semester Banquet
On April 26th, the Russian Program, best students, and everybody who speaks in Russian shared an end of the semester banquet with great food, fun activities, and trying on Russian and Ukrainian folk costumes in a cozy atmosphere.
Best Russian First-Year Student Zachary Mitchell was announced at the banquet.
SPANISH
New Spanish Club added to the Spanish Program
The Spanish Club aims to promote the study of the Spanish language and culture through a variety of activities, from playing Scrabble in Spanish to Mesas de Conversación. Learners of Spanish at any level were invited to join them on Wednesdays at 3 p.m. in the Commons (18th Street, east of Boston Ave).
A variety of student activities for of all levels of Spanish learners were offered in order to practice conversational skills while earning extra credit, including Tuesday Spanish movie nights, the Wednesday noon "Mesa en español", and Thursday Café en español
Inaugural "Trivia Challenge"
On March 6th, the Spanish program and the Spanish Club presented the inaugural "Trivia Challenge" in the Soapsuds Room – TTU Student Union. Teams comprised 4 students demonstrated their cultural knowledge of Hispanic culture through 4 themes: Juanes (popular Colombian singer), Geography of South America, Pan's Labyrinth, and 2014 Spanish soccer league.
Rematch: Second Trivia Challenge
On April 10th, the 2nd Trivia Challenge was held for learners of Spanish. Once again, students formed teams of 4 for the competition. Trivia themes included: Alejandro Sanz, Las Fallas and San Fermín, the secret of their eyes, and El juego de pelota Azteca.
Spring 2014 Trivia Challenge Winners
Trivia Challenge 1
Trivia Challenge 2
Symposium on Heritage Language Speakers of Spanish
On February 21-22, CMLL hosted its first symposium on Heritage Language Speakers of Spanish. As applied linguists we feel we have something to offer to this growing field, as heritage speakers of any language are also language learners!
Organized by Dr. Diego Pascual and assisted by CMLL graduate students, this event offered a total of 34 academic presentations whose topics ranged from formal research findings to the teaching of Spanish to heritage language learners. Approximately 100 people -including students, K-12 teachers, and researchers-were in attendance and participated in the discussions held at the Student Union Building over the two-day conference. Given the overwhelming positive response, next year's event will also be held at Texas Tech University and promises to be bigger and better.
XV Annual Céfiro Conference
Alda Blanco
Laura Martins
Elpidia Garcia Delgado
Céfiro, the Spanish and Portuguese graduate student organization, hosted its XV Annual Conference, "Inconvenient Literatures: Between Memory and Oblivion", from April 17 to April 19. The keynote speakers for this conference discussed different issues that pertain to memory and oblivion. Mexican writer, Elpidia García Delgado, presented about the maquiladora (factory that assembles products to export to other countries) an often forgotten subject due to its working conditions in the border between Mexico and the United States. Moreover, two scholars gave keynote addresses about the topics of memory and oblivion in two different areas of literature. Dr. Alda Blanco (San Diego State University), specialist in Modern Peninsular Spanish Literature, spoke about her research on the imperialism present in the Spanish consciousness of the 19th Century. Dr. Laura Martins (Louisiana State University), specialist in Southern Cone literature and film, discussed memory in contemporary Argentina.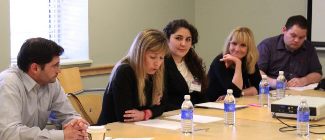 CMLL was well represented at the XV Annual Céfiro Conference. Dr. Hafid Gafaiti, Horn and Qualia Professor, shared his most recent research in this year's conference. In addition, CMLL graduate students showcased their research on literature and culture. The panelists included: María Luz Bateman, Rolando J. Díaz, Sonia Loza, Susana Villanueva Eguía Lis, Janie Covarrubias, Irina Mozuliova, John Baron, Magnolia Jurado, Mónica Fernández Martins, Dora Grisel Aranda, Rubén Varona, Edith Lozano-Pozos, Alejandra Cerdas-Cisneros, Omar Corral, Sabrina S. Laroussi, and Heath Wing.
Tribute to García Márquez, Nobel Prize in Literature
CMLL Spanish program celebrated the life and mourned the death of one of the most influential writers of the 20th century, Gabriel García Márquez on April 29th. Special featured speaker, Dr. Oberhelman, noted Garcia Marquez scholar and several faculty members shared anecdotes and impressions of this great novelist. The audience listened to poetry reading and except readings of One Hundred Years of Solitude in several languages.
Classical & Modern Languages & Literatures