Frequently Asked Questions
For Students
Note: All courses and most of our Credit by Exams will utilize an online proctoring service called Proctorio. Please learn more about online proctoring on our Proctorio Student FAQ page. In order for the online proctoring service to work correctly students MUST use the Google Chrome browser and install the Proctorio Extension. Instructions are available on the Proctorio Student FAQ page.
TTU K-12 strongly recommends the Google Chrome browser. Chromebooks and Chrome OS are not supported due to the use of Java in Blackboard.
To view the Blackboard Support article regarding browser compatibility. Although approved, not all browsers provide a quality user experience across all devices and platforms. Please use this Browser Checker to see if your system is compatible.
Safari for Windows is no longer supported by Apple and no longer offers Safari updates for Windows. Safari 5.1.7 for Windows was the last version made for Windows, and it is now outdated. Windows users should select another browser.
---
---
Creating your Focus Application
First-time students should create their account via the apply button, which will allow for creation of the student's accounts.
Page one of the application indicates which required fields are required to submit the information for the student.
Page 2 describes the program different programs offered at TTU K-12.
Page 3 asks about the student's information.
Page 4 talks about the student's demographic information.
Page 5 is an intentional blank page, and students may select "Next Page".
Page 6 asks about the mailing address information for the parent/guardian.
Page 6 then continues on to gather the parents/guardian information.
Once all information has been completed, the following screen will display for the Parent/Guardian Information.
Page 7 then asks about which school the student attends. Students must select the school code and name provided by Liberty Education.
Page 8 then asks about how they heard about the program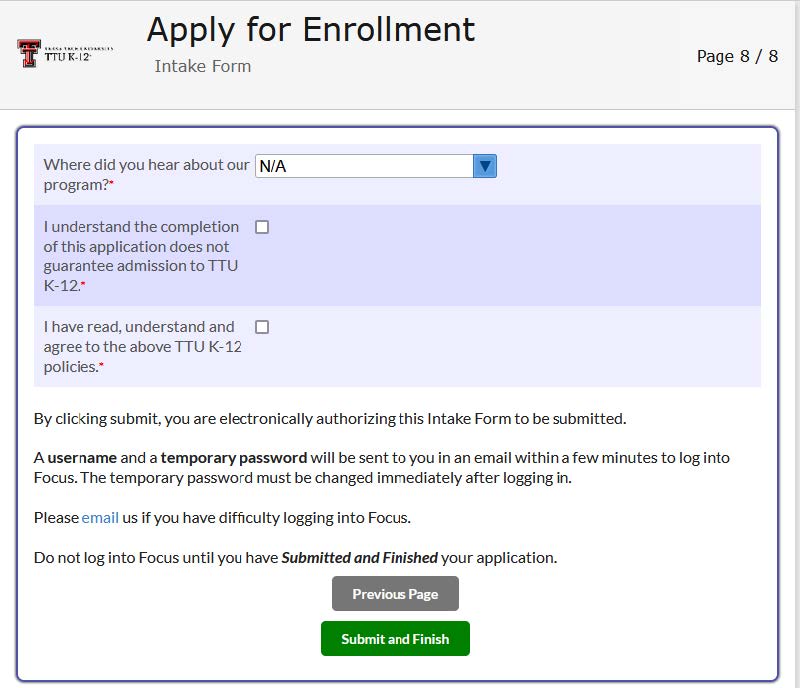 Once Complete, the customer will receive notification that their application has been submitted.
---
Logging into the TTU K-12 Focus Portal
Upon accessing the login, please enter your username and password.
---
Back to Top
Dashboard
After successfully logging into the portal, you will be taken to your Dashboard that shows My Active Courses. The dashboard is your starting point into managing your profile, accessing courses, reviewing the course catalog, utilizing forms and downloads, and contacting TTU K-12.
---
Back to Top
Biographic Information
The Texas Education Agency requires that TTU K-12 collect and report basic demographic information of our students.
What biographic and contact information is displayed via My Profile on the TTU K-12 portal? Biographic information is displayed to you by clicking on "My Information" on the left-hand menu. The "My Information" displays contact information such as home address, business address, and other address with corresponding phone numbers and email addresses. Contacts or authorized users who can view your profile can be displayed here under "Linked Users," or you may request an authorized user by clicking on the "New Contact" button and entering the required information.
---
Back to Top
Preferences Tab
The preferences tab will allow the student to select preferences such as display options and updating their password:
Please note, that for security reasons, passwords must meet the following requirements:
must be at least 9 characters long,
must contain a mix of upper- and lower-case characters,
have at least 1 numeric character,
have at least 1 special character.
The password-change dialog will display a Valid Password message when the typed password meets all the requirements.
---
Back to Top
Course Schedule
Students can see what courses they are currently taking by clicking on the Class Schedule menu on the left side. If you would like to view additional details for each course, please select "class schedule" which will provide information on current courses and teacher information. Meeting Days, Room, Term, Attended Hours, and Print Reauthorization are not currently used by TTU K-12 and can be ignored.
---
Back to Top
Grades
How do I find my Final Course Grade? There are two ways that the overall course grade may be viewed. You may either access the course grade on the portal page, or by selecting "Grades." A list of completed courses with the option to print copies of the grade reports is available.
---
New Students
If you are new to TTU K-12 you will need to fill out our Intake Form to create an account. The intake form is used for all students regardless of the program the student intends to enroll in and does not guarantee admission to the Full-time Diploma Program. The Intake Form collects student information and demographic information required to establish a student record. Students will have an opportunity to change programs from within Focus if they desire. If you are withdrawing from your local school district and want to become a full-time student at TTU K-12, there is a Full-time Student Application under Forms Summary in the Student Portal. There will be a $150.00 non-refundable admission fee charged to apply to the Full-time Diploma Program.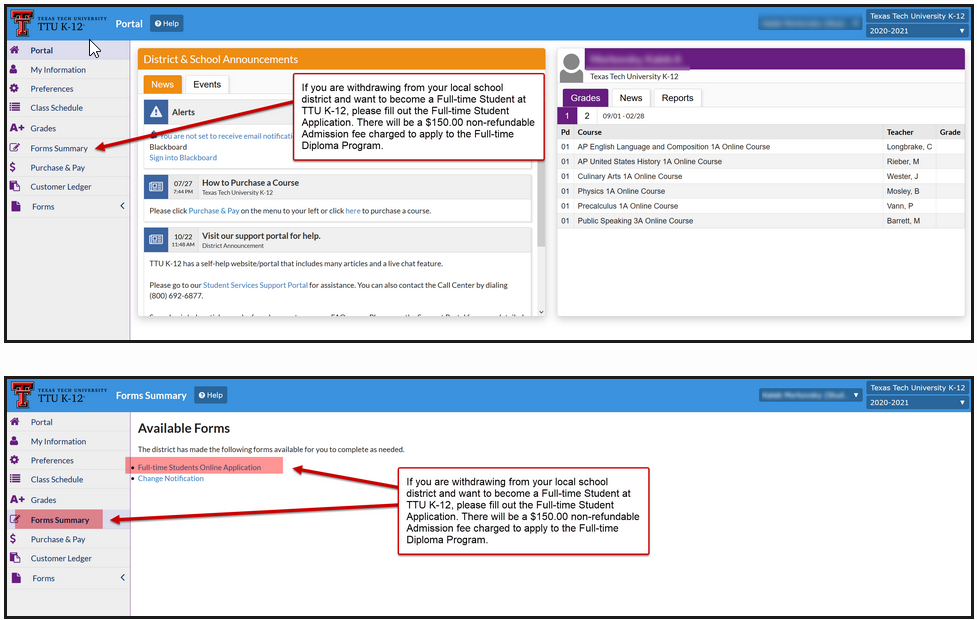 ---
Back to Top
Purchase a New Course
The fastest way to purchase a new course is to click on "Purchase and Pay" on the left-hand menu. From the "Purchase and Pay" page, you can click on any course or CBE you wish to take. From there, you will proceed to the shopping cart and navigate through the scheduling process.
Purchase and Pay
Students can purchase additional courses in the Purchase & Pay menu. This menu opens the Focus catalog where students can search or filter courses they want to purchase.
Checkout
In the catalog you can search or filter to only the courses you would like to see. Search by Keyword, Subject, Course Name, Course Type, and Delivery Methods. Once you have searched or filtered for the course you want to purchase, Add to Cart, and then click Checkout.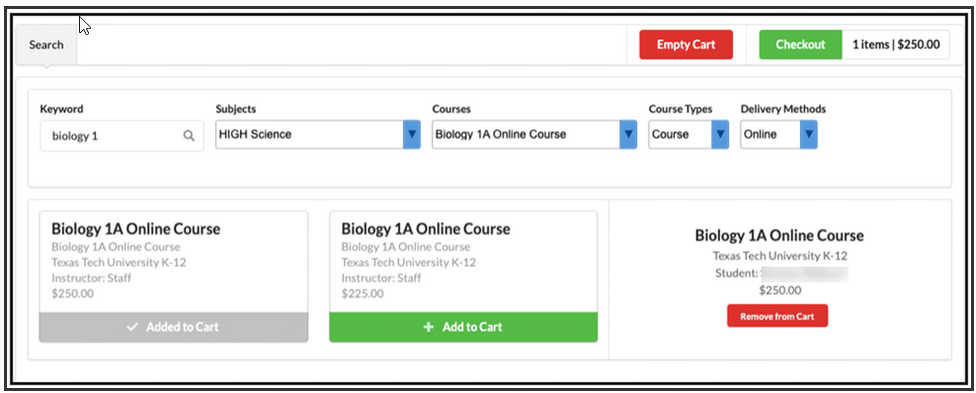 Checkout Detail
Some courses may have additional items available for purchase such as Optional Print Materials.
---
Back to Top
How do I print out a receipt from the Focus Portal?
Students may print out a copy of their receipt from the Focus Portal.
Once you have logged into Focus, please select on Customer Ledger:
Once opened, you should see the student's ledger to the right. From this page, students may either export the ledger to excel, or print out a copy for their records.
---
Back to Top
Forms
To access a specific form within the Focus portal, go to the left-hand menu and expand "Forms" or "Forms Summary." The selections may include:
Student Accommodation Request Form
Change Notification Form
Request an Extension Form
Withdrawal Request Form
After clicking the desired form, you will be automatically directed to a different page, so you can view more details.
---
Back to Top
Blackboard Link
How do I access the course within the Learning Management System? To access the course in the Learning Management System, please click on "sign into Blackboard" on the portal page.
Upon logging into Blackboard, you will see a list of the courses that you are enrolled on the right-hand menu: