Chair's Message
October 2016:
Dear Alumni & Friends of the ECE Department
The Electrical & Computer Engineering (ECE) Department continues to be a vibrant community of scholars that excel in teaching as well as in research. The department has one of the most active research programs at Texas Tech University, with more than $5.2 million in new funding in FY 2016, topping all other departments at TTU. In addition, seven of our professors are members of the Texas Tech Teaching Academy delivering outstanding education from the Freshmen to the Graduate level.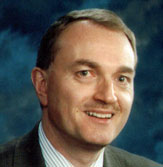 Recent additions to the faculty strengthen both established research fields as well as emerging areas such as Bio-Medical research. We recently hired Dr. Jo Woon Chong who works in bio-medical sensors and data analysis. Dr. Chong is also adding expertise to our undergraduate teaching portfolio for the Computer Engineering degree. In addition we recently hired 3 research professors, Argenis Bilbao in the area of Renewable Power and Power Electronics, as well as Jing Li and Li-Chun Tung in the Area of Nanophotonics. We also have 2 faculty searches in the area of Pulsed Power and Nanophotonics.
We are proud of our graduates that are highly desirable for recruiters and join large groups of Alumni at leading technology companies such as Texas Instruments, National Instruments, Oncor etc.
Thank for your interest in our ECE Department. You are always welcome here and I would enjoy a call or a personal visit.
Dr. Michael Giesselmann, P.E.
Professor & Department Chair
Department of Electrical and Computer Engineering
Phone: 806-742-3533
Michael.Giesselmann@ttu.edu
Edward E. Whitacre, Jr. College of Engineering