Ritchie tapped as new chair of Texas Tech Department of Plant & Soil Science
By: Norman Martin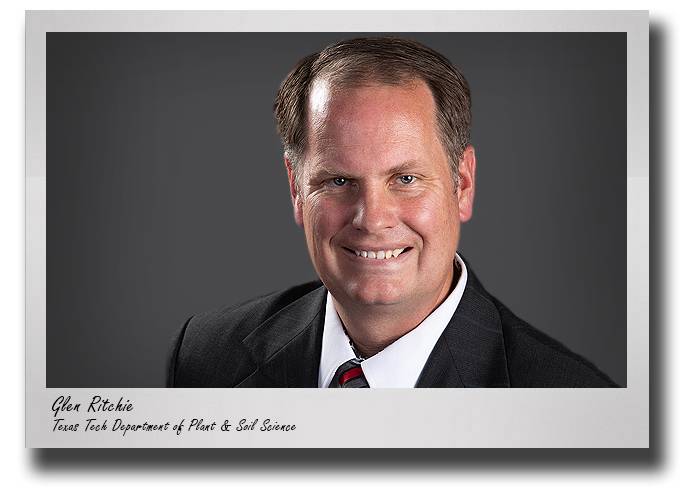 A noted cotton science researcher has been named the new chair of Texas Tech University's Department of Plant and Soil Science, according to officials in the university's College of Agricultural Sciences and Natural Resources. Glen Ritchie, an expert on the environmental factors affecting cotton yield and quality, will officially step into his new administrative post on Sept. 1.
"I look forward to helping the Department of Plant and Soil Science build on the successes we have enjoyed in recent years by continuing our focus on research, teaching, and outreach as we strive toward departmental achievement and recognition," Ritchie said.
CASNR Dean William Brown noted that that Ritchie's research has focused on solving real-world problems, which are both applicable for today and setting the foundation for future technologies and solutions.
"Dr. Ritchie has developed a very successful, model faculty program at Texas Tech integrating his teaching, research, and service into preparing students for the market, developing new knowledge for those we serve, and engaging with our clientele," Brown said. "He has a passion for teaching and mentoring undergraduates and graduate students, and successfully places them in leading positions in the industry."
Texas Tech's Department of Plant and Soil Science has more than 230 students. Its research program centers on addressing local, regional, national and global plant production and environmental challenges. The department's three-year research expenditures exceed $4.1 million a year.
The department offers bachelors, masters and doctoral degrees in plant and soil science, along with four post-graduate certificate programs in crop protection, fibers and biopolymers, horticulture landscape management and soil management.
Prior to joining the Texas Tech faculty in 2011 as an assistant professor in the Department of Plant and Soil Science with a joint appointment to Texas A&M University's Texas AgriLife Research, Ritchie served as an assistant professor at the University of Georgia.
The Idaho native received his bachelor's and master's degrees in crop science and crop physiology from Utah State University. His doctorate in agronomy is from the University of Georgia. Recent honors for Ritchie include the CASNR Student Advising Award (2016), and being named 2011 Outstanding Young Physiologist at the national Beltwide Cotton Conferences. He has served as associate editor and technical editor for Crop Science, and he is a member of the American Society of Agronomy, Crop Science Society of America, and the Soil Science Society of America.
CONTACT: William Brown, Dean, College of Agricultural Sciences and Natural Resources, Texas Tech University at (806) 742-2808 or william.f.brown@ttu.edu
0618NM19