NRM students, faculty shine at Texas Chapter of the Wildlife Society meeting
By: Norman Martin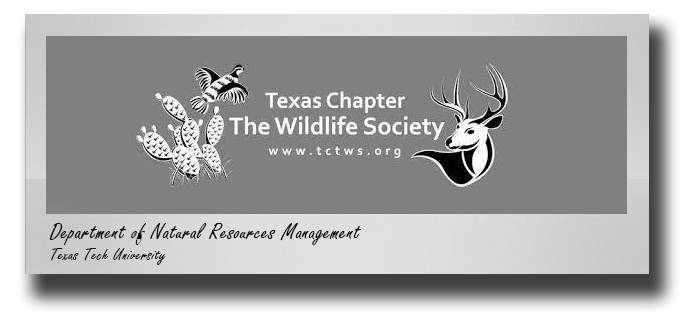 Several outstanding students, graduates and faculty members within Texas Tech University's Department of Natural Resources were featured in awards presentations during the annual meeting of the Texas Chapter of the Wildlife Society. The honors were presented on Saturday (Feb. 26) at the Horseshoe Bay Resort in Marble Falls, Texas.
Katheryn Watson, a recent doctoral graduate from Tech's Department of Natural Resources Management, won first place in the Clarence Cottam Award Session. The Clarence Cottam Award is the most prestigious student award given by the Texas Chapter of the Wildlife Society to recognize and promote student research excellence in wildlife biology, conservation and management.
Watson presented her doctoral research where she examined Swainson's Hawk ecology across a landscape of increasing wind energy development. Watson's advisor during her graduate studies was Clint Boal, a professor with Tech's Department of Natural Resources Management and assistant leader of the USGS Texas Cooperative Fish and Wildlife Research Unit in Lubbock. Following graduation, Watson started her career as an assistant professor of biology at Southern Arkansas University and serves as lead advisor of their wildlife biology program.
Meanwhile, Lainey Sagraves, a senior from Hawley, Texas, was presented first place in the program's Outstanding Undergraduate Poster Awards. Her presentation was titled, "An Assessment of Fine Scale Microclimate Conditions in Purple Martin Artificial Housing and its Influence on Nest Survival." Sagraves also received the Colin C. Caruthers Memorial Scholarship, which is given to the top- ranking wildlife student in Texas. She is the third consecutive The Wildlife Society at Texas Tech undergraduate to win the honor.
In other action, Blake Grisham, director of the Llano River Field Station and an associate professor in Tech's Department of Natural Resources Management, transitioned to president-elect of the state chapter for 2022-2023, and will become president in 2023-2024. Also Grisham; Amarillo-based wildlife biologist Jim Ray; and Joe Siegrist, president of the Purple Martin Conservation Association, garnered 'Outstanding Popular Article' for their publication, "Maintaining Purple Martin's Majesty," which was published in the Wildlife Professional (Feb. 2020).
Finally, The Wildlife Society at Texas Tech was awarded 'Student Chapter of the Year' for their efforts during the 2021 calendar year. The honor is presented to the state's top preforming, official student organization affiliated with The Wildlife Society. As part of the process, student officers with the Tech chapter submitted a 60-page application to compete against 12 other Texas student chapters.
CONTACT: Warren Conway, Chair, Department of Natural Resources Management, Davis College of Agricultural Sciences and Natural Resources, Texas Tech University at (806) 834-6579 or warren.conway@ttu.edu
0317NM22