Ballet Gives Teen Opportunities to Travel; TTU K-12 Gives her Freedom to Study Ballet
By Leslie Cranford, Section Manager
Emma Gray, ballerina
Emma Gray, ballerina
As 14-year-old Emma Gray moves yet again this summer, she is grateful she can take her 8th grade studies with her.
Emma, a ballet dancer from Shallowater, Texas, began studying through TTU K-12 in 7th grade. She'll begin Texas Tech High School this fall, after moving to Seattle early this summer to further her dance training.
As a student she has had a diverse education, starting out in public school through grade 3. She attended a university model school in Marble Falls, Texas, for a year and a half and another university model school in Pagosa Springs, Colo. for a year. Prior to starting 7th grade with TTU K-12 she attended a private school in Lubbock, Texas, home of Texas Tech University and just a stone's throw from her hometown.
"I've had a unique experience as a student, and although moving can create stress, it has also given me the opportunity to experience many different things and meet a lot of new people," Emma said. "I have also learned to adjust to different educational environments, which I hope with strengthen my study skills as I continue my education into high school."
Emma credits Ballet Lubbock, where she's trained for the past four years, for the success she's had so far.
"I have had a great training experience at Ballet Lubbock under the direction of Yvonne Racz-Key," she said. "I have had the opportunity to perform in the Nutcracker four times and four spring performances as well, including 'A Midsummer Night's Dream,' 'Click,' 'Snow White' and 'Dream Aloud.'"
Emma added she will also spend three weeks at San Francisco Ballet and five weeks at Pacific Northwest Ballet this summer.
She and her parents all agree it's the flexibility TTU K-12 offers that has allowed her the freedom to study ballet.
Emma Gray performs the Spanish dance from The Nutcracker
Emma Gray performs the Spanish dance from The Nutcracker
"Emma has had opportunities to travel and to train that would have not been possible without TTU K-12," said Chad Gray, Emma's dad. "I am very thankful that the school is right here in Lubbock. Emma has been to a good number of schools with different educational models from public school to the university model schools. TTU K-12 has been on par with these other educational models, in my opinion."
Emma agreed, saying she has had the opportunity to provide outreach through her ballet school and travel without being subject to a specific school schedule.
"Plus, I have been able to complete the courses in which I am strong academically in much less time, allowing me more time to focus on classes that are not my strengths" she said.
Like many other TTU K-12 students, Emma says studying at her own pace has strengthened her time management skills.
"As my ballet training becomes more time consuming, it has been important for me to manage my time accordingly," she said. "Another plus is that learning to take comprehensive finals and following a syllabus of assignments to complete a class using Blackboard have been skills that I feel will be very valuable as I transition into high school and ultimately college."
Emma plans to continue her education through TTU K-12 then enroll in a university, although she isn't quite sure yet what she will study, as she has a lot of interests. However, she does plan to continue ballet training in hopes of one day joining a professional or university ballet company.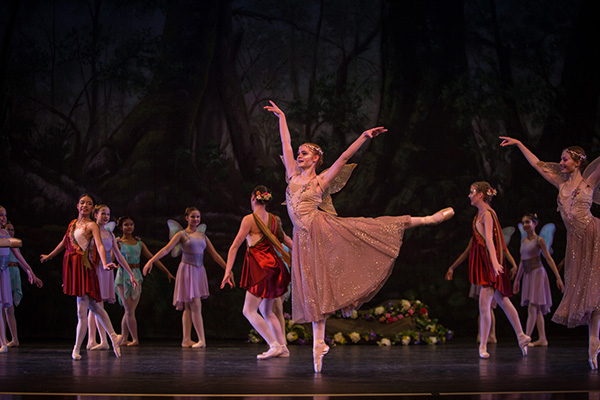 Emma Gray performs in A Midsummer Night's Dream with Ballet Lubbock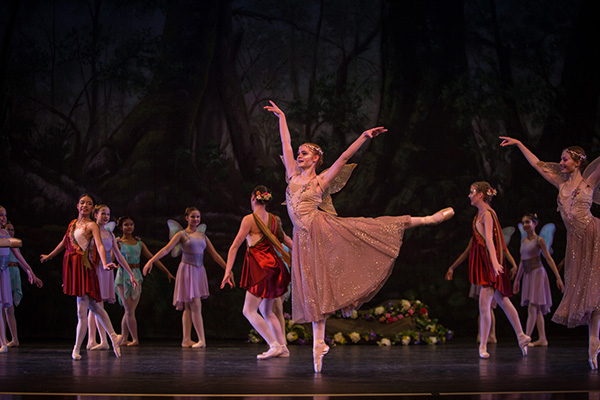 Emma Gray performs in A Midsummer Night's Dream with Ballet Lubbock
Some of Emma's free-time interests include snowboarding, hiking, and playing with her dog, Winter Stormborn. She has a 16-year-old brother Cooper, who will be a junior at Shallowater High School this fall.
"Also, I have spent summers in Taos, N.M., Houston, Salt Lake City and New York City for ballet training. Without the opportunity to be educated at TTU K-12 it would have been difficult to have the flexibility I needed to take advantage of all these opportunities, including my move to Seattle."
Emma added that she would highly recommend TTU K-12 for students looking for an excellent education with flexibility to pursue other interests.
"TTU K-12 is a great choice. I especially appreciate my advisor Ms. Shupe, who has been very helpful in assisting me in scheduling classes and planning my educational goals. TTU K-12 also provides students an opportunity to really develop study skills, especially in regard to preparing for finals at the end of each semester."
Chad couldn't agree more.
"As a parent I have been involved in assisting Emma stay on track with her studies," he said. "I want to compliment all of her teachers, as their curricula have been well organized, and they have all been very responsive when we have had any questions. Emma has definitely been challenged at times, but this has been a very good thing as I have seen her study skills and time management skills grow over the past two years. Her finals have been challenging but learning to prepare for a comprehensive semester final is a skill I know will benefit her throughout high school and college. Overall, my wife Aimee and I could not be happier with the opportunity TTU K-12 has given Emma."