Current Members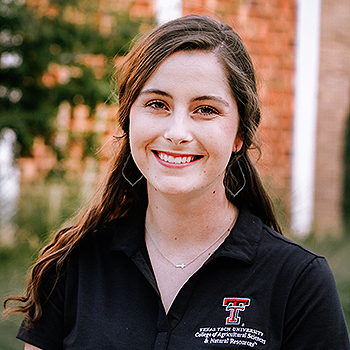 Name: Jacie Rene Henefey
Major: Animal Science Pre Vet
Classification: Sophomore
Hometown: D'Hanis, Texas
Extracurricular Activities: Texas Tech Terry Scholars; Block and Bridle; MILE Program; Meats Science Association; Ag Ambassadors
Hobbies: Intramural sports, reading, hanging with friends
Plans After College: Attend an in-state vet school, acquire my DVM and return to my hometown area to serve as a large animal vet.
Favorite Thing About CASNR/TTU: The closeness and sense of community that can be found all over campus and in our college.
Advice for Future Students: Use all your resources available to you and, always try to keep growing especially in college when so many opportunities are at your fingertips.
College of Agricultural Sciences & Natural Resources
Address

P.O. Box 42123, Lubbock, Texas 79409-2123, Dean's Office Location: Goddard Building, Room 108

Phone

(806)742-2808