Current Members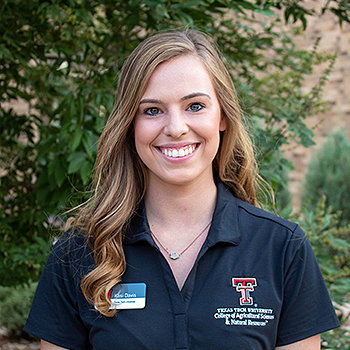 Name: Kasi Davis
Major: Animal Science
Minor /Specialization: Concentration: Pre-Vet Minor: Chemistry
Classification: Junior
Hometown: Tomball, Texas
Extracurricular Activities: Delta Gamma, Vice President of Programming; Red Raider Orientation
Hobbies: Hanging out with friends and family, reading, and working with livestock
Plans After College: I plan on attending Veterinary School and eventually owning my own large animal practice.
Favorite Thing About Davis College/TTU: My favorite thing about Davis College and Texas Tech are the endless amount of opportunities offered to students! There are so many leadership, internship, and job opportunities offered on campus and through our college!
Advice for Future Students: Step out of your comfort zone and be willing to try new things! The next four years will go by fast so make good grades, make new friends, and find your passion in life!
Davis College of Agricultural Sciences & Natural Resources
Address

P.O. Box 42123, Lubbock, Texas 79409-2123, Dean's Office Location: Goddard Building, Room 108

Phone

(806)742-2808