Rodeo Update: Richardson, Peterson shine at Sul Ross State University Rodeo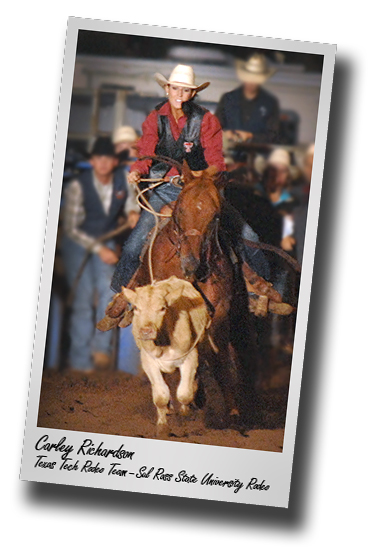 Texas Tech's Rodeo Team gained ground with strong performances in breakaway calf roping and bull riding this weekend (Sept. 29-30) at the Sul Ross State University Rodeo in Alpine. The National Intercollegiate Rodeo Association event was held in the San Antonio Livestock Exposition Arena at the Turner Range Animal Science Center.
Carley Richardson, a senior animal and food sciences major from Pampa, placed second in go round one out of 118 entries in the breakaway calf roping with a time of 2.4 seconds. According to program officials, she roped the fastest calf of the rodeo "" a 2.0 second run "" to win first in the finals, taking home the overall breakaway calf roping championship.
Other prominent performances included:
Bull Riding: Zach Peterson, a junior agriculture and applied economics major from Afton, Iowa. Second in go-round one; second overall
Barrel Racing: Riding her mare "Frenchy," Taylor Langdon, a senior exercise sports major from Aubrey. Fifth in go-round one; third in the finals; third overall
Goat Tying/Breakaway Calf Roping: Traci Bailey, a junior agriculture education major from Payson, Utah. Ninth (tie) in go-round one in goat tying; Fifth (tie) in go-round one; fourth in the finals, fourth overall in breakaway calf roping.
Texas Tech's rodeo teams will compete at Vernon College Oct. 11-13. Tech is set to host the 15 schools in the southwest region Oct. 18-20, and the last competition of the fall semester will be hosted at Clarendon College Oct. 25-27, said Tech Rodeo Coach Chris Guay. The teams will compete at five more rodeos in the spring semester before they have the opportunity to advance to nationals.
The top three individuals in each event advance to the college national finals after the 10 rodeos, Guay said. Individuals receive points for each first through sixth place finish, Guay said. Points are collected throughout the 10 rodeos. Teams qualifying for nationals also use the points system.
Students can participate in nine rodeo events. Women's events include breakaway calf roping, goat tying and barrel racing, while men compete in saddle bronc riding, bareback bronc riding, bull riding, calf roping and steer wrestling. Both men and women compete in team roping.
Written by Norman Martin
CONTACT: Chris Guay, rodeo coach, Department of Animal and Food Sciences, Texas Tech University at (806) 742-2805 ex. 256 or www.ttu.edu/rodeo
1001NM12 / PHOTO: Richard "Whitty" Whittenburg "" Two Dog Enterprises