SW Farm Press: Lack of Farm Bill Opens Agriculture to Looming Larger Cuts
Failure of the U.S. Congress to pass a farm bill during the last legislative session and apparent apathy from leaders in the House of Representatives to take up the issue anytime soon creates an air of uncertainty and skepticism from farmers and the agricultural industry, according to an agriculture economics professor at Texas Tech University.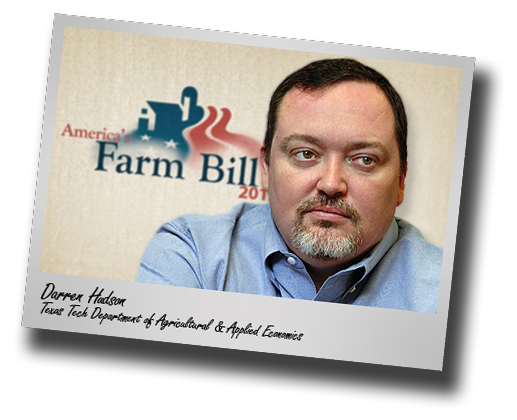 Darren Hudson, professor and Combest Chair of Agricultural Competitiveness with Tech's Department of Agricultural and Applied Economics, says extending the current farm bill for nine months delays action, eliminates the possibility of a sudden and steep rise in milk prices but makes no significant changes in farm programs.
Hudson says the extension, passed on Jan. 1, extended the 2008 farm act for nine months. But many questions and uncertainties remain, he said. Chief among those are the possibility that agriculture will get caught in another round of budget cuts.
"The lack of the farm bill exposes agriculture to larger cuts as legislators look for budget savings in the coming sequestration and debt ceiling debates," Hudson said. "Budget cuts are coming. Pushing the farm bill to the future means greater risk for changes in the budget and available money for agriculture."
He said Congress made a few minor cuts in the farm program, primarily in conservation programs, "but nothing major." The 2008 farm bill provisions were extended for nine months with no significant changes in payment rates or program availability. The extension continued the dairy program, also for nine months, "temporarily averting milk price spikes, but, did nothing to really reform the program."
Hudson said Congress currently has no real incentive to rework farm programs. "The speaker of the House has shown no desire to schedule floor debate on any bill coming out of Congress," he said. As Congress turns its attention to debt ceiling and debt reduction issues, farm programs may offer a tempting target.
"Agriculture is getting washed up into much bigger debates and that puts agriculture at a severe disadvantage," said Hudson, who also serves as director of the Texas Tech Cotton Economics Research Institute.
Reporting by Ron Smith - Southwest Farm Press
CONTACT: Darren Hudson, director, Cotton Economics Research Institute, Department of Agricultural and Applied Economics, Texas Tech University, (806) 742-2864 or darren.hudson@ttu.edu
0124NM13
Editor's Note: For more information, go to http://southeastfarmpress.com/government/will-agriculture-get-caught-another-round-budget-cuts