CASNR gains recognition at Lubbock Advertising Federation Addy Awards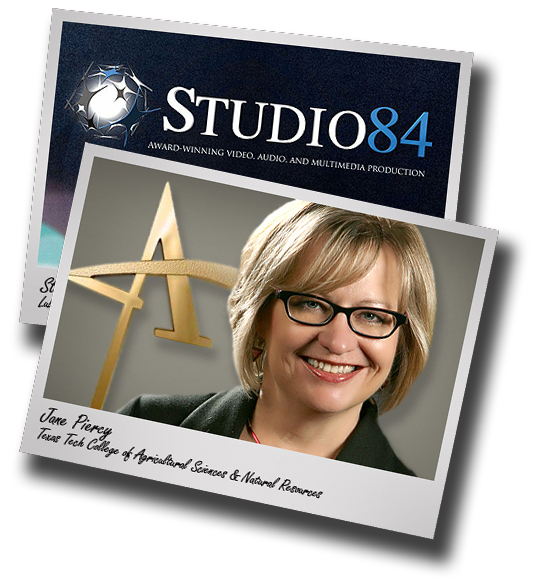 Texas Tech's College of Agricultural Sciences and Natural Resources video, "Doing It Right," earned three awards at the Lubbock Advertising Federation Annual Addy Awards Ceremony on Saturday (Feb. 23) at the Science Spectrum in Lubbock.
The five-minute video won two gold awards in the professional group's cinematography and webisode categories, as well as a silver award in the video presentation category. The video from Lubbock-based Studio 84 Productions featured a message of generational continuity keyed to attending the highly-acclaimed agriculture and natural resources academic program.
"We're grateful for this external recognition," said Jane Piercy, CASNR's Director of Development and External Relations. The video, which represented three generations of graduates from a single family, was a highlight of the college's annual Pig Roast last fall at the Lubbock Memorial Civic Center Banquet Hall.
Now, the video is often used by the college's Dr. Bill Bennett Student Success Center to support the group's recruiting efforts. It's also frequently seen in background presentations within departmental units and the college's development office.
The Addy Awards are conducted annually by the American Advertising Federation. Officials claim that the awards are the advertising industry's largest and most representative competition, recognizing and rewarding creative excellence in the art of advertising. Approximately 60,000 entries are annually submitted in local Addy competitions. Entries that earn a Lubbock Advertising Federation Gold Addy Award automatically advance to compete in the District 10 ADDY Awards against advertisers and marketers from across Texas, Oklahoma, Arkansas and Louisiana.
Led by Studio Manager Joseph Mullins,Studio 84 Productions is a full-service production company delivering high-definition broadcast projects, along with integrated marketing solutions. Mullins noted that the firm provides writing, recording, production, editing and distribution, as well as audio and aerial photography. Other clients include the Texas Cotton Association, Vista Bank and Texas Tech athletics.
Written by Norman Martin
CONTACT: Jane Piercy, Director of Development and External Relations, College of Agricultural Sciences and Natural Resources, Texas Tech University at (806)742-2802 or jane.piercy@ttu.edu
0227NM13 / Photo by Leslie Kitten (Savant Photographic Artistry)
Editor's Note: To view the CASNR 'Doing It Right' video, go to http://www.depts.ttu.edu/agriculturalsciences/video/ag_video.php