Texas Tech meat judging team finishes second, third at first two fall contests
Texas Tech's meat judging team recently competed at the American Royal Intercollegiate Meat Judging Contest in Omaha, Neb., and the Eastern National Intercollegiate Meat Judging Contest in Wyalusing, Pa. At the contests, they finished second and third, respectively.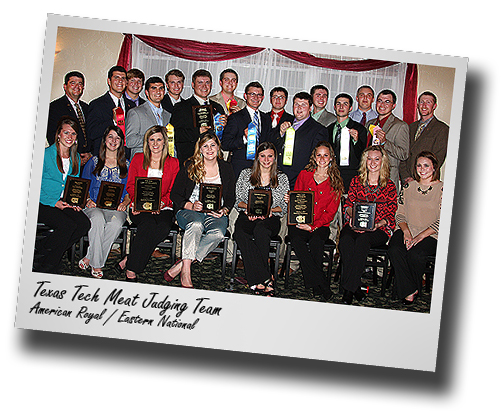 Seventeen universities competed for the title at the American Royal on Oct. 20. The Red Raiders lost by 18 points to Texas A&M University. Angelo State University, Colorado State University and Oklahoma State University were third through fifth, respectively.
Individually, Kassandra Ognoskie, a junior from Orting, Wash., was third high individual. Christy Woerner, a junior from Fredericksburg was ninth, and William Wunderlich, a junior from Fredericksburg was tenth. In the alternate division, Texas Tech boasted seven of the top-ten individuals including Austin Langemeier, a junior from Marion, who claimed high individual.
At the Eastern National, 16 universities vied for the top spot on Oct. 5. Texas Tech finished third behind the University of Wyoming and the University of Missouri. Individually, Ognoskie and Woerner finished fourth and fifth high individuals overall. In the alternate division, seven Red Raiders were named to the top ten including high individual Colton Campbell, a junior from Artesia, N.M.
"I'm very proud of the commitment of these students," said Mark Miller, professor and San Antonio Stock Show and Rodeo Distinguished Chair in Meat Science. "We've had two disappointing losses, but we are excited to keep getting ready for the last two contests."
In addition to Ognoskie, Woerner, Wunderlich, Langemeier and Campbell, team members include:
Brittany Blum, a junior from Howe
Kylan Carson, a junior from Olton
Colton Coker, a junior from Roby
Aaron Faulkner, a senior from Lenapah, Okla.
Trey Garza, a junior from Edinburg
Nick Hardcastle, a junior from Wheeler
Greg Howard, a senior from Bremen, Kan.
Mallory Jones, a junior from Anson
Kirby Kennedy, a junior from Lampasas
Clayton Krause, a junior from New Braunfels
Kristen Knight, a junior from Shallowater
Jacob Mikel, a senior from Vichy, Mo.
Tyler Neuman, a junior from Hondo
Bailey Joe Pennington, a junior from Sonora
Luke Sellers, a senior from Denver City
The team is coached by graduate student
Loni Woolley
along with Miller. The team will compete at the Cargill Meat Solutions Intercollegiate Meat Judging Contest in Friona on Nov. 3 before trying to earn national championship honors on Nov. 17 in DakotaCity, Neb.
Written by Moriah Beyers
CONTACT: Mark Miller, Professor, Department of Animal and Food Sciences, Texas Tech University at (806) 742-2805, ext. 231 or mfmrraider@aol.com
1022NM13