Expansion Plans; TTU regents approve $13 million Plant & Soil Science Building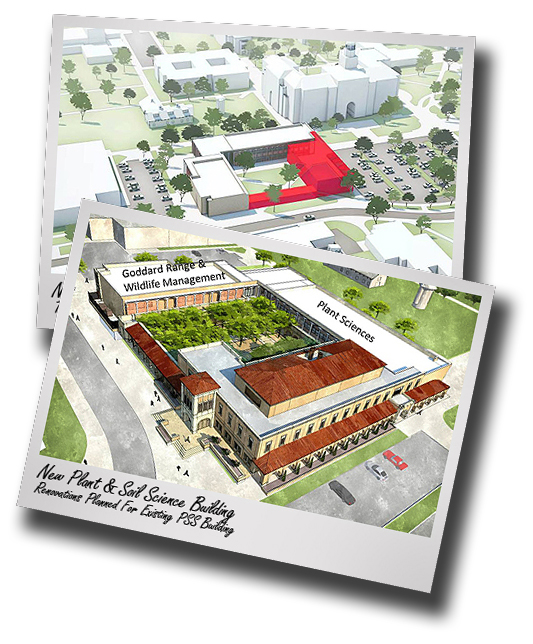 The Texas Tech University System Board of Regents today (Dec. 13) approved a $13 million project to design and construct a new Plant & Soil Science Building and renovate the existing Plant Sciences Building. Groundbreaking is anticipated in June 2014 with completion in May 2015.
The Department of Plant & Soil Science (PSS) currently is housed in the existing PSS, Food Technology and Agricultural Sciences buildings. Teaching and research labs along with faculty and graduate students currently located in other buildings will be relocated to the new wing. Additionally, the PSS departmental offices will be relocated to the new wing.
"The new addition represents a huge step forward for the Department of Plant and Soil Science and the college as a whole," said Michael Galyean, dean of the College of Agricultural Science and Natural Resources. "It will provide a state-of-the-art facility that is vital to the continued growth of our research and graduate education programs in the department, and the increased space will allow for greater flexibility in meeting the needs of other departments as well. We are grateful to the many donors whose generosity and vision for the future helped make this dream come true."
The new facility will run north-south from the west end of the current Plant Sciences Building and connect at the second floor. The facility, which adds 20,490 square feet, will continue the Spanish Renaissance architecture which will tie PSS in with the historic parts of campus. The semi-enclosed courtyard will have the feel of a cloistered Spanish garden.
"This new facility will be a beautiful addition to our campus," said Texas Tech President Duane Nellis. "We are experiencing a period of tremendous growth in many areas, and this is another example of our commitment to providing the best learning atmosphere for faculty, staff and students."
The building project is being funded through donations, TRIP and HEAF funds. Most all of the funding is donor contributions and TRIP funds resulting from donors. Details of those donations will be released at a later date.
"These new plant biotechnology research laboratories will help Texas Tech obtain AAU-like research facilities and foster research creativity," said Richard Zartman, chair of the department. "The relocation of faculty and graduate students also will enhance educational experience."
Written by Leslie Cranford
CONTACT: Richard Zartman, Department Chair and Leidigh Professor of Soil Physics, Department of Plant and Soil Science, Texas Tech University at (806) 742-2838 or richard.zartman@ttu.edu
1216NM13