Tech's Mark Miller named an AMSA Fellow, 2015 Signal Service Award winner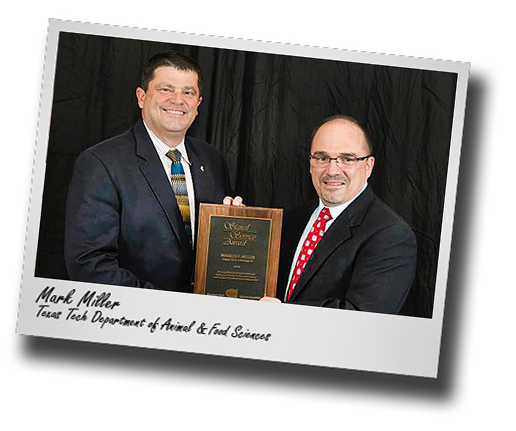 Mark Miller, a nationally-recognized animal science researcher with Texas Tech's Department of Animal and Food Sciences, has been selected to receive this year's American Meat Science Association's Signal Service Award, in addition to being named an AMSA Fellow. The AMSA Signal Service Award was established in 1956 and is given to members in recognition of devoted service and lasting contributions to the meat industry and to the association.
Miller will be honored at an awards banquet during the AMSA's 68th Reciprocal Meat Conference on Tuesday (Jun. 16) in Lincoln, Neb. Miller is currently a Texas Tech professor of meat science and muscle biology, and the university's San Antonio Livestock Show Distinguished Chair in Meat Science.
During his years of research Miller has served as investigator or co-investigator on 245 projects totaling more than $30 million; resulting in 200 referred journal articles, 15 books and book chapters, more than 120 technical articles, 250 abstracts, and two U.S. patents. In addition, he's served as advisor to more than 80 graduate students, and has developed a talented meat judging program accounting for more than 80 contest wins and 10 national championships since 1990.
Program officials note that Miller's experience in the meat industry has made him a leader in the areas of food safety and meat quality research. Specifically, he's been actively involved in research with collaborators at the USDA, Cargill, Tyson, Merck, Nebraska Beef, and the National Cattlemen's Beef Association.
Officials point out that Miller has been instrumental in helping develop consumer thresholds for beef tenderness; generating more than 75,000 consumer observations for beef tenderness and overall palatability that are part of the database being used to establish USDA standards for beef tenderness claims. Miller has explored the effects of growth implants and feed additives on beef quality and cutability, as well as the impact of beta-agonist on meat characteristics to ensure beef served to consumers is of the highest quality. Miller and his co-workers have an engaging international program in global food security with a present focus in Latin America and Africa.
Prior to joining Texas Tech faculty in 1990, Miller served as a research associate at Texas A&M University and later an assistant professor of meat science at the University of Georgia. Miller received his bachelor's and master's degrees in animal science from Texas Tech. His doctorate in meat science is from Texas A&M.
The AMSA society supports the careers of scientists and animal producers in the United States and internationally, officials said. One of its goals is to foster community and professional development among individuals who create and apply science to efficiently provide safe and high quality meat defined as red meat (beef, pork and lamb), poultry, fish/seafood and meat from other managed species.
Written by Norman Martin
CONTACT: Michael Orth, chairman, Department of Animal and Food Sciences, Texas Tech University at (806) 834-5653 or michael.orth@ttu.edu
0610NM15 / PHOTO: (left) Texas Tech Professor of Meat Science and Muscle Biology Mark Miller