Steadfast Leader; CASNR receives OIA Campus Internationalization Award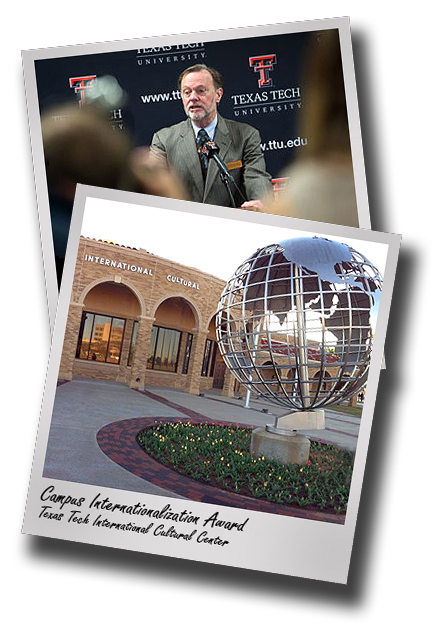 Texas Tech University's College of Agricultural Sciences and Natural Resources has been selected to receive this year's Campus Internationalization Award. The honor, presented today (April 8) by the university's Office of International Affairs, is part of the groups' annual Global Vision Awards program.
Tibor Nagy, Tech's vice provost for International Affairs, explained the Campus Internationalization Award recognizes a college, department, or office within the Texas Tech University System that has made significant contributions toward internationalization. CASNR was selected by a committee composed of members of the International Affairs Council.
CASNR has been a steadfast leader in campus internationalization. "Today, one out of every five students in CASNR graduate programs is from a foreign country," said David Weindorf, CASNR's Associate Dean for Research. "Our faculty has engaged around the world in research, study-abroad opportunities, outreach, and program development."
CASNR features four Fulbright Scholars on its faculty roster; one who is currently on assignment in Europe. In addition, it has been successful in securing nine Borlaug Higher Education for Agricultural Research and Development scholars, with more likely awarded in the coming weeks. The college has also hosted three Borlaug Scholars over the past few years.
Separately, CASNR's international work being done by the faculty is as diverse as the continents on which it takes place. Among the efforts are:
Department of Animal and Food Sciences faculty have developed a highly sought-after food safety/security program in Central America/Caribbean.
Department of Plant and Soil Science researchers assembled agreements with constituencies in Brazil.
Research on cotton fiber, salmonella/pathogens, cellulose, and soil heavy metals/salinity has been at the core of work conducted in Europe.
Work in Asia has focused on nutritional supplementation for undernourished women in the Philippines and an agricultural marketing database in Bangladesh.
In other action, Keelyn Hanlon, a doctoral student in Tech's Department in Animal and Food Sciences, was presented the 'International Research Award' as a part of the Global Vision Awards from the Office of International Affairs at the Graduate Research Paper Competition. Her paper was titled "Presence of Salmonella, Escherichia coli O157 and Campylobacter in small-ruminant (goat and sheep) fecal and hide samples collected in the United States, Bahamas and Mexico."
The Global Vision Awards ceremony was held in the International Cultural Center's Hall of Nations. Texas Tech Interim President John Opperman and Provost Lawrence Schovanec presented the awards. Erica Irlbeck, an associate professor in the Department of Agricultural Education & Communications, accepted the internationalization award for CASNR.
Friday's program was part of Tech's International Week, a week full of events devoted to celebrating the many different cultures in the world. Students, faculty and staff had the opportunity to participate in events hosted by the university's Office of International Affairs along with several other departments and organizations on campus and within the community.
"This city and campus-wide event brings our community together to participate in a variety of fun, informative and culturally-rich activities," said Jane Bell, senior director of International Outreach and Operations.
The week-long festivities began at the First Friday Art Trail and ended with the annual Global Vision Awards ceremony. The Global Vision Awards were given to Tech faculty and administrators for their inspiring works that encourage students to study and experience the world abroad. Last year's recipients included Weindorf.
Written by Norman Martin
CONTACT: Michael Galyean, Dean, College of Agricultural Sciences and Natural Resources, Texas Tech University at (806) 742-2808 or michael.galyean@ttu.edu
0408NM16