Landscape architecture students build replicas of historic Lubbock
As one of their final assignments for the school year, one class in Texas Tech's Department of Landscape Architecture was given the task of constructing replicas of old downtown Lubbock. The class was divided up into five design teams, each one responsible for assembling one or more classic Lubbock buildings such as the Pioneer hotel, Mast-White House, and others.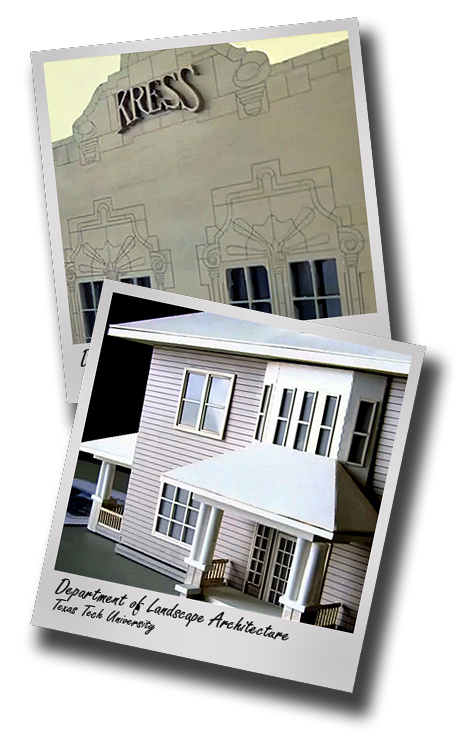 "I like to emphasize in my design class 'service-learning' instead of just doing an abstract project in the studio," said Louis Mills, an associate professor in the department who led the project. "It was sort of pushing them outside of their comfort level and I think they survived fine."
Students were nervous at first to begin the project, but now say they are thankful to have been put up to the challenge.
'We went to the architecture building and saw some of the models they had and I didn't think we were capable of making something that intricate and detailed," said Natalie Campbell, a senior landscape architecture major from Parker. "But once I saw how to do it, I started envisioning it a little bit more, and once I saw one I could really picture it being a lot more detailed and really looking like the real thing."
"We had no idea of what to expect. It was a really great experience for us so we all just kind of dove right into it," added Hector Aguirre, a senior landscape architecture major from Lubbock. "I can't even count the hours we put into these projects, but it all worked out really well."
The students had to work with a variety of complex tools and instruments to make certain that measurements were precise, ranging from advanced computer programs, laser cutters and then, of course, some old-fashioned glue. The students recognized that while it was a course project, they know they will be able to take away what they learned and apply it to the real world.
The replicas will now have a permanent home in Lubbock's American Wind Power Museum, and will play a role in the newest 33,000 sq. foot addition to the museum, "The Wind Energy Experience." The new exhibit, which opens in June, will house a large replica of the West Texas scenery from the early 1900s. In addition, 4,000 feet of mini train tracks will run through the exhibit.
The students' buildings will earn a spot in the exhibit where Lubbock is supposed to be in the replica. "We're just really excited about everything that's coming together," said Tonya Meadows, the American Wind Power Center's Director of Marketing.
Written by Leslie Adami
CONTACT: Louis Mills, Associate Professor, Department of Landscape Architecture, Texas Tech University at (806) 834-8101 or louis.mills@ttu.edu
0603NM16/ Editor's Note: For full text and video of the KLBK-TV, a CBS network affiliated television station, story, click http://www.everythinglubbock.com/news/klbk-news/texas-tech-architecture-students-build-replicas-of-historic-downtown-Lubbock