Agricultural Council: AFS's Hanagan named February 'Aggie of the Month'
By: Steeley Smith
Name: DeLaney Hanagan; Major: Animal Science; Classification: Junior; Organization: Block and Bridle; Hometown: Artesia, New Mexico; Month: February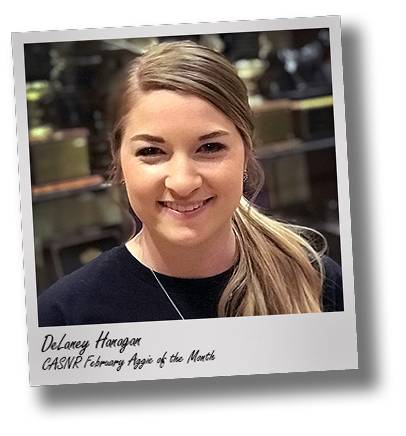 DeLaney Hanagan, a junior animal science major from Artesia, New Mexico, has been named Texas Tech's College of Agricultural Sciences and Natural Resources February "Aggie of the Month."
"Ag Council is a great group that really strives to bring all the organizations within CASNR together and allow us to get involved in the community as one organization," Hanagan said. "CASNR has so many amazing students, so I am truly blessed to receive this award."
Hanagan said CASNR's Ag Council has provided her with many great opportunities to get involved with the Tech community, as well as connect with other students in the college.
The New Mexico native pointed out that she wanted to attend Texas Tech because of the amazing people involved in CASNR. Everyone she talked to when she visited was truly supportive, kind and made her feel welcome, she said.
"Growing up with a very strong agricultural background, staying within the agriculture industry was an easy decision," Hanagan said. "I knew I wanted to be a part of the outstanding judging programs that Texas Tech provided and be around students that had a passion for agriculture in the same way that I did."
After graduation, Hanagan plans on attending physical therapy school, utilizing her agriculture background and eventually getting a job in hippotherapy, a form of physical therapy involving horses.
CONTACT: Cindy McCullough, Coordinator of Scholarships, College of Agricultural Sciences and Natural Resources, Texas Tech University at (806) 742-2808 or cindy.mccullough@ttu.edu
0308NM18