Proud Moment; Wool Judging Team claims fourth national championship
By: George Watson
For the first time in five years, the Texas Tech's Wool Judging Team is bringing home the gold. On the strength of winning the Houston Livestock Show and Rodeo Collegiate Wool Judging Contest, the Wool Judging Team in the Department of Animal and Food Sciences has captured the program's third national championship and the first since 2013.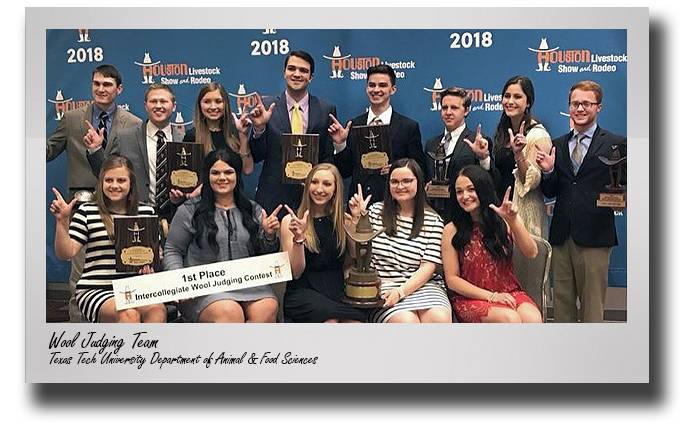 Split into two teams for the Houston competition, Texas Tech swept the top two spots in the team standings. The Texas Tech Black team finished first overall with 2,074 points while the Red team was close behind with 2,049 points. Coupled with a victory earlier this spring at the National Western Stock Show in Denver, it was enough to send Texas Tech to its first national championship since 2013.
"I couldn't be more proud of the way these students worked to achieve their goal," said Gabe Jennings, coach of the Wool Judging Team.
Also at Houston, the Gold and Blue teams from Angelo State University, a member of the Texas Tech University System, finished fifth and sixth, respectively.
The win at the National Western Stock Show was the third straight for Texas Tech.
Texas Tech's victory was paced by taking the top three individual spots as well as eight of the top 10 overall. That helped the Texas Tech Black team take first in both grading (789 points) and placing/reasons (1,285) while the Red team took second in both, scoring 782 points in grading and 1,279 in placing/reasons.
"Our department is really proud of the 2018 Wool Judging Team," said Sam Jackson, a professor in Tech's Department of Animal and Food Sciences who serves as supervisor for the team.
"They are a talented group of students that put in a great deal of time and effort to achieve this success. Gabe did a great job of preparing them for the contests, and the students were coachable and implemented what they were taught. The combination of great coaching and talented team members resulted in another National Champion Wool Judging Team for the Animal and Food Sciences department. I am hoping for the same result for our basketball team!"
Conner McKinzie, a freshman from Stephenville, led the individual finishers for Texas Tech. Competing for the Black team, McKinzie finished first in grading and second in placing/reasons to take first overall with 709 points.
Emily Reiley, a freshman from Marion, finished second overall with 704 points on the strength of a first-place finish in placing and a fifth-place finish in grading. Brynn Owen, a freshman from Canyon competing as an alternate, finished third with 686 points, placing third in grading and eighth in placing/reasons.
Rounding out the Top 10 Texas Tech finishers are Ashlyn Tucker, a freshman from Santo, in fifth place (683 points); John Smithwick, a sophomore from Idalou, in seventh (682); Franklin Buchholz, a freshman from El Dorado, in ninth (673); and Jacie Henefey, a freshman from D'Hanis, in 10th (673).
Other members of the Wool Judging Team are:
• Taylor Schertz, a freshman from Krum
• Leslie Batenhorst, a freshman from Dalhart
• Anna Carlock, a freshman from Joshua
• Klay Davis, a freshman from Florence
Assistant coach of the Wool Judging Team is Alec Winfrey.
CONTACT: Michael Orth, chairman, Department of Animal and Food Sciences, Texas Tech University at (806) 834-5653 or michael.orth@ttu.edu
0323NM18