Spring issue of CASNR's Landmarks magazine available in print, online
By: Norman Martin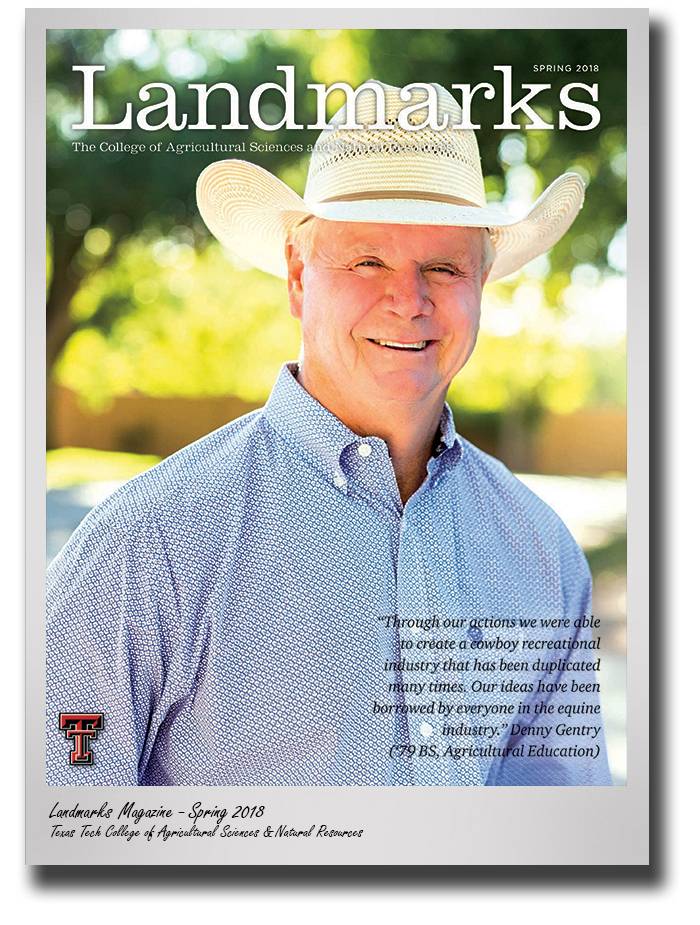 The Spring 2018 issue of Texas Tech's College of Agricultural Sciences and Natural Resources magazine, Landmarks, is off the press and online. The biannually-produced official alumni publication opens with a profile of CASNR's new dean, William "Bill" Brown. The nationally-recognized administrator and researcher from the University of Tennessee stepped into his role in April, said Tracee Murph, CASNR's Coordinator of Alumni Relations, as well as writer and director of the magazine. Brown previously served as dean for research and director of the Agricultural Experiment Station at the University of Tennessee's Institute of Agriculture.
VIEW: To see an online version of the magazine, please click here
The magazine's cover story, "A Champion of Championships," highlights the career of Denny Gentry ('79 BS, Agricultural Education), who is winding down an career in the cowboy industry after creating both the United States Team Roping Championships and the World Series of Team Roping. Another item spotlights a story on "A Closer Look at the Department: Landscape Architecture," which includes an extensive question-and-answer section with Department Chair and Professor Eric Bernard ('96 BLA, and '00 MLA, Landscape Architecture) who outlines many positive changes that have recently occurred in the department.
CONTACT: Jane Piercy, Director of Development and External Relations, College of Agricultural Sciences and Natural Resources, Texas Tech University at (806)742-2802 or jane.piercy@ttu.edu
0521NM18
Editor's Note: For a full-text version of CASNR Dean William Brown's profile, please click here