TCWCA creates Texas Tech endowed wine and food studies scholarship
By: Norman Martin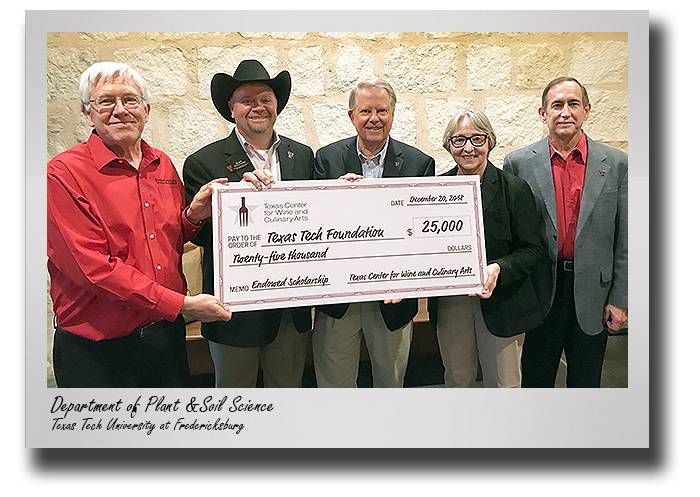 When the board of the Texas Center for Wine and Culinary Arts (TCWCA) visited the Texas Tech campus in Lubbock back in October of 2016 to discuss an educational collaboration with Texas Tech on the campus of the Hill Country University, they were challenged by the Chancellor of the Texas Tech University System to help recruit students to the Fredericksburg teaching site by raising scholarship funds.
After several fundraisers, the TCWCA board recently presented $25,000 to the Texas Tech Foundation to establish an endowed scholarship which will award a $1,000 scholarship annually, starting in 2020, to a student with a degree plan concentration in viticulture and enology, or local food and wine production systems within Tech's Department of Plant and Soil Science. Preference will be given to students studying at the Fredericksburg teaching site.
"This endowed scholarship is a strong demonstration of support for our programs," said Ed Hellman, a professor of viticulture and enology at Texas Tech.
Texas Tech offers educational programs to fit a variety of student objectives. For those seeking a comprehensive university education, the university offers a Bachelor of Science in Plant and Soil Science with a concentration in viticulture and enology.
Students with a deeper interest in research and the scientific aspects of viticulture and enology can pursue a master of science or doctor of philosophy degree in plant and soil science. In addition professional certificate programs award continuing education units and are designed for non-traditional students seeking to develop additional job skills, advance their careers, or make a career change.
CONTACT: Edward Hellman, Professor of Viticulture & Enology, Department of Plant and Soil Science, Texas Tech University at Fredericksburg at (806) 834-1681 or ed.hellman@ttu.edu
0305NM19 / Click here for the giving link to the Texas Center for Wine and Culinary Arts Scholarship Endowment
Editor's Note: For more information about Tech's Viticulture & Enology Program, click here / For the Texas Center for Wine and Culinary Arts website, click here
TOP PHOTO by Sean Doerre / (left to right) Ernie Loeffler, chairman of the board of the Texas Center for Wine and Culinary Arts; Matt Williams, assistant director of development for Texas Tech's College of Agricultural Sciences and Natural Resources; William Brown, dean of Texas Tech's College of Agricultural Sciences and Natural Resources; Fredericksburg Mayor Linda Langerhans; and Edward Hellman, professor of viticulture & enology for Texas Tech at the Hill Country University Center in Fredericksburg