CASNR presents Distinguished Alumni & Outstanding Young Alumna Awards
By: Norman Martin
Texas Tech University's College of Agricultural Sciences and Natural Resources recognized eight distinguished alumni on Monday (Feb. 24) at the university's McKenzie-Merket Alumni Center.
The 2020 Distinguished Alumni & Outstanding Young Alumna Awards honor graduates who have made significant contributions to society, and whose accomplishments and careers have brought distinction to the college and to the professions associated with agriculture and natural resources.
The recipients of CASNR's 2020 Distinguished Alumni Awards are:
Brian Sikes of Wichita, Kansas. He received his bachelor's degree (1990) in agricultural economics from Texas Tech. Today, Sikes serves as corporate senior vice president of Cargill's global protein and salt businesses. In addition, he was recently appointed as chief risk officer and chair of the Cargill Commodity Risk Committee. Sikes began his career with Cargill in 1991 and joined the executive team in 2018. Most recently, he led the transformation of the North American protein business, which delivered strong financial results and expanded offerings in line with shifting demand for value-added protein, sustainable supply chains and alternative proteins. During his time with the company, Sikes worked across Cargill's protein business, serving as the president of Cargill's foodservice team and overseeing Cargill's protein business in North America and Europe. He also led global talent management for the company.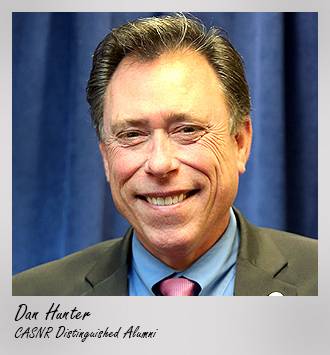 Dan Hunter of Austin, Texas. He received his bachelor's degree (1986) in agricultural education from Texas Tech and his master's degree from Tarleton State University. He currently serves as assistant commissioner for the Texas Department of Agriculture and is a top advisor on the critical issues of the economy, trade and water. He also oversees matters on U.S. policy and the important role it plays in agriculture and the Texas economy. Hunter provides direct oversight on programs involving rural affairs, including rural health care and marketing. He also directs the International Marketing Programs for Texas Agriculture. Separately, Hunter serves on the Board of the Texas Wine Advisory Committee and the Texas Olive Oil Advisory Board. He also serves on the Ag Workers Insurance Advisory Board. In addition, he has served on numerous international trade, commodity and policy advisory committees.
T. Bryan Smitherman, M.D. of Lubbock, Texas. He received his bachelor's degree (1988) in animal science from Texas Tech. Currently, he serves as an orthopedic surgeon at The Center for Orthopedic Surgery in Lubbock where he specializes in joint reconstruction and replacement, particularly knees, hips and shoulders. After receiving his animal science degree, Smitherman received a Doctor of Medicine from the University of Texas Medical Branch-Galveston. After his orthopedic/general surgery internship at Texas Tech University Health Sciences Center, he received his residency training at the health sciences center. Later Smitherman served as a clinical assistant professor with the Department of Orthopedic Surgery. Today, he serves on the Medical Executive Committee Governing Board for Lubbock Heart Hospital, where he was chief of staff from 2015-2017. He's been a board member for the Governing Board for Northstar Surgical Center since 2005.
Charles Eatherly of Phoenix, Arizona. He received his bachelor's degree (1961) and master's degree (1963) in park administration from Texas Tech. During his time at Texas Tech, he worked alongside Professor Elo Urbanovsky and a team of graduate students to develop the Texas State Parks Plan. Now a long-time park administraton, Eatherly works with the Arizona State Parks and Trails as an executive consultant and historian. His professional career reflects 59 years of public service in a number of positions within the parks and recreation field. This includes educator, landscape architect, special projects coordinator, and legislation liaison. He's also taken part in local, regional and state-wide park recreational planning. Awards for Eatherly include the Arizona Park and Recreation Administration's Professional Emeritus Award, an American Academy for Park and Recreation Administrators' Legend Award, and the National Association of State Park Directors' Ney Landrum Park History Award.
Mark & Christine Moseley of Brady, Texas. He received his bachelor's degree (1973) in wildlife management from Texas Tech. Christine Moseley received her bachelor's degree in wildlife management (1974) from Tech. After graduation, Mark began a 42-year career with the USDA Natural Resource Conservation Service, and Chris began teaching junior high science in Colorado City. The couple then moved to San Angelo where Mark was an Area Range Conservationist and Chris earned a master's degree from Angelo State University (1982). After seven years in San Angelo the Moseleys moved to Stillwater, Oklahoma, where Mark was a State Range Conservationist and Chris completed her doctorate from Oklahoma State University (1993). She joined the OSU faculty in 1997 and now is an emeritus faculty member with the University of Texas-San Antonio. Mark has been a Certified Professional in Rangeland Management since 2000, and served as member of the NRM Advisory Board from 2015-2018. Mark retired in 2014 and Chris in 2016.
Mark Scott of Slaton, Texas. He received his bachelor's degree (1978) and master's degree (1982) in entomology from Texas Tech. Scott started independent crop consulting in 1978, while in graduate school, and co-owned J&M Consulting from 1980 to 1984. In 1985, he established Mark Scott Crop Consulting and Agricultural Research and has been an independent consultant for more than 41 years. Scott aids farmers by showing them how to use advanced integrated pest and crop management practices into their operations, while consulting on cotton, corn, grain sorghum, sunflowers, peas and peanuts in a five-county area south and west of Lubbock. Scott was honored as a Texas Outstanding Agricultural Consultant by the Texas Association of Agricultural Consultants, and as 'National Cotton Consultant of the Year' by Cotton Farming magazine (2018). He's also served on the High Plains Boll Weevil Task Force, and was a West Texas Agricultural Chemicals Institute Board Member.
In addition, CASNR officials recognized one outstanding young alumna. The recipient of the 2020 Outstanding Young Alumna Award is Lacee Hoelting of Shallowater, Texas. She received a bachelor's degree in agricultural communication (2006). After completing a congressional internship in Washington, D.C., she received her master's degree in agricultural education from Texas A&M University and a certificate in advanced international affairs from the Bush School of Government and Public Service. Today, Hoelting is executive director of the Bayer Museum of Agriculture in Lubbock. As director, she's responsible for the museum's fiscal management, fundraising, exhibit, program and membership development, marketing, event planning, and administration, and she has led the facility through two of three phases of construction. In 2018, Hoelting graduated from the two-year Texas Agricultural Lifetime Leadership program which included a two-week study in China. Currently, she serves as president of the Lubbock Area Association of Fundraising Professionals and is working toward her Certified Fundraising Executive designation.
CONTACT: Jane Piercy, Director of Development and External Relations, College of Agricultural Sciences and Natural Resources, Texas Tech University at (806)742-2802 or jane.piercy@ttu.edu
0224NM20