AAEC alum Tyllor Ledford receives SAEA Outstanding Master's Thesis Award
By: Norman Martin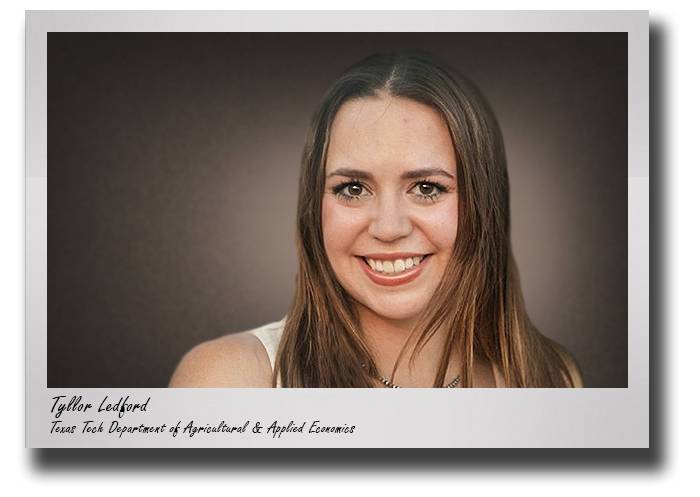 Tyllor Ledford, a 2021 master's of science graduate of Texas Tech University's Department of Agricultural & Applied Economics, has been awarded the '2022 Outstanding Master's Thesis Award' by the Southern Agricultural Economics Association. The honor was presented on Sunday (Feb. 13) at the organization's annual meeting in New Orleans.
Ledford explained that her thesis examined the impacts of food insecurity on terrorism and conflict in Sub-Saharan Africa. Her research showed that while food availability was not a factor in conflict, food access as measured by income per person, did influence conflict. Interestingly, she found that foreign aid increased conflict, while political measures such as the degree of democracy lowered conflict. The research increases overall understanding of the role of food and food security in conflict prone regions of the world.
The Durango, Colorado native was co-advised by Department of Agricultural & Applied Economics faculty members Darren Hudson, the Larry Combest Endowed Chair for Agricultural Competitiveness and Director of the International Center for Agricultural Competitiveness, and Assistant Professor Jamie Pavlik.
Ledford, who also received her bachelor's degree in Agricultural & Applied Economics (2019) from Texas Tech, was an active member of the Texas Tech Ranch Horse Team and studied abroad in China during her time as an undergraduate. Today, she serves as the assistant director of the U.S. Wheat Association's Portland office, coordinating foreign trade missions, conducting market analysis and promoting U.S. wheat exports.
Tech's Department of Agricultural & Applied Economics currently has 17 tenured/tenure-track faculty members, three adjunct faculty members, 470 undergraduate students, and 73 graduate students. It offers bachelor's degrees in agribusiness and agricultural and applied economics, along with master's and doctorate degrees in agricultural and applied economics, and a masters of agribusiness.
CONTACT: Darren Hudson, Professor and Larry Combest Chair, Department of Agricultural Agricultural and Applied Economics, Texas Tech University at (806) 834- 2821 or Darren.Hudson@ttu.edu
0222NM22