Face-to-face fete draws students to Queso Cookoff, Mr. Davis Contest
By: Norman Martin
To get the spring semester off to a tasty start, members of the Dr. Bill Bennett Student Success Center in Texas Tech's Davis College of Agricultural Sciences & Natural Resources held their annual 'Winter Welcome & Queso Cookoff' on Thursday (Feb. 17) at the Animal & Food Sciences' Livestock Arena.
Once again the 'Queso Cook-off' was the late afternoon's highlight event, said Stephanie Legako, Davis College's Unit Manager for Student Retention. This semester's top honor went to Alpha Zeta, which won the 'Golden Cheese Grater' for being the overall winner. The Wildlife Association took home the 'Silver Cheese Grater' for best presentation.
Separately, the Meat Science Association won the 'Bronze Cheese Grater' for People's Choice. For audience members, Legako added that all the creamy, cheesy and sometimes spicy dips in the contest were available to the public after the contest.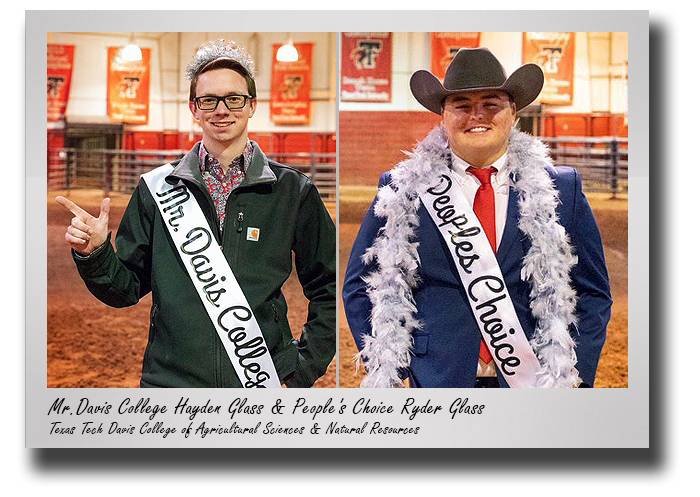 Following the cook-off was the "Mr. Davis Contest," hosted by the Davis College Ag Council. Contestants competed in western wear, interview and talent.
This year's Mr. Davis winner was Hayden Glass, sophomore agricultural education major from Tatum, New Mexico. He represented the Ambassadors for Agriculture. In addition, Ryder Glass, a first year agricultural and applied economics major from Floydada, Texas, won People's Choice representing the Agronomy Club.
During the program, student organizations within Davis College were represented, providing an opportunity to speak with student, university guests and representatives.
CONTACT: Stephanie Legako, Unit Manager for Student Retention, Davis College of Agricultural Sciences & Natural Resources, Texas Tech University at (806) 742-2808 or stephanie.legako@ttu.edu
0218NM22 / PHOTOS: Emma Taber