AFS's Audrey Brown garners TrUE Scholars Mark of The Matador honor
By: Norman Martin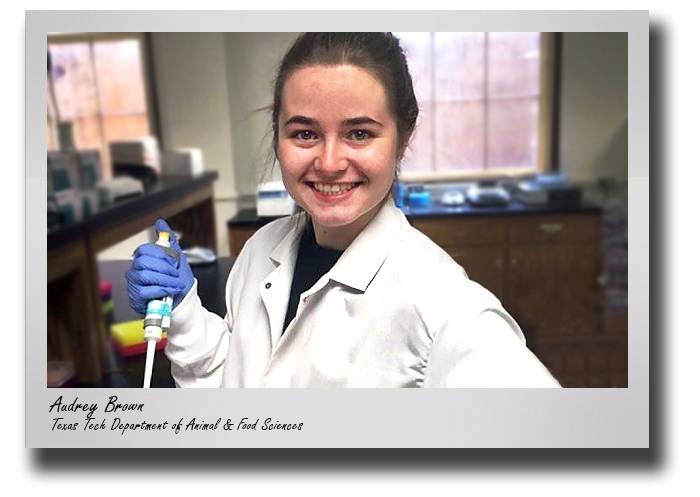 Audrey Brown, a standout scholar from Texas Tech University's Department of Animal & Food Sciences, is joining a select group of students who are eligible for the 'Mark of The Matador' distinction from the university's Center for Transformative Undergraduate Experiences (TrUE) Scholars program.
To symbolize her achievement, TrUE officials presented Brown with a Mark of The Matador lapel pin to wear at the Davis College graduation ceremonies on Saturday (May 14) at the United Supermarkets Arena.
"You [Brown] have gone beyond our basic program requirements by completing one or more years of work on a faculty-guided undergraduate research and creative activity project," said Jerylme Robins, assistant director of Tech's TrUE program. "Well done." In addition to finishing her undergraduate program, the Dayton, Texas native is also early enrolled at the Texas Tech University School of Veterinary Medicine in Amarillo.
Brown's academic research mentor most recently was Samuel Prien, a professor in Tech's Department of Animal & Food Sciences. Prien, who also has a joint appointment at Texas Tech University Health Sciences Center's School of Medicine, has an active research program and currently holds five U.S. patents, 20 international patents and three copyrights.
In the spring of 2021, Brown joined Prien's lab where she studied the possibility of using a modified specific gravity device to assess embryo viability. This was the first time the technique was used on human embryos. The non-invasive technique is based upon embryo buoyancy, which can be used as an additional measure of embryo health that could hopefully lead to higher conception rates among IVF patients.
"Being a part of translational research and teaching other students the technique was a very rewarding experience and has helped to shape my decision of obtaining a Ph.D. after finishing vet school," Brown said. "The mentors I've gained through this program have enriched my education, my future as a researcher, and my life. I'm very grateful to them and for having the opportunity to be in this program."
Located in Tech's Office of the Provost, TrUE works to support the development, enhancement, and scaling of high-impact educational practices for undergraduate students across Texas Tech. TrUE broadly supports student success by ensuring every TTU undergraduate has the opportunity to engage in transformational learning experiences: including undergraduate research, service learning, raider service breaks and study away.
Other Davis College faculty are also involved in aspects of the TrUE program. Matthew Barnes, an associate professor in the Department of Natural Resources Management, was selected as one of two inaugural TrUE Faculty Fellows in 2021. In this position, he participates in recruitment of future scholars into the program, supports current Scholars through Novillero workshops and Toreador projects, and guides overall program evaluation.
In addition, Barnes was one of Brown's early mentors. "Dr. Barnes taught us sound research practice, guided us through writing a research paper, and publishing our study, "Detection of the amphibian pathogens chytrid fungus (Batrachochytrium dendrobatidis) and Ranavirus in West Texas using environmental DNA," Brown said.
CONTACT: Chance Brooks, Interim Chair and Professor, Department of Animal and Food Sciences, Texas Tech University at (806) 742-2808 or chance.brooks@ttu.edu
0516NM22