AFS's Caroline Hobbs takes the reins as Texas Tech's 61st Masked Rider
By: Elyssa Sanders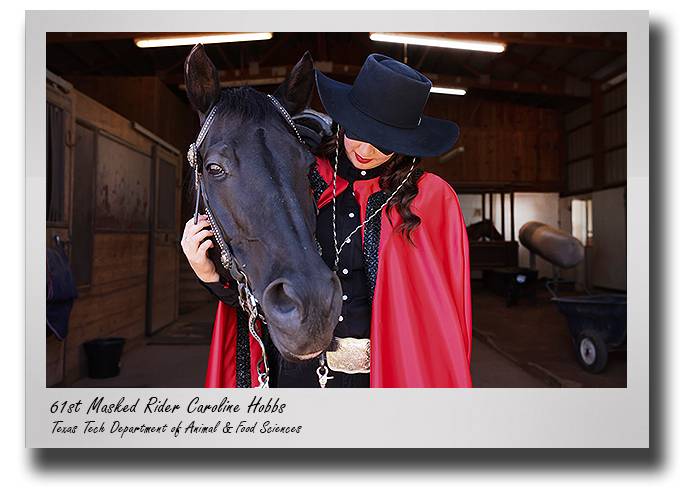 Texas Tech University has named Caroline Hobbs, a junior animal science major with a concentration in equine-assisted therapy within the Department of Animal & Food Sciences, as its 61st Masked Rider. The new Masked Rider was revealed today (Apr. 29) at the annual Transfer of Reins ceremonies at the McKenzie-Merket Alumni Center. After Hobbs obtains her bachelor's degree next spring, she plans to continue training horses and eventually open her own facility for clients and horses of all ages and disciplines.
What originally ignited your passion for horses? I've been riding horses since the age of three. I grew up practicing both English and western riding styles. At the age of 10, I began participating in eventing, an equestrian competition consisting of dressage, show jumping and cross-country. I competed on the Texas Tech Equestrian Team as a first-year student. I owe everything to my parents, trainers and horses. They've all been there through the hardships and the victories, and I cannot wait to have them by my side this year.
What are you most looking forward to doing as the next Masked Rider? This year, I'm looking forward to welcoming a new horse to the program and continuing the Masked Rider tradition with my assistants and the public. With Fearless Champion retiring, the new horse and I have big shoes to fill. I believe this starts with continuing the relationship with alumni, potential Red Raiders and the Lubbock community. Being able to go to schools and talk to kids about Texas Tech has been one of my fondest memories, and I want to implement that in my year as well.
What legacy do you hope to leave behind after your time as Masked Rider? To know that I will be added to the list of 60 riders who I have looked up to for years now is an amazing feeling. Character, respect, integrity and honor are a few of the virtues I plan to uphold in my year. I hope to establish a strong foundation for the new horse as it carries on the legacy of Fearless Champion and the 13 horses before him. Past riders have left a phenomenal legacy for this university, and I plan to continue to build the relationships this program has set forth.
Is there anything else you'd like to add or mention about becoming the Masked Rider or your time at Texas Tech so far? Thank you to everyone who has given me countless opportunities in the horse community, in this program and in my life. Each person has touched my life in some way and has contributed to where I am today. I'm excited to see what this year has in store, and I look forward to this new adventure.
CONTACT: Chance Brooks, Interim Chair and Professor, Department of Animal and Food Sciences, Texas Tech University at (806) 742-2808 or chance.brooks@ttu.edu
0502NM22