The Wildlife Society at Texas Tech tapped as student chapter of the year
By: Norman Martin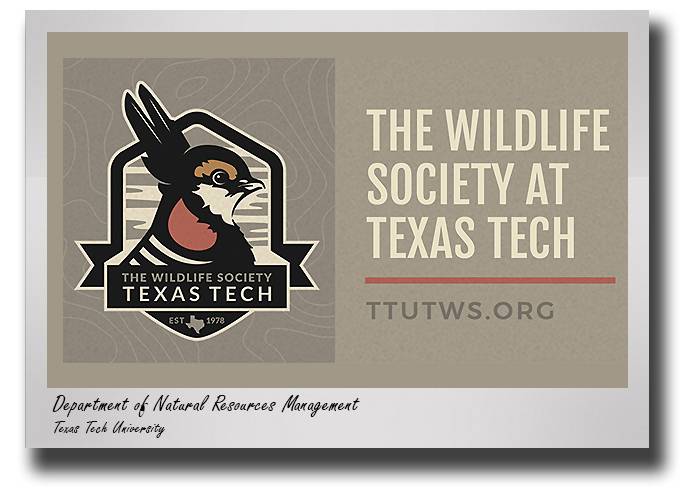 The Wildlife Society at Texas Tech University has been awarded the national '2022 Student Chapter of the Year' by The Wildlife Society, report officials with the Department of Natural Resources Management today (Jun. 20). The honor from the international non-profit association involved in wildlife stewardship recognizes exceptional achievements by organization's student chapters.
"This is the first national-level award for the TTU The Wildlife Society, and they join the ranks of other prestigious programs and student chapters across the United States as their names will be added to a permanent plaque that is on display at The Wildlife Society's headquarters," said Blake Grisham, the Director of the Llano River Field Station and an Associate Professor of Wildlife Management. "It's long overdue, and we are proud."
"Please join us in congratulating our student officers and members who worked so hard to put our program in the national spotlight," he added. Student representatives from group will travel to Spokane, Washington in November to accept the award at the annual wildlife society meeting.
Among the student leaders of the organization are:
Madeleine Rawlings: President – Sophie Morris, Past (2021)
Jake Burke: Vice President – Lainey Sagraves, Past (2021)
Regan Rivera: Secretary – Madeleine Rawlings, Past (2021)
Alaina Stanford: Treasurer – Katelyn Conley, Past (2021)
Collin Norvell: Outreach Coordinator – Amaris Shammaa, Past (2021)
Sarah Smith: Social Media Chair – Sarah Smith, Past (2021)
Alex Pearson: Ag Council Rep – Jake Burke, Hannah Belinne, Past (2021)
The Wildlife Society at Texas Tech, formerly known as the Range, Wildlife & Fisheries Club, was established in 1978 to promote professional relationships, career opportunities, and to aid students in the opportunity to succeed in the wildlife field. Among the organization's activities are coordinating and providing volunteer opportunities, such as mule deer and white-tailed deer captures, lesser prairie-chicken and purple martin captures, among other hands-on opportunities.
Earlier this year The Wildlife Society at Texas Tech was selected 'Student Chapter of the Year' by the Texas Chapter of the Wildlife Society for their efforts during the 2021 calendar year. The honor is presented to the state's top preforming, official student organization affiliated with The Wildlife Society. As part of the process, student officers with the Tech chapter submitted a 60-page application to compete against 12 other Texas student chapters.
The honor was presented in February during the annual meeting of the Texas Chapter of the Wildlife Society at the Horseshoe Bay Resort in Marble Falls, Texas. During the same meeting Grisham, who served as advisor to the Texas Tech chapter, transitioned to president-elect of the state chapter for 2022-2023, and will become president in 2023-2024.
CONTACT: Warren Conway, Bricker Endowed Chair in Wildlife Management and Chairperson, Department of Natural Resources Management, Texas Tech University at (806) 834-6579 or warren.conway@ttu.edu
0620NM22