Texas Tech MILE Program now accepting applications for fourth cohort
By: Lindsay Kennedy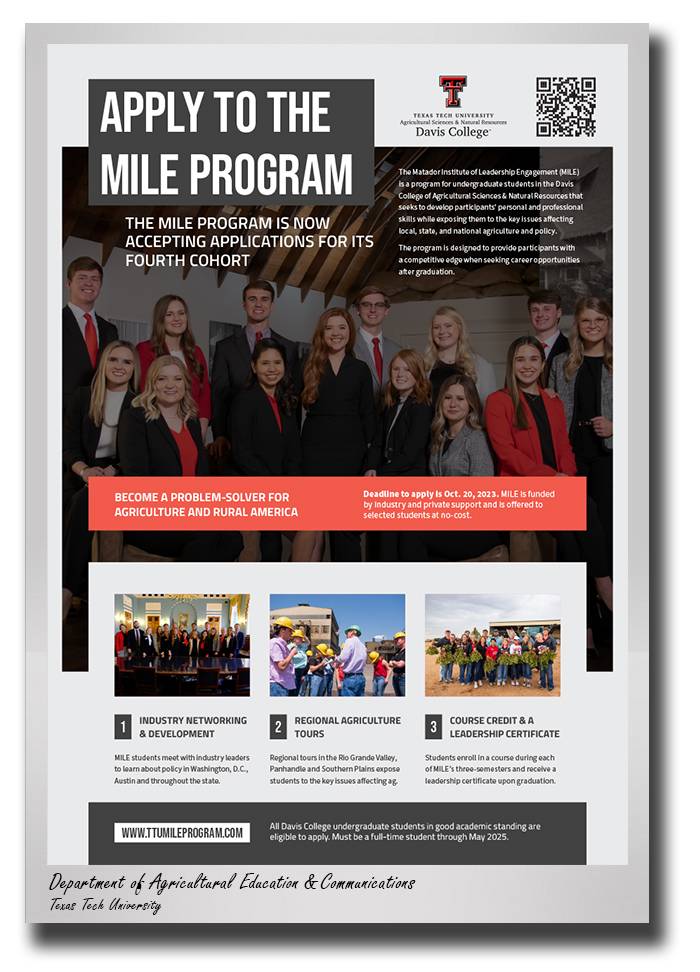 Davis College's Matador Institute of Leadership Engagement (MILE) Program is now accepting applications for its fourth 14-student cohort, which will run Jan. 2024 through May 2025. The program seeks to have representation from each of Davis College's six undergraduate academic departments. The deadline to apply is Oct. 20.
"The MILE Program uses regional agriculture tours in the Texas Panhandle, Rio Grande Valley and South Plains, trips to Washington, D.C. and Austin, and workshops to expose students to the key issues affecting agriculture," said Lindsay Kennedy, MILE program director and assistant professor of practice in agricultural communications.
MILE also uses professional development seminars that include etiquette and media training to produce well-rounded leaders who can advocate and communicate effectively, she said. In addition, industry engagement is a cornerstone of the program.
"Students will engage with professionals from a wide variety of agriculture industry sectors during their three-semester experience, ranging from producers in the field to community leaders to members of congress, Kennedy said. .
Key outcomes of the MILE Program include:
A charge to be a leader in their respective career fields and communities
Broader understanding of careers in agriculture
Increased confidence and self-awareness
Increased industry/professional network
Leadership and professional development
Understanding of the key issues affecting agriculture and rural communities on a local, state and national level
Students in the program enroll in a three-hour MILE-specific course during each of the cohort's three semesters. Graduates of the MILE program receive a leadership certificate when they graduate from Texas Tech. Students also participate in an internship related to their degree-program and related career field of interest during the program.
Eligible applicants must be on-campus, full-time undergraduate students in the Davis College who have a minimum 3.0 GPA. Additionally, eligible students must be full-time students at Texas Tech through the end of the fourth MILE cohort, which ends May 2025. Each MILE cohort accepts a maximum of 14 students into the program.
In addition to the online survey, applicants must also have one campus recommendation and one personal recommendation submitted online before the application deadline. Following the deadline, applications will be evaluated for quality and completeness. Only completed and correctly submitted applications received by the deadline will be considered. Incomplete applications (i.e., missing recommendation forms, resumes, etc.) will not be considered.
The MILE Program is a competitive three-semester leadership certificate program in Davis College that seeks to develop participants' personal and professional skills through high-impact learning experiences in agriculture and policy. The goal of MILE is to create a pipeline of trained, quality young leaders who are equipped with the experiences and skills necessary to handle the challenges affecting agriculture and their communities on the local, state and national level.
During the three-semester program, MILE participants enroll in three academic courses focused on the personal, service and community aspects of leadership and each complete a professional internship experience. The MILE program is funded through industry and private support and is offered at no cost to student members.
CONTACT: Lindsay Kennedy, Assistant Professor of Practice & MILE Program Director, Department of Agricultural Education & Communications, Texas Tech University at (806) 834-8240 or Lindsay.Kennedy@ttu.edu
0907NM23 / Editor's Note: Learn more about the MILE Program here