LA's Nazia Trina brings home national ASLA Student Award of Excellence
By: Norman Martin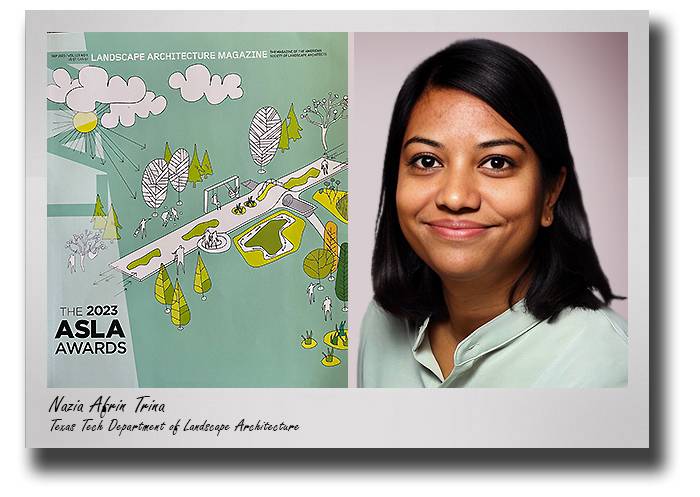 Nazia Trina, a doctoral candidate within Texas Tech University's Department of Landscape Architecture, has been awarded an American Society of Landscape Architects Award of Excellence – Research Category. The honor was presented late last month at the organization's annual conference in Minneapolis, Minnesota, one of the largest gatherings of landscape architects and allied professionals in the world with more than 6,000 attendees.
"Nazia Trina is an excellent graduate student - creative, hardworking, and passionate about landscape design for improving childhood environments." said Muntazar Monsur, Trina's faculty advisor and an assistant professor in the Department of Landscape Architecture. "Most of her visuals and graphics are hand-drawn and unique - a testament to her artistic skills and dedication."
Trina's entry, titled "The Play Value of Plants: Altering parts of plants as loose art play materials in early childhood learning landscape," represented her thesis work in completing a landscape architecture master's degree (Summer 2023). She is now working toward a doctorate in the department.
As the 2023 ASLA Awards Jury noted in their review, "This research asked a clear question, produced results, and packaged the information creatively and in the spirit of the research partners. This is such a cool idea. Would be incredibly useful for LAs, schools, municipalities, students, and parents. An important and unique addition to a growing interest in nature-based learning and play." Monsur noted that the cover of the September issue of Landscape Architecture magazine also featured an image from Trina's project.
Trina's research identified the lack of a comprehensive plant database focused on early childhood play and learning. Also, empirical data on children's interactions with plants and plant parts in the real world showed that there is much to be added to the literature and existing databases about the play value of plant parts in early childhood learning landscapes.
"By observing children engaged in free play in different settings, this research provides many clues to support the 'messy' design concept of a play environment," Trina said. "Plants have the potential to support all domains of early childhood development and that can be more effective if we use plant parts as loose part materials."
Trina found that statistics regarding childcare centers in the U.S. show that the number of children who go to preschool every day is more than 13 million. Since most preschoolers spend a large portion of their lives in childcare facilities, if different plants with play values can be introduced in the outdoor play areas of these childcare centers, then it can be a potential opportunity to promote the interaction of children with nature-based loose parts and enhance their play and learning behavior, she said.
Before winning the ASLA Award, Trina won the 2022 CELA (Council of Educators in Landscape Architecture) Poster Award and the 2023 TTU ORI (Obesity Research Institute) Graduate Poster Award (1st Prize). She has been involved in two USDA-funded projects in Davis College as a graduate research assistant since 2021.
CONTACT: Muntazar Monsur, Assistant Professor, Department of Landscape Architecture, Texas Tech University at (806) 834-2994 or mmonsur@ttu.edu
1114NM23 / Editor's Note: To view of digital version of Nazia Trina's award-winning presentation, The Play Value of Plants, please click here