Next Steps
Mourad Abdennebi
MA Languages & Cultures-Applied Linguistics
Mourad is pursuing US teaching positions for Arabic and French for the Academic Year 20-21 school year.
Yayoi Akita
MA Languages & Cultures-Applied Linguistics
I had a great time with wonderful teachers, staff, and students at TTU. They inspired me to consider how I should be in the future. People in Lubbock were also nice. I will never forget their kind hospitality. I am going to return to my job and start teaching English at a high school in Japan. I will be sure to apply what I learned to my teaching and keep developing myself to become a good educator, like those who taught me applied linguistics. Thank you very much!
Yesenia Brambila
MA Languages & Cultures-Classics
I am so thankful for the opportunity to complete my MA in Classics here at Texas Tech. I decided to pursue a career in Classics as soon as I was exposed to it in my undergraduate career at NYU because classical studies give us the opportunity to examine ancient societies in their own right, but also offer us a platform for interrogating our own. My current research is on how Ancient Greek festivals act as occasions in which a community's sociopolitical and religious beliefs are expressed and facilitated, and there is no doubt that these questions arose from my awareness of the communities which I belong to today. It goes without saying, however, that I am indebted to my community at Texas Tech (my peers, mentors, professors, etc.) for providing me with the resources and constant support. When I begin my PhD program at UC Berkeley this fall, I hope to lead this example and play a supporting role in someone else's community while continuing to explore the many manifestations of communities in Ancient Greece.
Lawrence Chamunorwa
MA Languages & Cultures-Classics
I will proceed to Princeton University where I will be pursuing a Ph.D. in Comparative literature.
Kailey Corpman
MA Romance Languages-French
Kailey Corpman is graduating with her Masters in Romance Languages-French. I hope to return to the DFW area and will be pursuing a teaching certification in order to continue teaching French! I would like to say thank you so much to the mentors and incredible professors I've had in my time at Texas Tech, I could not have done it without you!
Maurice Gonzales
MA Languages & Cultures-Classics
I knew that I wanted to pursue my PhD ever since I came into Classical Studies back in my undergraduate. I came to the Classics MA program here at Tech to work on my Latin and Greek more seriously. I'm glad that I did because the program here has given me a more secure footing, in no small part thanks to the well-rounded faculty and their endless patience. Next year, I start my PhD at Washington University. While it will certainly be a change from Texas Tech, I cannot wait to write this new chapter and gain new experiences.
James Haney
MA Romance Languages-Spanish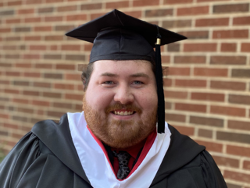 With a desire to stay in Lubbock for a few years, I am in the local job market to teach Spanish or work in academia using my skills.
Anastasia Kenessey
MA Romance Languages-French
Anastasia will be working towards teaching certification over this summer and is currently interviewing for high school French teaching positions in the fall.
Karina Oliveira de Paula
MA Languages & Cultures-Applied Linguistics
I will begin a PhD in Curriculum and Instruction in the Texas Tech Dept. of Education next fall. I am thankful to receive a position as Research Assistant. I feel privileged and honored for having earned a MA in Languages & Cultures-Applied Linguistics, a certificate in Higher Education and to have served as president of GSAL during the previous 3 years. I am looking forward to the birth of my first child in September and to become a mom.
Robin Tierperman
MA Romance Languages-Spanish
As for next steps after graduation, I have accepted a Spanish teaching position at Hutchinson Middle School where I will be teaching 6th grade Spanish.
Classical & Modern Languages & Literatures
Address

CMLL Building, 2906 18th St, Lubbock, TX 79409

Phone

806.742.3145