Distinguished Engineer Citations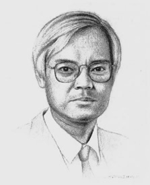 Ming Chiang
Distinguished Engineer
2001
Degree
Electrical Engineering – 1978

Citation
At Time of Nomination in 2001
Ming Chiang earned his Bachelor of Science degree from the National Cheng–Kung University in Taiwan, and then came to Texas Tech University and completed his Master of Science degree in Electrical Engineering in 1978.
Ming Chiang was appointed as Vice–President at Texas Instruments Inc. in 1997 where he coordinates all design efforts and manages all process technology development and CAD methodology development. The product and technology his group has developed is contributing directly to over 3 billion dollars in annual revenue. For the last four years, Texas Instruments has been the largest mixed signal supplier in the semiconductor industry. He has served Texas Instruments for many years and his responsibilities have been varied, beginning as a Test/Design Engineer in the MSP organization on data converter product and engine control IC. He then served as Product Engineering Section Manager with the responsibility for data converter products and application specific IC. In 1984, he became the Branch Manager of the MSP, SC group that managed the design group to produce data acquisition products. In 1990, he became the Department Manager over the MSP, SC Group, responsible for all the mixed–signal product development such as wireless communications, voice modem, printer device, PCI bus interface, 1394–fire wire interface, and IC for printers.
Mr. Chiang considers community service activities to be a major part of his life. He has served as Chairman of the National Cheng Kung University Alumni Association-Dallas Chapter and as a member of the Industrial Advisory Board for the Organization of Chinese Americans. He is currently a member of the Electrical Engineering Industrial Advisory Board at Texas Tech; and serves as an advisor for the Chinese Initiative, Texas Instruments. He contributes to and is the driving force for the Chinese Alumni Scholarship Fund in Electrical Engineering and for the Scholarship Fund for Tien–Jin University in China.
He has received numerous awards for his dedication to the engineering profession, including the Role Model Award, Chinese Initiative, Texas Instruments; Annual Achievement Award, Organization of Chinese Americans; Outstanding Award for Science and Technology, Dallas Asian Chamber of Commerce. He also serves as a Deacon at the Dallas Chinese Fellowship Church and as the Administrative Assistant, Collin Chinese Fellowship Church. In addition he is a fundraiser for the Juvenile Diabetes Association with Texas Instruments and participates annually in the TI fundraising events supporting the United Negro College Fund.
Mr. Chiang and his wife, Connie, have two children, Alice and Kathleen.
Texas Tech University is indeed privileged to designate Ming Chiang as DISTINGUISHED ENGINEER.
Edward E. Whitacre Jr. College of Engineering