Resources
For Incoming Red Raiders
Utilize the below resources and video library related to financial aid and scholarships as you prepare to become a Red Raider!
Important steps and information!
1. Submit Financial Aid Application (FAFSA or TASFA)
At Texas Tech, eligibility for financial aid is based on financial and household information that is reported on financial aid applications. Since grant funding is limited, priority is given to early applicants.
The Free Application for Federal Student Aid (
FAFSA
) is available for all US citizens. The FAFSA opens in December for the 2024/2025 school year at
fafsa.gov
and the priority date is January 15. Texas Tech code: 003644. Check out this
FAFSA Overview
video for more information.
The Texas Application for State Financial Aid (
TASFA
) is available for all non-US citizens who are Texas residents. The
TASFA
opens October 1 for the following school year at
collegeforalltexans.com
. The priority date is January 15.
2. Review Scholarship Requirements
University Competitive Scholarships
Merit Scholarships: no additional application
Continuing Students

Submit Application:

Oct. 1 - Feb. 1 Continuing Student Scholarship Application

INCOMING FRESHMEN

Submit Admisison Application

Priority Deadline:

Dec. 1

Presidential Merit Scholarships are guaranteed to first time freshmen admitted by May 1 with qualifying test scores and class rank.

Incoming Transfer Students

No Application Deadline

Transfer Merit Scholarships are guaranteed to students who have transcripts and other required documents submitted by:

Fall Entry: July 31

Spring Entry: January 6




TechTeach 2+1 Scholarships:

Deadline: July 1

Graduate Students
3. View and Accept Awards
The most up-to-date financial aid award package can be viewed through your Raiderlink account.
Log into www.raiderlink.ttu.edu
Click the My Tech tab
Click Student Financial Aid and Scholarships
Click View and Accept Aid Package
Select the academic year
Click the Award Offer tab
Review the award and accept the offer by clicking the Confirm button at the bottom of the page.

The terms and conditions box will appear. Once you have reviewed them, check the acknowledgement button.

Click the Accept Award button
4. Check for Additional Requirements
Requirements found on the
Double T Dashboard

Scholarship Thank You Letter
. All university level scholarships require you to show your appreciation to your scholarship donor by writing a thank you letter.
Requirements found on
Raiderlink.ttu.edu:
Click on the MyTech tab and choose Documentation Requested under the Student Financial Aid & Scholarships menu. Select the Aid Year, then Student Requirements.
Satisfactory Academic Progress
. To maintain eligibility to receive financial aid, students must meet Satisfactory Academic Progress.
Federal Student Loan Requirements
. Students using Federal Direct Student Loans as a tool to help them pay for educational costs must complete Entrance Counseling and the Master Promissory Note at
studentloans.gov
.
Verification
. The Department of Education requires us to confirm, or verify, that the information submitted on the FAFSA is accurate through additional documentation for selected students. Students can view requirements and upload documents via the Double T Dashboard. Verification must be complete before financial aid can be disbursed.
5. Check you TTU Email Frequently
It is important to check your TTU email frequently as Financial Aid will contact you through your TTU email for additional requirements and award notifications. This will help you stay informed about financial aid, scholarships, events, important reminders, and more. Go to
mail.ttu.edu
to log in with your eRaider credentials. If you are unsure of your email address, you can find it at
eraider.ttu.edu
. If you have additional questions, contact IT Help Central at (806) 742-4357 (HELP).
Add your TTU email account to your
iPhone
or
Android
to make it easy to stay informed.
6. Seek Additional Funding
Consider other options such as:
External Scholarships Search
Click
here
to report external scholarships.
Send external scholarships to the address below:
Texas Tech UniversityScholarship OfficeWest Hall, Room 301Box 45011Lubbock, TX 79409-5011
Student Employment
Student Loans
*For Parent PLUS, CAL, or alternative/private loan applications, the priority deadline is July 1, 2023. Applications received after this date may require enrollment in the emergency payment plan to avoid cancelation of classes.
If you are experiencing financial hardships within the last year, click
here
to learn how Texas Tech can assist you further.
Worksheets and Forms
Estimated Costs Worksheet 2023-24
2023-24 Special Circumstance Request
Red Raider Orientation Presentation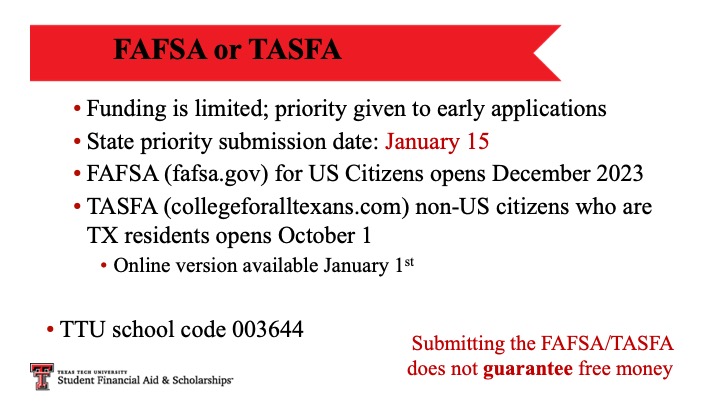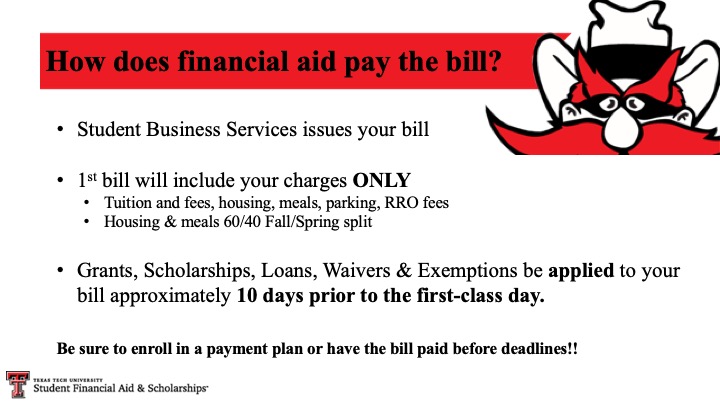 Video Library
Have Questions?
Our goal is to make obtaining a college degree within reach by supporting you with financial aid and scholarships programs. As a student, please know that you and your family have a dedicated financial aid advisor who can assist you with this process. Your assigned advisor is based off your last name. We look forward to hearing from you!
Financial Aid
Address

Texas Tech University | Student Financial Aid & Scholarships | West Hall 301 | P.O. Box 45011, Lubbock, TX 79409

Email

finaid.advisor@ttu.edu