Financing Your Education
As an international undergraduate student, you have the opportunity to receive scholarships from Texas Tech University. All students who are awarded a competitive scholarship of at least $1,000 per academic year also qualify to pay tuition at the resident rate.
Presidential Merit scholarship chart for 2021-2022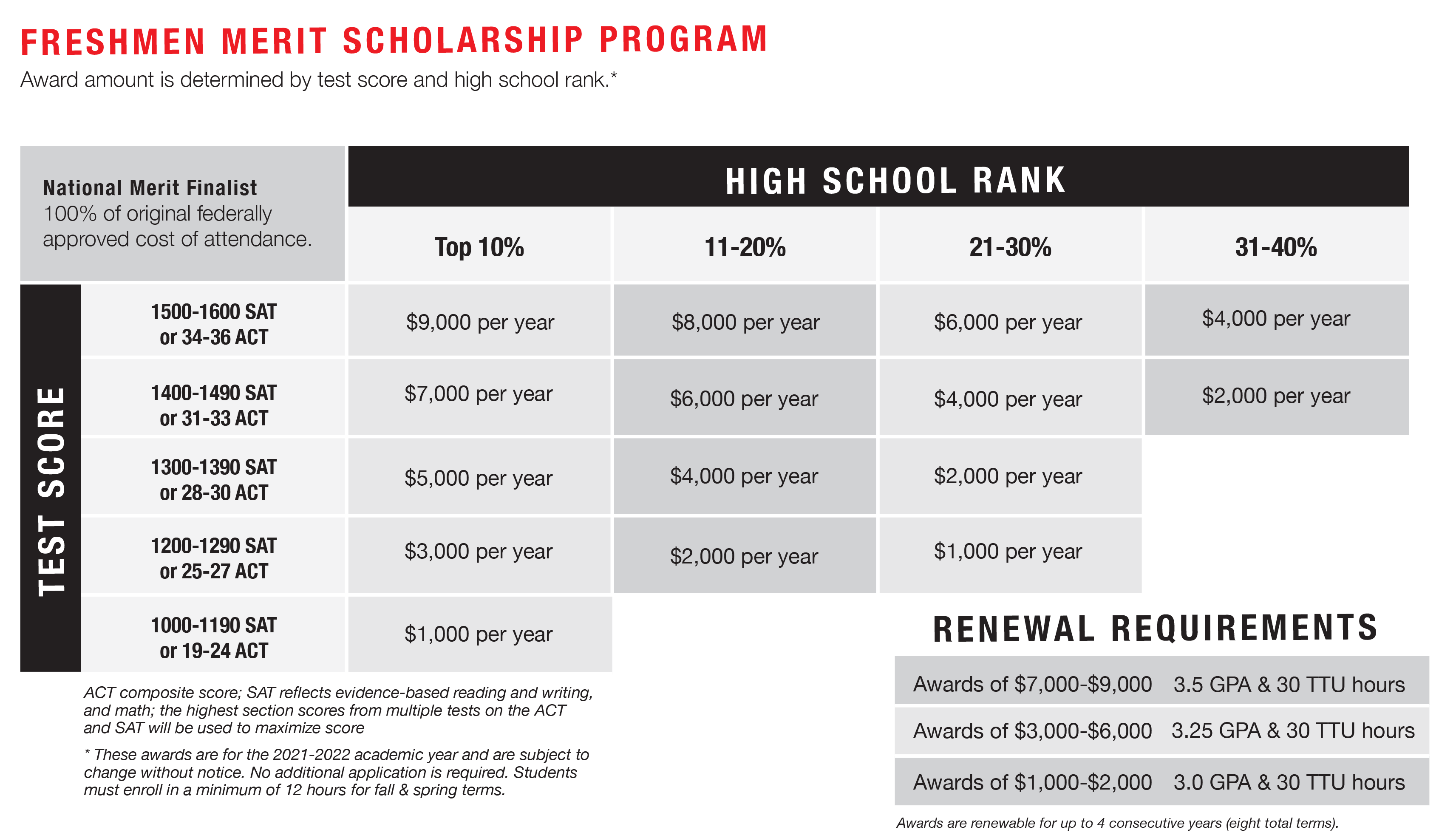 Proven Achiever scholarship chart for 2021-2022
Qualifications
60 Transferable GPA
Hours 3.5 GPA

$4,000


per year
Renewal Requirement
3.25 GPA & 12 hours earned per term
Cost of Attendance
Undergraduate Estimated Cost of Attendance 2021-2022*
Tuition
& Fees
Living
Expenses
Books
Health
Insurance
TOTAL
Non-Resident
$24,122
$12,730
$1,200
$2,756
$40,808
Resident
$11,852
$12,730
$1,200
$2,756
$28,538
* These estimates represent average expenses for the 9-month academic year. Estimates are based on full time enrollment (12+ hours). Costs will vary according to the field of study, housing choice, and lifestyle.
Departmental Scholarships
The ApplyTexas.org application includes supplemental scholarship application questions. International undergraduate students who complete and submit the application are automatically considered for funding awarded by academic colleges and departments. Deadlines for this application are February 1st for first year students and March 1st for transfer students. Apply Now!
Working on campus
As an international undergraduate student, you have the option to work on campus part-time. However, on-campus jobs are not guaranteed. Consult your ISSS advisor regarding your work eligibility. Once you are registered for classes you can apply for jobs on campus. You can begin your job search on the Student Job Portal.