Student Spotlight: Dylan Davidson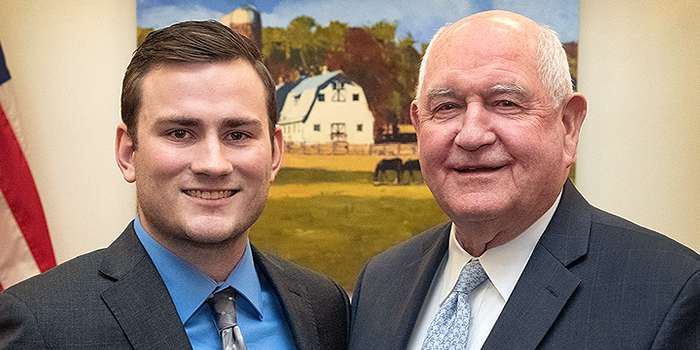 Name: Dylan Davidson; Intern Office: U.S. House Committee on Agriculture; Semester: Fall 2018; Major: Agricultural Communications; Classification: Senior; Hometown: Childress, Texas
My Experience: My time in D.C. was a life changing experience. The office I worked for was a perfect fit for me and the staffers I worked for helped spark my interest in agricultural policy. The networking opportunities, experiences and friendships are all things I will carry with me after my time at Texas Tech.
Why Go: It'll be an experience that you'll never forget. It'll challenge you in many ways and give you friendships and work experience that you'll never forget.
Any Advice: Don't get comfortable. If you're comfortable then you're not really trying anything new or learning everything the internship has to offer.
Favorite Part: My favorite part is the friendships I made at the Tech House and in the Ag Committee. I have a great friendship with everyone I lived with in the Tech House and the staffers in the Ag Committee made me enjoy going to the office every day.
Looking Ahead: I graduated in May of 2019. Honestly, I'm not sure what I'll do. Some days I want to go and get a master's degree from one of the colleges in D.C., and work on the hill and other days I want to join the Navy and serve my country. With whatever I decide to do, I will for sure be taking everything I learned during my internship with me and applying that to my career.
In 1998, Texas Tech University's Davis College of Agricultural Sciences & Natural Resources established a Government Internship Program for Davis College students. This has turned out to be one of the most significant programs ever put into place. Since establishment of the program, over 100 students have served as interns in congressional and legislative offices in Washington, D.C. and Austin, Texas.
CONTACT: Cindy Akers, Associate Dean for Academic and Student Programs, Davis College of Agricultural Sciences & Natural Resources, Texas Tech University at (806) 742-2808 or cindy.akers@ttu.edu
Davis College of Agricultural Sciences & Natural Resources
Address

P.O. Box 42123, Lubbock, Texas 79409-2123, Dean's Office Location: Goddard Building, Room 108

Phone

(806)742-2808