Year of Soils; Success of Tech's soils judging teams built over time, tradition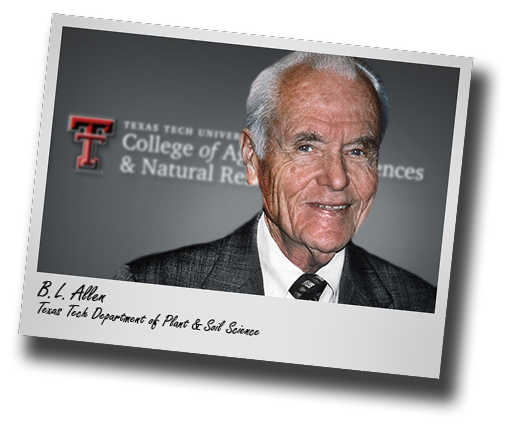 During the 1960s and 1970s, a team on the Texas Tech University campus routinely vied for national championships; not on the football field, but in the soil judging pit. Indeed, Red Raider teams were some of the best and most respected in the nation.
This legacy is in large part due to the leadership of one man, B. L. Allen. "Dr. Allen was a foremost soil scientist, a deeply religious individual, and, most importantly, a good man," said Richard Zartman, former chairman of Tech's Plant and Soil Science Department. "He was the consummate field soil scientist, and he instilled his curiosity and passion in all of us who had the good fortune to work with him."
Allen passed away in 2012 at age 88. From 1991 until his retirement in 2003, he served as the university's Rockwell Professor of Soil Science. In addition, he coached Tech's soils team for four decades. During that span, his teams placed first, second or third in the region 35 times. Nationally, his teams place first, five times and second, third or fourth an additional seven times.
Allen trained many graduate students throughout his career. Those students now hold professional positions in universities, private industries and public agencies across the country. Allen received numerous awards, including the Amoco Teaching Award, President's Teaching Award, President's Academic Achievement Award, and Excellence in Teaching Award from Texas Tech. In 2005, Allen was selected as the Texas Tech Distinguished Alumnus for the College of Agricultural Sciences and Natural Resources.
Tech's Soils Judging Team winning tradition continues today. A year ago, the Tech team won first place overall at the regional soil judging contest at Texas A&M University-Kingsville with three high-placing individual performances at the event. The team was coached by David Weindorf, associate dean for research with Tech's College of Agricultural Sciences and Natural Resources.
Recognition of Tech's Soils Judging Team is part of Tech's College of Agricultural Sciences and Natural Resources yearlong salute to the Food and Agriculture Organization of the United Nations proclamation naming 2015 as the 'International Year of Soils.' Advocacy, awareness raising, and education are at the core of this international year with theme, 'Healthy soils for a healthy life,' Weindorf said.
Written by Norman Martin
CONTACT: Eric Hequet, Department Chair, Department of Plant and Soil Science, Texas Tech University at (806) 742-2838 or eric.hequet@ttu.edu
0915NM15