Julia Shamshina joins Fiber and Biopolymer Research Institute
By: Norman Martin
Julia Shamshina has been named a Research Assistant Professor in renewable biopolymers and bioproducts with Texas Tech's Department of Plant and Soil Science, according to officials within the College of Agricultural Sciences and Natural Resources. She officially stepped into her new research post on Jan. 19.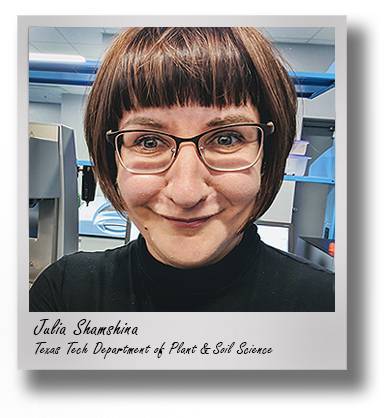 The Russian native, who will be based at Tech's Fiber and Biopolymer Research Institute, indicated that her research program targets utilization of the biopolymers for the development of sustainable biomaterials.
Her research interests focus on all aspects of ionic liquids and biopolymer processing, from fundamental properties to overall material preparation to industrial applications. She is particularly interested in potential industrial uses of biopolymers in high-value materials, with an ultimate goal of elimination of synthetic plastics.
Prior to taking joining the Texas Tech faculty, Shamshina served as a Research Chemist and Chief Scientific Officer with Tuscaloosa, Alabama's 525 Solutions, Inc., a research and development company; and Adjunct Assistant Research Personnel with the University of Alabama-Tuscaloosa's Department of Chemistry and Biochemistry.
In addition, Shamshina worked as Chief Scientific Officer with Mari Signum Mid-Atlantic, LLC in Richmond, Virginia; and an academic associate in the group of Canadian Excellence Research Chair in Green Chemistry and Green Chemicals at McGill University in Montreal, Canada.
Shamshina received her bachelor's and master's degrees in chemical engineering from the D. Mendeleev University of Chemical Technology of Russia in Moscow, Russia. Her doctorate degree in organic chemistry is from the University of Alabama-Tuscaloosa. Honors include the Green Chemistry Challenge Award (2018) for a practical way to mass produce chitin; and the NASA Tech Brief Award (2011) for "Ionic Liquids: Unlocking the Gate to Replacing Hydrazine." She is a member of the American Chemical Society and the Canadian Society for Chemistry.
Texas Tech's Fiber and Biopolymer Research Institute is one of the university's premier institutes, said Noureddine Abidi, Leidigh professor and managing director of Tech's Fiber & Biopolymer Research Institute. The facility is an international leader in research and technology transfer in fibers and textiles, as well as academic and professional education.
Other FBRI research activities include testing, evaluation and consultation related to fiber and textile product properties; development of textile testing methods and instrumentation; and textile manufacturing. The FBRI is located on a dedicated campus with almost 30 acres of land and a 100,000 square-feet of space. The building features 12,000 square-feet of laboratories that are ambient-condition controlled around the clock.
CONTACT: Noureddine Abidi, Leidigh Professor and Managing Director of the Fiber & Biopolymer Research Institute, Texas Tech University at (806) 834-1221 or noureddine.abidi@ttu.edu
0120NM21