Putting Down Roots; CASNR set to participate in Arbor Day activities
By: Norman Martin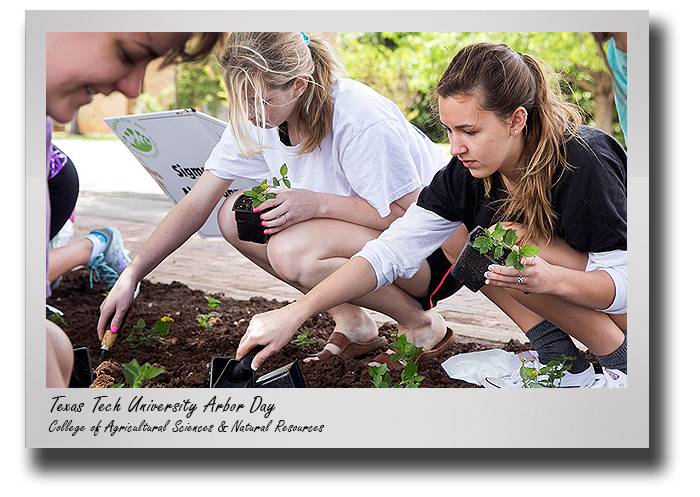 Texas Tech's College of Agricultural Sciences and Natural Resources marks its celebration of sustainability and community next week with its annual Arbor Day on Friday (Apr. 30). The event, which features CASNR organizations, is a partnership among Tech's Student Union & Activities, Center for Campus Life, Grounds Maintenance, Student Activities Board, Transportation & Parking Services, Operations Division, and Hospitality Services.
"Arbor Day is an annual event that provides an opportunity for students, faculty and staff to join together to beautify the Tech campus, while building a sense of community," said Cindy Akers, CASNR's Associate Dean for Academic and Student Programs. A free jellyfish air plant and an Arbor Day t-shirt, and planting alongside other Red Raiders makes the event one of the semester's most anticipated events.
CASNR organizations participating in the annual campus-wide program include:
· Agricultural Economics Graduate Student Organization
· FarmHouse Fraternity
· Horticulture Society
· Meat Science Association
· Student American Society of Landscape Architecture (SASLA)
When Texas Tech was founded in the 1920s, most of the funds went towards the buildings, but the campus was lacking landscape. In 1937, President Bradford Knapp decided to dedicate one day every spring to beautify the campus. He proclaimed to the university that one day every spring Texas Tech faculty, students and anyone who could lend a hand would help plant trees and shrubs around campus.
The day was carried out in true West Texas fashion. Knapp, State Sen. G.H. Nelson, Business Manager W.T. Gaston, Superintendent of Buildings J.H. Grimsley and other administrators supervised the work on horseback. Home economics students in long dresses and sunbonnets rode in covered wagons to hand out coffee and doughnuts to the volunteers who were planting.
Although it was a great celebration for one day of the year, caring for the trees and shrubs became difficult for the other 364 days of the year due to the inadequate water supply. Most of the plants died, leaving the Texas Tech campus as the typical West Texas land it's known for.
The tradition lasted only 10 years, ending in 1948, until it was resurrected in the late 1990s by former Texas Tech Chancellor John Montford. The annual Arbor Day tradition has grown exponentially since then. Today, more than 160 student organizations participate in the planting process and help the university's grounds maintenance department tend to the landscape across campus.
In accordance with Texas Tech's current commitment and safety guidelines, limited planting spaces are available for this year's program. Priority will be given to students first, and if spaces remain closer to the event, the program will open up sign-ups to faculty and staff. There will be staggered check-in and planting times, and masks will be required.
CONTACT: Cindy Akers, Associate Dean for Academic and Student Programs, College of Agricultural Sciences and Natural Resources, Texas Tech University at (806) 742-2808 or cindy.akers@ttu.edu
0422NM21