Solid undergraduate growth lifts CASNR to record enrollment, again
By: Norman Martin
Texas Tech's College of Agricultural Sciences and Natural Resources continued its decade-long enrollment growth path with 2,947 signing up for classes, as of the 20th day of class on Monday (Sept. 20), according to university officials. That includes 2,473 undergraduates and 474 graduate students; an increase of 141 students over last year's total CASNR numbers.
Meanwhile for Texas Tech as a whole, there was another record in student numbers. After passing 40,000 students in 2020, the university now has an enrollment of 40,666 as of the 20th day of class. This continues to propel Tech as one of the nation's fastest-growing higher education institutions during the last decade.
But what makes this enrollment special is the fact Texas Tech experienced a record enrollment of 6,677 first-year students and 6,917 graduate students. The new cohort of first year students is 2.5% larger than last year's class and is one of the most academically accomplished classes in Texas Tech history. Graduate enrollment was up more than 4 percent.
"The demand for a degree from Texas Tech has never been greater," said Texas Tech president Lawrence Schovanec.
Back in the College of Agricultural Sciences and Natural Resources, the new numbers were welcome. "We're delighted that more students are choosing CASNR as their academic home," said CASNR Interim Dean Cindy Akers. "This growth pattern demonstrate that we are fulfilling our commitment to provide a quality, research-based education."
Despite the recent unprecedented COVID-19-related circumstances, the upward trajectory represents a longtime trend in enrollment – up from 1,873 in 2011 to 2,947 this semester. CASNR's positive tally is the direct result of the momentum of faculty, staff and members of the Dr. Bill Bennett Student Success Center who are creating new opportunities for students, Akers added.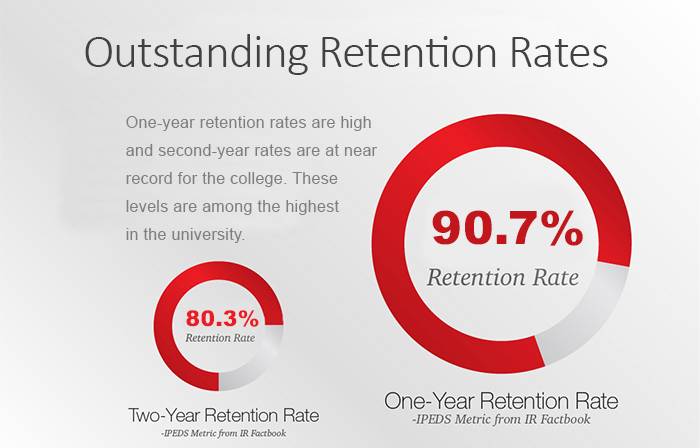 Other positive student-related indicators are CASNR's graduation and consistently-high retention rates. According to the latest Texas Tech Fact Book report, the college's one-year retention rate was 90.7 percent and a six-year or less graduation rate was 71 percent.
The 2021 Fall enrollment numbers for individual CASNR departments are:
Department of Agricultural & Applied Economics: 553 (Grad: 53 /Undergrad: 480)
Department of Agricultural Education & Communications: 397 (Grad: 110 /Undergrad: 287)
Animal & Food Sciences: 1,185 (Grad: 96 /Undergrad: 1,089)
Department of Landscape Architecture: 91 (Grad: 9 /Undergrad: 82)
Natural Resources Management: 424 (Grad: 65 /Undergrad: 359)
Department of Plant & Soil Science: 309 (Grad: 136 /Undergrad: 173)
CONTACT: Cindy Akers, Interim Dean, College of Agricultural Sciences and Natural Resources, Texas Tech University at (806) 742-2808 or cindy.akers@ttu.edu
0930NM21