2005 Inductees
James R. McDonald, Ph.D., P.E.
--earned his B.S.C.E. in 1986 from Texas Tech University. While working on his degree he was employed as a Research Associate in the Department of Civil, Environmental, and Construction Engineering, spending a good deal of his time working on a project involving blast effects on glass. In 1987 after completing his degree, Mr. Bownds joined Curtain Wall Design and Consulting, Inc. and he has advanced to his current position as Engineering Manager/Associate of the Cladding Department. He has been involved with such notable projects as the Bass Performing Center ("Angels of High") in Ft. Worth; the Burj Al Arab Hotel (arguably the best hotel in the world) in Dubai, United Arab Emirates; and the Ronald Reagan Building and International Trade Center in Washington, DC. He is currently working on the DKAAEP endowment project for King Abdul Aziz in Saudi Arabia. Mr. Bownds is a Registered Professional Engineer in Texas, a member of the American Society of Civil Engineers (ASCE), the Marble Institute of America and the Cast Stone Institute. He and his wife, Rhonda, make their home in Garland, Texas. They have two sons, Brandon and Bobby. Ken and Rhonda have touched the lives of many boys through his volunteer duties as an assistant scoutmaster. He and his family are active members of the Arapaho Road Baptist Church. Ken's hobbies include hunting, fishing, climbing and rappelling, backpacking, and camping.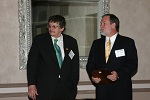 --earned his B.S.C.E. from Texas Tech University in 1971. Mr. Breisch has over 30 years comprehensive experience in environmental and sanitary engineering. His experience includes the preparation, administration, and coordination of applications and documents for projects in the EPA Construction Grants program as well as design of over 300 wastewater and industrial waste treatment plants. The City of Boyd has recognized him for his outstanding design of their wastewater treatment plant and other professional services he rendered for the community. Mr. Breisch was the engineering design manager for the Can-Tex Corporation wastewater division. In this capacity he was responsible for all design functions of their packaged wastewater treatment plants and lift stations. When Can-Tex closed operations in 1979 he worked for another consultant until 1983 when he opened his own consulting firm, Wasteline Engineering, Inc. As a certified treatment plant operator, Mr. Breisch has provided consultation on start-up, trouble shooting, and process monitoring. He has also been involved in the development of detailed plans and specifications for the construction of sewer collection systems, water storage, water pumping, and water treatment plants. Mr. Breisch is a Registered Professional Engineer in Texas, Colorado, Missouri, Oklahoma, Arizona, Florida, Mississippi, and Georgia. He is a member of the American Society of Civil Engineers (ASCE), the American Water Works Association, Chi Epsilon, the National Civil Engineering Honor Society, and the National Federation of Independent Businesses. He and his wife, Brenda, reside in Aledo, Texas. They have five children, Jason, J. Michael, Jaime, Eric and Jennifer.
--graduated Magna Cum Laude from Texas Tech University earning a B.S.C.E. in 1985. Building on the educational foundation he received at Texas Tech, Mr. Craig first worked as a construction engineer and then as a structural engineer in the private sector. Mr. Craig took some time off to own and operate Creative Education of Irving, Inc., a company that helped children and adults with learning disabilities through multi-modal exercises and activities. In March 1991, his wife, Donna, began operating Creative Education, and Kevin went back to work as a structural engineer for James Beaver and Associates. In March 1993, he was hired by the Texas Department of Transportation as the design and construction management team leader for roadway projects related to the Superconducting Super Collider project. In 1995, following the closure of this Federal project, Mr. Craig began working for the US Army Corps of Engineers in Fort Worth. In almost 10 years of service to the Corps of Engineers, Mr. Craig has received three promotions, and eleven performance and incentive awards. In addition, the Fort Worth District named him Planner of the Year in 1998 and 2003. He is a Registered Professional Engineer in Texas. Mr. Craig, his wife Donna, and their children, Kelci, Kyle, Karah and Katie, reside in Mansfield, Texas. His brothers, Kent (1982) and Keith (1992), both graduated with a B.S.C.E. from Texas Tech.
--graduated from Texas Technological College in 1958 earning a BS in Petroleum Engineering. He began his professional academic career in 1958 as an Instructor in Civil Engineering at Texas Tech. In 1960, he moved north to pursue graduate studies at Purdue University where he earned his MS and Ph.D. in Civil Engineering with a major in Structural Engineering. He returned to Texas Tech as an Assistant Professor in 1966. During his tenure at Texas Tech, Dr. McDonald taught 22 different Civil Engineering courses. He and Dr. Bill Claborn (retired) developed the capstone design course, which is required of all B.S.C.E. graduates. The Lubbock Tornado of May 11, 1970, changed his life and the life of his colleagues in Civil Engineering. After helping to develop a plan for restoring the Great Plains Life Building (now the Metro Tower), he continued to study the behavior of structures subjected to tornado winds and debris impacts. He pioneered the field of tornado hazard assessment. He and his graduate students built a tornado cannon for simulating the impact effects of windborne debris on various building materials. The original facility has evolved into a world-class operation today at Reese Center, and is operated by the National Wind Institute. Dr. McDonald served as Chairman of the Department of Civil, Environmental, and Construction Engineering from 1997-2003. He retired from the university in 2003 after 39 years of service. He continues to teach part time and to engage in wind engineering consulting with his long-time partner and colleague, Kishor C. Mehta, through their firm of McDonald-Mehta Engineers. His most recent effort is the development of the Enhanced Fujita Scale. Dr. McDonald is a Registered Professional Engineer in Texas. He and his wife, Audrey, live in Lubbock. They have one daughter, Julia, who is an ER Pediatrician in Dallas.
--graduated in the top ten percent of his class from Texas Technological College in 1969 earning a B.S.C.E.. After graduation he worked as a Graduate Engineer with Forrest and Cotton, Inc., in Dallas, Texas. In 1972 he became City Engineer for the City of Plano, Texas, and later served as Assistant City Manager. In 1977 he became Senior Vice President for Sterling Products, Inc., a real estate development and investment firm headquartered in Dallas, Texas. Mr. Pope currently serves as President and owner of one of the most prolific real estate and land development companies in the Dallas-Fort Worth Metroplex. His firm's activities include over sixty major land developments including residential, apartment, commercial and industrial projects, and has provided consulting to local and national companies. Mr. Pope has an extraordinary record of achievements in civic activities, culminating in a recent three year tenure as the Chairman of the Board of the Dallas Area Rapid Transit (DART) Authority. He continues today as a member of that DART board. He is a member of Tau Beta Pi National Engineering Honor Fraternity and a Registered Professional Engineer in Texas. Mr. Pope is Former Chairman of the Board of Trustees for the Custer Road United Methodist Church in Plano. This past year he was elected as Trustee of the Connemara Conservancy Foundation. He and his wife, Marilyn, reside in Plano. They have three children, Travis, Taylor, and Lauren.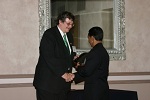 --earned his B.S.C.E. in 1984 from Texas Tech University. He earned his Doctor of Medicine in 1988 from the University of Texas Health Sciences Center at San Antonio. Dr. Vallabhan completed his Fellowship in Cardiology and his Fellowship in Interventional Cardiology at Baylor University Medical Center. Since 1996 he has been affiliated with HeartPlace in Dallas. Dr. Vallabhan is Board Certified in Internal Medicine, Cardiovascular Diseases and Interventional Cardiology. His special interests are Radial Artery Catheterization and Angioplasty, Valvular heart disease, Alcohol septal ablation for Hypertrophic Obstructive Cardiomyopathy, Percutaneous Atrial Septal Defect (ASD) closure, Percutaneous Patent Foramen Ovale (PFO) closure and Intracoronary Brachytherapy for in-stent restenosis. Dr. Vallabhan's professional affiliations include: Fellow, American College of Cardiology; Member, Society of Cardiac Angiography & Interventions; Member, American College of Physicians; Diplomate, American Board of Internal Medicine, and other associations. He is a member of the First Baptist Church, Dallas. Dr. Vallabhan and his wife, Sheryl, make their home in Dallas.
--earned his B.S.C.E. from Texas Tech University in 1974. He was commissioned through the Air Force Reserve Officer Training Corps program as a Second Lieutenant. During the summer of 1974, he worked for the Texas Highway Department as an engineering assistant and also earned his private pilot's license. Mr. Waldrip remained at Texas Tech and earned a MS in Civil Engineering in 1976. He began active duty in the Air Force in September 1976 and served more than 20 years in a variety of positions including: Research & Development Project Manager, US Air Force, New Mexico; Radar Operations Manager, US Air Force, Germany; Project Manager, US Air Force, Headquarters Space Command, Colorado; Assistant Professor, US Air Force Academy, Colorado; and Chief of Engineering, Operations, US Air Force, Korea. Following retirement from the Air Force in September 1996, Mr. Waldrip worked as Project Manager for the City of Colorado Springs and Project Manager for Wilson & Company. He is currently employed by the Colorado Department of Transportation as Project Engineer. In this capacity, he has been selected to design and manage a unique $150 million design/build project to reconstruct Interstate 25 through Colorado Springs, CO. Mr. Waldrip is a Registered Professional Engineer in Colorado and a member of the Society of American Military Engineers, ASCE Colorado Springs Branch, Chi Epsilon and Tau Beta Pi. Mr. Waldrip, and his wife Ursula, live in Colorado Springs, Colorado. They have three children, Kevin, Erik and Kate.
Department of Civil, Environmental, & Construction Engineering