2007 Inductees
Stephen is director of the City of Fort Worth Water Department, which provides water and wastewater service to approximately 850,000 people in Fort Worth and surrounding communities in Tarrant County. Frank earned his B.S.C.E. from Texas Tech University in 1976 and his MEng., with an emphasis in Civil Engineering from Texas A&M University in 1978. Prior to assuming his current position, he served as Assistant Director of Business and Planning Services and, prior to that, as Engineering Manager. During his tenure with the City of Fort Worth, Frank has been responsible for overseeing capital projects planning for water and wastewater expansions during the course of the last 20 years, including construction of the Eagle Mountain Water Treatment Plant in 1992 and its 40 million gallons per day (mgd) expansion in 2000; Village Creek Wastewater Treatment Plant expansion from 96 mgd to 166 mgd; oversight of the $230 million Wet Weather Program to upgrade the collection system; Rolling Hills capacity expansion from 80 mgd to 200 mgd and numerous other capital improvement projects. His involvement led to the development and implementation of Impact Fees in the City of Fort Worth in 1989. He was also instrumental in implementing cost of service based retail rates in the early 90s, and establishing a Citizens Advisory Committee for annual updates. Frank is a Registered Professional Engineer in Texas with more than 25 years of water utility experience. He and his wife, Robyn, reside in Fort Worth, Texas.
Frank earned his B.S.C.E. from Texas Tech University in 1995 and his MEng., with an emphasis in Civil Engineering from The University of Texas at Arlington in 2002. Frank joined Halff Associates in 2006 as a Structural Engineer. He has 10 years of experience with consulting firms in the Dallas/Fort Worth area. Frank worked for several years in the retail/distribution sector designing structures for a variety of retail facilities and foundations for large warehouses around the country. He has since done extensive structural work for civil and public works projects, including pump stations and water and wastewater treatment plants. Frank is pursuing accreditation as a Leadership in Energy and Environmental Design (LEED) professional, and currently provides structural design for a renovation project that is set to be the first LEED-certified project in Harris County. Prior to enrolling in the Texas Tech Civil Engineering program in 1992, Frank spent more than five years in the U.S. Army, where he attained the rank of Sergeant while serving as a Light-Infantryman and a PATRIOT Missile Operator. Frank is a Registered Professional Engineer in Texas. He has memberships in American Society of Civil Engineers, Fort Worth branch, Structural Engineers Association of Texas, American Institute of Steel Construction, Toastmasters, Engineers Without Boarders (EWB), and the U.S. Green Building Council. With his strong interest in sustainability issues, Frank is currently a Corresponding Member of the ASCE Committee on Sustainability and serves as Secretary of EWB-North Texas, for which he is founding member. Frank and his wife, Stephanie, are involved in many community service projects. They led a campaign that raised over $40,000 to build the first Habitat for Humanity home in Arlington, Texas and helped build the home the following year. They are both actively involved with the youth program in their church. Frank and Stephanie volunteered as a Big Couple in Big Brothers Big Sisters of Arlington and the Women's Center of Tarrant County.Frank and Stephanie, both Texas Tech graduates, make their home in Arlington, Texas. They have 2 children, Regan and Reid.
Stephanie earned her B.S.C.E. from Texas Tech University in 1996 and her M.S.C.E. (Water Resources) from Texas A&M University in 1997. She is an engineer with Freese and Nichols' Water Resources Planning Group in Fort Worth, Texas. During the nine years she has been with Freese and Nichols, Stephanie has performed a variety of tasks, including project management, long-range water supply planning, population and demand projections, water conservation and drought contingency planning, computer modeling, cost estimating, and system analyses. She has been actively involved with the statewide water planning effort known as Senate Bill One since its inception in 1997. Her work has primarily focused in the Region C area, Dallas-Fort Worth Metroplex. Stephanie assists water providers in analyzing potential future water needs and various options to meet such needs. She helps water providers develop solutions to meet water shortages, both current and projected. Stephanie has written and presented several papers focusing on water resources planning at a variety of conferences/seminars around the country, including "Senate Bill One - The Overall Picture" which earned "Best in Session" at the ASCE Fall 2003 Meeting. She is a Registered Professional Engineer in Texas. Stephanie and her husband, Frank, are actively involved in the community and their church. She enjoys helping others by volunteering for special projects at Tarrant County Women's Center and delivering Meals on Wheels. She has shared several awards with her husband for their combined volunteer efforts, including the Habitat for Humanity Golden Hammer Award, the Schoonover Award for excellence in Missions, and the James R. Nichols Community Service Award. Stephanie enjoys spending time with her family. She also participates in sprint distance triathlons and maintains the family history through scrapbooking. Stephanie, Frank and their two children, Regan (4) and Reid (2) live in Arlington, Texas.
Marc is the founding Director of the Louisiana State University (LSU) Hurricane Center and the Charles P. Siess, Jr. Associate Professor of Civil Engineering at LSU. He earned his Bachelor of Architecture in 1985, B.S.C.E. in 1985, M.S.C.E. in 1988 and Ph.D. in 1993 all from Texas Tech University. Dr. Levitan has been actively engaged in wind and hurricane engineering research practice, and education for many years. The LSU Hurricane Center is one of the premiere interdisciplinary research units at LSU, addressing hurricanes and other natural hazards and their impacts on the natural, built, and human environments. Dr. Levitan has studied wind and hurricane effects on buildings and structures through post-storm investigations, wind tunnel experiments, and full-scale tests. Recent field investigations include documenting performance of buildings and hurricane shelters during Hurricanes Rita, Katrina, Ivan, Charley, Isabel, and the May 2003 Tornado outbreak in the Midwest. Since joining LSU he has been the lead investigator or co-investigator on 30 projects totaling over $2.5 million. Prior to joining LSU, Dr. Levitan spent five years as the Managing Director of the Wind Engineering Research Field Laboratory (WERFL) at Texas Tech University studying wind effects on full scale buildings. Under the guidance of Dr. Kishor C. Mehta, he led a team of MS and undergraduate students that designed, constructed, and instrumented the field laboratory. He designed and built all of the original data acquisition, analysis, validation, and storage systems, and managed many of the research projects conducted at WERFL during the early years. Dr. Levitan developed a new method for assessing hurricane vulnerability of critical infrastructure that integrates engineering and emergency operations aspects of the problems. He has applied this method to hurricane shelters, hospitals, and emergency operations centers for state and local governmental agencies. Dr. Levitan's academic pursuits are in the fields of structural engineering and engineering for natural hazards. With support from the National Science Foundation, he led a large team that developed the first Hurricane Engineering program in the country, and was also one of the founders of the LSU Disaster Science and Management (DSM) program - a unique science and technology oriented academic program in emergency management. Dr. Levitan also led the creation of a Structural Engineering undergraduate minor, which has become one of the most popular minors in the College of Engineering. Dr. Levitan's contributions to teaching, research, and service have been recognized with numerous awards. Dr. Levitan, and his wife, Lilian, reside in Prairieville, Louisiana.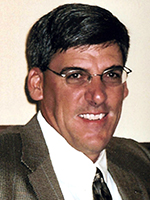 Russell earned his B.S.C.E. from Texas Tech University in 1997. He currently serves as the Public Works director for the City of Cleburne, Texas. Russell is a civil engineer, with 10 years of experience in civil engineering projects, and 25 years of experience in the construction industry. He has a broad background in design, preparation of plans and specifications, permitting, funding, and inspection of all types of civil engineering projects for public entities and private industry. He has been project manager and lead design engineer for numerous water, wastewater, paving and drainage projects throughout his career. His knowledge of construction practices gives him an enormous advantage in design of facilities and in the management of projects through the construction phase. As Public Works Director, Russell's responsibilities include administration of $13.2 million operations budget and $11 million Capital Improvement program. He directs the implementation of the GIS system, flood plain administration; planning & zoning, environmental health including food establishments; building inspection and permitting; 250 miles of street maintenance and city owned traffic signals, collection and disposal of solid waste and maintenance of over 250 miles of water mains. He is responsible for water treatment of up to 15 million gallons per day (mgd), over 250 miles of wastewater mains, wastewater treatment of up to 7.5 mgd and capability of supplying 1.5 mgd of reuse water to local industries; water and wastewater treatment plant expansions, securing water rights for future growth and permitting drilling of gas wells. Russell directly supervises six senior staff members along with 91 support employees. Russell is a member of the American Public Works Association, American Water Works Association, Water Environment Federation and Solid Waste Association of North America. He is a Registered Professional Engineer in Texas. He and his wife, Jackie, and children, Scott and Lindsey, make their home in Burleson, Texas.
Department of Civil, Environmental, & Construction Engineering