2012 Inductees
–- earned his B.S.C.E. from Texas Tech University in 2000 and his MEngr., with an emphasis in Civil Engineering/Water Resources Systems from Cornell University in 2001. Andrew has been an important part of the Halff Associates team in Fort Worth, Texas since joining the organization after graduation. He has been involved with and managed a wide range of hydrologic, hydraulic, and reservoir operations projects. He has extensive hands-on experience using state-of-the art GIS-based hydrologic and hydraulic models, and has presented numerous technical papers, seminars, and training classes on this technology. Andrew has coordinated flood-related technology with the U.S. Army Corps of Engineers Hydrologic Engineering Center and has been invited by the Corps to participate in exclusive Corps technical issues meetings. In addition to the U.S. Army Corps of Engineers (Fort Worth and Little Rock Districts), Andrew's clients have included the Lower Colorado River Authority, the Brazos River Authority, Tarrant Regional Water District, several districts of TxDOT, the North Texas Turnpike Authority, FEMA, and many cities and counties across the southwest. He assisted in the water availability planning studies for the Canadian and Red River basins for the first State Water Plan, Water for Texas – 2002, adopted pursuant to Senate Bill 1, 75th Texas Legislature. Andrew has provided the oversight and completion of seven water control manuals for large reservoirs in Arkansas and Missouri, as well as lake forecasting models for several of those dams. He was the Lead Project Engineer for FEMA Map Modernization, GIS-based countywide Flood Insurance Study update for McLennan County, Texas, and for portions of several Colorado River counties for FEMA updates. He was a drainage project manager for the drainage analysis and design for several major freeways in the DFW Metroplex now under construction, such as the massive DFW Connector interchange project in Grapevine and portions of the Southwest Freeway (Chisholm Trail) between Fort Worth and Cleburne. Other major projects, now underway, include civil design of a Corps levee in Wharton, Texas, a comprehensive real-time flood forecasting and warning system for the Fort Worth Floodway and Upper West Fork Trinity River Watershed for the Tarrant Regional Water District, and several Dam Breach/Emergency Action Plan studies around the state. Andrew is a Registered Professional Engineer in Texas and a nationally Certified Floodplain Manager. He has memberships in the American Society of Civil Engineers, Texas Floodplain Management Association, and Toastmasters International - Competent Communicator. Andrew is recognized by his peers and clients as an innovative and versatile engineer, able to quickly grasp the technical issues and problems that must be addressed for complex engineering assignments. Andrew and his wife, Rachel, also a Texas Tech Civil, Environmental, and Construction Engineering graduate, make their home in Hudson Oaks, Texas. They have a daughter, Emily, age 4, and a son, Alex, age 2. Andrew loves basketball and participating in his children's activities including tee-ball and soccer.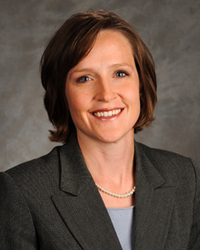 -- earned her B.S.C.E. from Texas Tech University in 2001 and her M.S.C.E. from the University of Texas at Arlington in 2003. She has practiced engineering for nine years. Rachel is a Water Resources Engineer at Freese and Nichols, Inc. in Fort Worth, Texas. She has worked on a variety of water resources projects, including water supply planning, operational studies, cost estimating, and design and construction management for large-scale water supply facilities. Her background also includes using Texas Commission on Environmental Quality's Availability Models. Rachel works primarily with municipalities and water districts as she helps them plan and develop future water supplies. Most recently, Rachel completed work on the Senate Bill One Regional Water Supply Plans for Regions A, C, and F. The Regional Water Supply Plans are used to develop the Texas Water Supply Plan. The Region C area includes a 16 county area covering the Dallas-Fort Worth Metroplex. The plan includes an analysis of the current water supply for each city within that area, as well as projected water demands, shortages, and feasible and recommended water management strategies for the next 50 years. Currently, Rachel is the project manager for the SB 12016 Region C Water Plan, Texas Water Development Board contracting through North Texas Municipal Water District. She worked closely with the Region C Water Planning Group and consultant team for the development of the 2011 Region C Water Plan , which was awarded the 2011 Silver Award for Engineering Excellence from the Texas Council of Engineering Companies. Rachel's design of large-scale pipelines includes the Eagle Mountain Connection in which she was the project engineer responsible for studying and recommending the pipeline route. She prepared cost estimates and calculated capacity requirements for pipeline segments between the Kennedale Balancing Reservoir and Lake Benbrook. Her design also included required phasing of improvements and a Capital Improvement Plan. The Rolling Hills Booster Pump Station was included in the project, and Rachel served as the project engineer for pump selection and pump station final design for the pump station, and as resident engineer during construction. Rachel is a Registered Professional Engineer in Texas. She is involved with the local chapter of American Society of Civil Engineers (ASCE) and the American Water Works Association. She is serving as secretary on the WaterSpectives task committee with the ASCE Environmental and Water Resources Institute Planning and Management Committee. Rachel has published and presented a number of papers at professional conferences. She has participated in and been awarded the Marvin Nichols Award for two of these papers in the annual Freese and Nichols paper competition. In addition to her professional life, Rachel is also active in her community. She participates in the Catholic Daughters of the Americas at St. Stephens Catholic Church. She has volunteered with the Salvation Army Angel Tree, The Women's Center of Tarrant County, The United Way, and other charitable causes over the years. Rachel, Andrew, and their two children, Emily Catherine and Alex Elise, live in Hudson Oaks, Texas.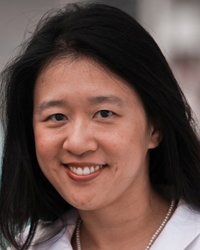 --earned her B.S.C.E. in 2000 from Texas Tech University and her M.Engr. with an emphasis in Civil Engineering from University of Texas at Arlington in 2005. Lani has 11 years of experience in transportation, engineering, and planning. In 2008, she accepted a position with URS Corporation in Dallas, Texas, as Project Engineer. Her responsibilities have included transit alignment design, preliminary drainage design, highway interchange design, highway alignment design, sand stock piles, and site designs. Lani has performed services for Dallas Area Rapid Transit (DART), North Texas Tollway Authority(NTTA), Texas Department of Transportation (TxDOT), and other municipal agencies. She is currently responsible for the DART South Oak Cliff - 3 Blue Line Extension Alternative (SOC - 3 AA). The project included the study of multiple technology options and travel corridor alignments in order to determine the optimum transit investment for the area. Lani also assists with the design of the track alignment plan and profile and environmental assessment tasks and coordinates with subconsultants contributing to the design report for the preliminary engineering design of the Cotton Belt Regional Rail preliminary engineering study. This alignment will connect the Fort Worth Transportation Authority's Tex Rail to DART's Green and Red Line. The route consists of three sections and totals 26 miles in length. She assisted with design of the track alignment plan and profile, storm drainage, and the design report for the preliminary engineering design for the Light Rail Transit (LRT) expansion that extends DART's LRT service to Irving and DFW airport. Lani is a Registered Professional Engineer in Texas. Her professional activities include North Texas Chinese Engineers and Architects Association (NTCEAA), President, Board Member from 2010 - 2011; NTCEAA, President-Elect, Board Member from 2009 - 2010; NTCEAA, Secretary, Board Member from 2008 - 2009; Women in Transportation (WTS), Dallas Chapter, Awards Banquet Committee Co-Chair from 2009 - 2011; WTS, Dallas Chapter, Scholarship Committee Chair from 2004 - 2006; WTS, International Scholarship Committee from 2003 - 2006. She is a member of the American Society of Engineers. Lani was the WTS Wanda Schafer Graduate Scholarship Winner in 2001, and she received the URS Pyramids Awards Award of Excellence in 2011. Outside of engineering, Lani's activities include being a volunteer for the Greater Dallas Chamber Younger Member. She participated in the Komen Breast Cancer Walk from 2000 - 2004. Lani and her husband, Michael, make their home in Dallas, Texas.
--earned his B.S.C.E. in 1999, M.S.C.E. in 2003 and Ph.D. in 2009 all from Texas Tech University. In 1998, Stephen co-founded Standards Design Group, Inc. (SDG), a software company that specializes in developing engineering design software. Since its inception, SDG has developed and marketed several internationally recognized software products including Window Glass Strength Design and Wind Loads on Structures. His professional experience is focused on window glass strength design and wind hazard mitigation. Stephen serves as a technical adviser on the ASTM International subcommittee responsible for maintaining and updating the national window glass design standard, ASTM E1300. He has published several archival journal articles on his research and is currently working on several new research projects on window glass strength. In 2002, Stephen began working for the Texas Tech University National Wind Institute (NWI) as a Research Associate. While working with NWI, he was responsible for the development of a data processing software application to process the incoming sensor data from the Wind Engineering Research Laboratory facility. The data processing software has processed over 6 Tb (terabytes) of raw sensor data from over ten test facilities and is still in use today, processing the near real-time data feed from the 200m tower for a research project with the National Oceanic and Atmospheric Administration. In 2003, Stephen started his collegiate teaching career as an Instructor in the Department of Civil, Environmental, and Construction Engineering (CECE) at Texas Tech. He updated and revised one of the first civil engineering courses students take, Engineering Analysis, to incorporate updated software tools and reinforce skills students need in order to be successful engineers. In 2011, Stephen joined the Department of Civil, Environmental, and Construction Engineering at Texas Tech as an assistant professor in the structural group. Stephen is a member of the American Society of Civil Engineers. He is the faculty advisor for the student chapter of American Association for Wind Engineering (AAWE) and a UIL Regional academic contest director. He is currently the Director of the Number Sense Contest and the Assistant Director of the Calculator Contest. Stephen is married to Dr. Audra N. Morse, a Texas Tech graduate and associate professor in the Department of Civil, Environmental, and Construction Engineering at Texas Tech. She is also a member of the CECE Academy. They have two boys, Braden (4) and Orin (18 months). Their home is here in Lubbock.
--is a Freese and Nichols Associate and the Central Region Wastewater Treatment, Transmission and Utilities Group Manager. Trooper graduated from the 5-year Master of Environmental Engineering Program offered by the Department of Civil, Environmental, and Construction Engineering at Texas Tech University in 2000. His background includes water and wastewater pipeline, pump station and plant design, plant operation and maintenance, construction management services, and program management services. Trooper's projects have won a number of awards, including Texas CEC Gold Award Winner-Category F, Wastewater in 2009; WEAT medal of Honor Award in 2006; and Watermark Award for Web-Centric Project Communication Tools in 2004. In addition, Trooper is the recipient of WEAT's Emerging Leader Award in 2009, and received a Bronze Star for Operation Iraqi Freedom in 2005. A former U.S. Army engineer in Iraq, Trooper has experience in managing large multi-discipline project teams to complete large-scale complex projects. Some of his relevant project experience includes Water Interceptor, City of Cedar Park - Project Manager for design and construction phase services for replacement of approximately 8,900 feet of 30-inch and 24-inch Spirolite wastewater collection line; On-Site Storage and Wastewater Piping System Improvements, Trinity River Authority - Project Manager for design of $43 million in improvements; Central Regional Wastewater System Pump Stations 13/13B and Wastewater Piping Improvements, Trinity River Authority - Project Manager for $24 million pipeline and pump station improvements; Central Regional Wastewater System Pump Stations 13/13A and Wastewater Piping Improvements, Trinity River Authority - Project Manager for $20 million pipeline replacement and rehabilitation of two large pump stations. He has also worked on projects for the City of Corpus Christi, City of Lewisville, Dallas Water Utilities, and City of Waxahachie. Trooper is a Registered Professional Engineer in Texas. Mike Young, Manager, Systems Operations - Central Regional Wastewater System, Trinity River Authority of Texas states, "Trooper will do what it takes to ensure the client is taken care of in all aspects of the design...He performs at a level significantly above all of the engineering project managers I have worked with...Trooper always treats my staff in a professional and respectful manner, and we are appreciative of that..." Trooper and his wife, Jami, have four children (Parker, Paige, Peyton, and Presley). They make their home in Round Rock, Texas.
--earned his B.S.C.E. from Texas Tech University while also earning three letters for varsity football and serving as team co-captain his senior year. Brad was academic all-conference his senior year. After graduation in 1984, Brad was drafted to play professional football by the New York Jets and participated in their training camp. After being released by the Jets and turning down offers to play football in Canada, he returned to Texas Tech to complete his master's degree. In returning to Texas Tech, he was taking advantage of an NCAA scholarship for post-graduate studies he had been awarded based on his performance as an undergraduate. Upon completing his M.S.C.E. in 1986, with an emphasis in structural engineering, Brad was invited to teach in an overseas education program run by the University of Texas in the country of Malaysia. After teaching Statics and Engineering Graphics for a semester there, he elected to return to the U.S. to work for Brown and Root, Inc. in Houston, Texas. There he entered a management training program and worked in various business units including Petrochemical and Heavy Civil. Brad left Brown and Root to work in consulting engineering with Georgia Wilson Associates, Inc. in Houston. After several years in consulting engineering, he was asked to join the management of Metropolitan Transit Authority of Harris County (METRO), Houston's transit agency. There he led the effort on several major projects including the reconstruction of the Southwest Freeway. Brad prepared a Project Management Institute (PMI) nomination for project of year for this project. The project won the award for the region, largely based on innovative concepts Brad implemented. After a number of years at METRO, Brad was recruited back into consulting engineering in the role of Director of Transportation with Ferro-Saylors, Inc. (1997-2000) and TSC Engineering, Inc. (2000-2005). In 2005, Brad was presented with the opportunity to work with Infrastructure Associates, Inc. as Principal in Charge of Transportation. He took that opportunity and has built a transportation department that has developed a state-wide reputation in the area of highway and bridge engineering. Brad has been active in American Society of Civil Engineers (ASCE) and American Council of Engineering Companies (ACEC) throughout his career. Brad is a Registered Professional Engineer in Texas. In addition to his professional career, Brad has been active in his community serving on both the Planning and Zoning Commission and Building Standards Commission. He was also appointed to an ad-hoc drainage committee to address flooding issues after a major tropical storm. In his leisure time he has coached a number of youth sports teams and has been active on the administrative board of his church. Brad and his wife, Gigi, reside in Bellaire, Texas. They have two sons, Parker and Truett.
Department of Civil, Environmental, & Construction Engineering