Recent Events
CMLL
Living Museum of Languages sparks conversations about language and culture; CMLL Winter Welcome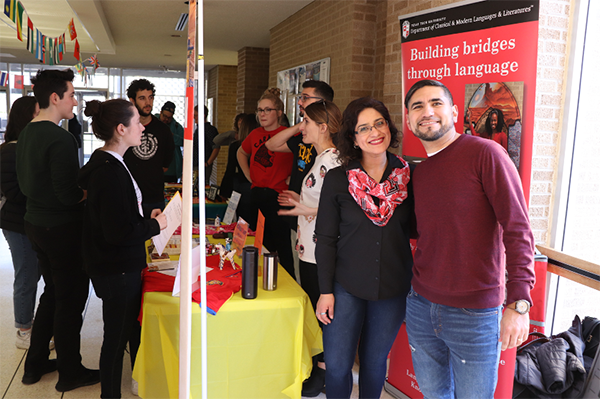 As part of Winter Raider Welcome, the CMLL Ambassadors collaborated with faculty, staff, and students to organize a Living Museum of Languages in the main lobby. Visiting students enjoyed fresh popcorn while mingling with professors and students of languages and cultures to learn about exciting courses, student organizations, and study abroad opportunities at Texas Tech. The CMLL Ambassadors engaged visitors in discussions on intercultural communication by means of an interactive popsicle stick game involving questions about language and culture.
Global Readiness through Language and Culture Project
What Do Teachers Make? A Panel Discussion on Global Challenges and Careers in Language Education
On February 4, 2020, three local teachers of Languages Other Than English spoke with students at Texas Tech about careers in K-12 language education as part of the Global Readiness through Language and Culture project. This panel discussion with Jeremy Hogan, Omar Palafox, and Emily VanDon highlighted the benefits of being a teacher, including how language education positions both teachers and the students they educate to address pressing challenges facing our global community.
This panel discussion was the third in a series of public lectures on Global Challenges and Careers organized as part of the Global Readiness Through Language and Culture project and funded by the TTU Center for Global Communication.
As part of the Global Readiness through Language and Culture (GRLC) project, Dr. Kristen Michelson led an interactive workshop on Thursday, February 20th from 4-5 pm in the Qualia Room entitled, "Designing Instruction through and for Multiliteracies". This session was part two of a two-part series around Multiliteracies pedagogies. The session provided a brief synthesis of the first workshop (theory and principles of Multiliteracies), then focused on guiding participants in designing literacies-based instructional activities.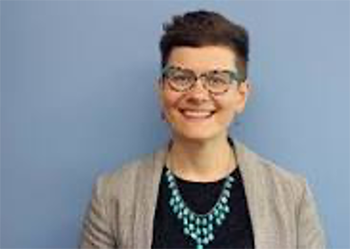 photo credit cmu.ca
The Global Readiness through Language and Culture project concluded the spring semester with a lecture with Dr. Christine Kampen Robinson (CMU, Canada). Center for Global Communication and the Department of Classical & Modern Langauges & Literatures sponsored the lecture on March 4 in the Student Union Allen Theatre where Dr. Christine Kampen Robinson presented "Telling Your Story, Building Your Career" to a groups of students with a wide variety of majors.
With an interest in our stories, she explores why stories matter and how they affect the way we make sense of ourselves in our relationships with others. Her research projects have included language and language learning through the stories of both migration experiences of Low German –speaking Mennonites from Mexico, as well as the transcultural learning experiences of university students.
The 52nd Annual Comparative Literature Symposium - Indigeneity
In an ongoing effort to cultivate dialogue and awareness about the complex, traumatic, and often violent truths of our history, we acknowledge the sacred grounds on which we stand, the traditional homelands of the Apache Tribe of Oklahoma, the Cheyenne and Arapaho Tribes, the Comanche Nation, the Jicarilla Apache Nation, the Kiowa Tribe of Oklahoma, and the Mescalero Apache Tribe of the Mescalero Reservation, and we honor their elders and community members past and present.
The Symposium is organized by Dr. John Beusterien (Spanish), Zachary Brandner (Spanish), Mary Mailler (Art), Kenna Neitch (English), Dr. Lesley Wolff (Art) and Joe Arredondo (Landmark Arts) and held in collaboration with the 21st Annual Céfiro Conference.
Keynote Lecture by Dr. Donald Blakeslee – "Oñate's Necklace: Glimpses of an Indigenous World System"
Donald Blakeslee is Professor of Archeology with a focus on the American South Plains at Wichita State University. Scholarly presentations took place on March 6 at the Formby Room, Southwest Collections, Texas Tech University and on March 7 at the Louise Hopkins Underwood Center for the Arts.
Support for the Symposium is generously provided by the Department of Classical Modern Languages & Literatures; College of Arts & Sciences; Division of Diversity, Equity & Inclusion; Office of Research & Innovation; Humanities Center of TTU; Charles B. Qualia Endowment in the Department of Classical Modern Languages & Literatures; Women's & Gender Studies Program; the Department of History; Landmark Arts in the School of Art, J.T. & Margaret Talkington College of Visual & Performing Arts; and the Louise Hopkins Underwood Center for the Arts (LHUCA). This program was made possible in part with a grant from Humanities Texas, the state affiliate of the National Endowment for the Humanities.
Comparative Literature Presentations by CMLL graduate students
For the list of presentations please click here
Bread around the World
The Qualia room filled with students on February 26 eager to learn about and sample bread from around the globe. Faculty and graduate students prepared breads from their respective countries and gave presentations on the importance of bread, the history of bread making, and kinds of bread served from every day to special occasions. Countries represented included China, Japan, Saudi Arabia, Jordan, Russian, German, France, Mexico and Morocco.
Trivia Night for majors and minors draws a crowd
March 10, 2020
CMLL Ambassadors' trivia night was a resounding success, attended by over 80 individuals interested in learning more about languages and cultures. The Ambassadors did a phenomenal job of developing a fun trivia game using the Kahoot! app and running the event. They worked with professors in CMLL to plan and advertise the event and approached campus partners and local businesses to provide funding for food and drinks for all participants as well as T-shirts for winning teams.
CMLL new and expanded courses
CHIN 1502, 2301 (online Summer I & II)
SPAN 2300 (Social Change in the Hispanic World through Cultural Production)
FREN 2390 (French Culture, with two new designs: "Paris: City, Stage, Story" and "French inspiration: Contemporary French Cultural Studies")
CMLL 2306, Introduction to World Cinema Korean Cinema from K-Drama to Classic Film (course now offered on Latin American cinema, French cinema, and Korean cinema). (online Summer I)
New on-line courses: SPAN 1507, 2301, 2302, GERM 1310: Survival German Language and Culture, CMLL 2305 (Introduction to Languages and Cultures).
New hybrid course: SPAN 1310, Survival Spanish
New Spanish Pre-Health program in Seville
SPAN 4309 Spanish Translation and Interpretation (online Summer II)
New French MA/MBA - Agreement with the College of Education to establish a dual degree with French and German MAs.
Caliche 2020
The 9th Annual Applied Linguistics and Second Language Conference on Learning and Teaching took place on March 27, 2020. Speaking Languages, Speaking Cultures: Linguistic and Cultural Diversity in a Globalized World was this year's theme and organized by graduate students in the Applied Linguistics & Second Language Studies program in the Department of Classical & Modern Languages & Literatures. CALICHE provides the opportunity for graduate students, professors, researchers and scholars to share their research experiences, recent work, ideas and best practices in the fields of languages, arts and human sciences in areas but not limited to language learning and pedagogy, technology, curriculum design, anthropology, literature, sociolinguistics, bilingualism, discourse analysis, psycholinguistics, linguistics and heritage languages.
Keynote Speaker
Dr. Olga Pahom (Lubbock Christian University), "Does Gender Matter in Bilingual Contexts? Evidence from L2 Spanish vocabulary acquisition and Spanish-English mixed-gender conversation"
CALICHE Committee
Claudia Schumann, conference chair
Mourad Abdennebi
Yamato Kitahashi
Dr. Stefanie Borst, faculty advisor
Caliche presentations by CMLL graduate students
For the list of presentations please click here
Tracking L2 Learner Eye Movements: Insights into Attentional Allocation during Grammatical Development
A talk by Dr. Bernard Issa, The University of Tennessee, Knoxville, took place on April 8, in the Qualia room entitled, "Tracking L2 learner eye movements: Insights into attentional allocation during grammatical development." The talk addressed both theoretical and applied perspectives on second language (L2) learning, a learner's attention to L2 linguistic forms has been regarded as crucial for L2 development insofar as attention is thought to lead to deeper processing of form-meaning connections. This premise has prompted researchers and practitioners to develop various L2 instructional interventions that are designed to manipulate how learners allocate their attention when they process linguistic information (e.g., Processing Instruction, Input Enhancement). Dr. Issa described results from an eye-tracking study that examines how such instructional interventions promoted L2 grammatical development in novice learners.
English in the Evenings classes are offered to adults in the Lubbock community to grow their communication skills in four areas: reading, writing, listening and speaking. Two classes were offered this spring: Reading and Writing was offered January 22-February 26 and Listening and Speaking Class was offered March 23-April 29. Classes are six-week-long and meet twice a week. Upon successful completion of each course, students earn a certificate of completion.
Arabic Table at CMLL Winter Welcome Day, January 14, 2020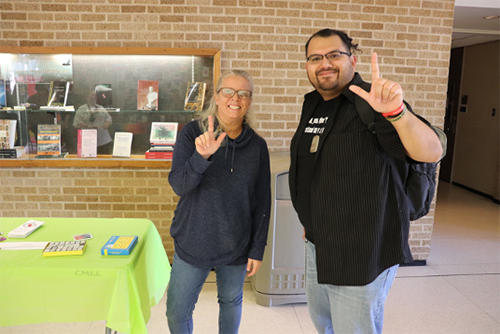 ASL Table at CMLL Winter Welcome Day, January 14, 2020
Silent Raiders shared a silent dinner on March 12 at Jason's Deli. Voices are left at the door and signing or handwritten notes are the modes of communication during the entire dinner.

Chinese Table at CMLL Winter Welcome Day, January 14, 2020
The first Chinese Spring Festival Celebration, organized by the Texas Tech Chinese Language Program and the Tech Chinese Language and Culture Association, transformed the the Hall of Nations, Texas Tech University International Cultural Center into a wonderland of Chinese culture and cuisine on January 31.

This family-friendly event provided a glimpse into Chinese culture. Attendees made their way through a extensive hands-on experience in Chinese culture at the nine activity booths with Chinese calligraphy and oracle bone scripts; games with chopsticks, riddles and jigsaw puzzles; crafts with Chinese lanterns, masks, hats, and removable tattoos during the first part of the festival.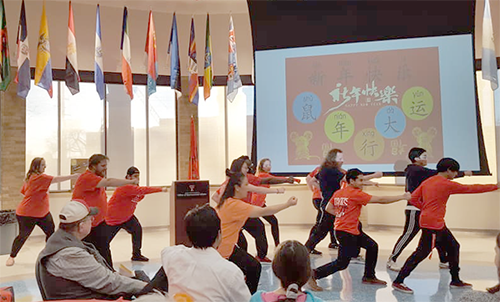 The second part of the event, the Celebration Show, instructors and students of Chinese brought Chinese culture to life with Dragon, Chinese, Fan and Kung Fu dances, a Kung Fu demonstration, Chinese Singing, Long Rope Skipping, and live Calligraphy demonstrations. Special presentations from Jia Yuan Tie (a Chinese student in Lubbock Junior Academy), Zhuocai Ouyang (Associate Professor of Art, Jiangxi Normal University, China) and You Hua Wu (lecturer of Physical Education, Hunan International Economics University, China) brought a depth to the cultural experience for all.
The event concluded with a traditional Chinese feast for guests to enjoy. A delicious buffet was served with fried rice, egg rolls, sesame balls, several main dishes with Tofu, chicken, and beef, fortune cookies, and rice cakes.
A special thank you to the sponsors without which this event could not take place: Texas Tech University Office of International Affairs, K-12 Global Education Outreach, Division of Diversity, Equity & Inclusion, College of Arts & Sciences. Hats off to Dr. Yanlin Wang and to all of the students and instructors who worked tirelessly to make this successful culturally rich experience possible.
Chinese Table VI Chinese Kungfu took place on February 21 with a lesson on Chinese Kungfu with Ms. Youhua WU (Physical Education at Hunan International Economics University, China).
New course, CHIN3306 Chinese Culture, has been also been approved to fulfill the Multi-cultural requirement.
The AIA Spring Lecture Series kicked off Thursday, January 30, 2020 with a lecture by Daniel Schindler PhD, Instructor of Classics, in CMLL, entitled: Late Roman Galilee: the preliminary results of the Huqoq Excavation Project.
The Archaeological Institute of America - Lubbock branch Spring Lectures
"Late Roman Galilee: the Preliminary Results of the Huqoq Excavation Project" by Dr. Daniel Schindler on January 30, 2020.
"Taking to the Water: New Evidence and New Debates about the Earliest Seafaring in the World" by Dr. John Cherry (Joukowsky Family Professor of Archaeology and Classics, the Joukowsky Institute at Brown University on February 27.
"An Uncaptured Sardinia? Mobility and Connectivity the Coastal and Inland Landscapes of Ancient west-Central Sardinia." by Dr. Lind Gosner (Assistant Professor and Postdoctoral Scholar, Michigan Society of Fellows, University of Michigan) on March 12.
"Physicians and Medical Practice in the Roman Empire by Dr. Molly Jones-Lewis (University of Maryland, Baltimore County) on April 2. This talk discussed the ways in which ancient people (including women) pursued a medical career and the role that patronage and slavery played in laying the foundations of modern medical risk management. The discussion also covered how Roman law and policy impacted the working conditions, protections, and liabilities of physicians.
"Arachne's Threads: Spinning and Fiber in the Ancient Mediterranean" by Dr. Molly Jones-Lewis on April 3 with a demonstration focusing on the way that wool and flax fibers were spun in the Roman empire using a reproduction spindle and distaff.
Classics Research Forums
Several research forums took place this spring. On March 4, Yesenia Brambila, (Classics MA Program, TTU) presented, "Where do the dead go? Places of the Afterlife in Sophocles' Oedipus Tyrannus, 151-215". Joshua Kulseth, (English Creative Writing (Poertry) PhD Program, TTU) presented, Place Matters: the temporal and spatial linguistics of Michael Longley's The Stairwell". On March 11 in the Qualia Room. Maurice Gonzales (Classics MA Program, TTU) presented, "Juvenal's Odysseus: The « Correct » Way to Satirize Stoics" and Professor Matthew Hunter, (TTU Dept. of English) presented, "Bodies Public: Satire, Style, and Vicarious Relations in Early Modern England."
Dr. Peter Miller (University of Winnipeg) presented, "Make yourself a Hercules": Antiquity, Modernity, and Physical Culture" on April 16 followed by a second presentation on April 17.
International Lego Classicism Day 2020
Classics program celebrated International Lego Classicism Day on February 19 in CMLL This is a day started in honor of when Liam D. Jensen began portraying international classicists as Lego figurines (check out Lego Mary Beard) over 10 years ago. This was also a great way to explore and engage with color in the ancient world through Lego bricks (surprise! The ancient world loved color; check out this awesome exhibition by the University of Michigan). Lego bricks were provided along with floor plans and other visual inspirations, snacks, and coloring pages!
Prior to the event, students were also encouraged to engage with the ancient world through modern technology by making use of the on-campus 3-D printer—to design their own Lego classicist or other Ancient Mediterranean-inspired model and bring it to the celebration!
TTU Classical Society Movie Nights
The Tech Classical Society, under the direction of undergraduate majors Kari Barrow (president of the club) and Martin Ritter (vice president), organized weekly movie watching parties. Each movie had a classics theme. They will continue over the summer.
Graduate Workshop
The Classics program offers a graduate workshop in spring that covers thesis planning, the writing process, abstract round table or conference paper reads, the PhD application process. These workshops were organized by and for the TTU Classics MA cohort in conjunction with the Classics faculty on February 3, 17, March 6.
2019-2020 Workshop Coordinators: Alex Claman, Maurice Gonzales, Jessi Mellenthin.
Scholarship Awards
Rachel McMurphy: The Leonid A. Jirgensons Latin Scholarship
Calvin Burchall: The Howard and Fotini Perlmutter Scholarship

German Table at CMLL Winter Welcome
Holocaust Commemoration Talk
Dr. Belinda Kleinhans presented the Holocaust Commemoration Talk with a focus on LGBT Experiences during the Nazi Era on January 29, 2020. The event was in collaboration with the TTU Gender & Sexuality Association and was open to the public.
Genki Club, an organization dedicated to Japanese Language and culture, met throughout the spring semester beginning February 7 and continuing until May 1. In addition to the club meetings, Japanese Conversation Hour took place each Tuesday in CMLL 102. Learners practiced speaking and listening, made new friends and learned colloquial speech you cannot find in a book.
Club President - Mattew Molinar
The My Russian Valentine annual event took place on February 14 during which students learned about dating cultural differences between the USA and Russia and superstitions surrounding marriage. Practice proposals, of which some were accepted and some rejected, made for a memorable hands on experience. To complete the marriage proposals, singing songs and playing charades took place.
The Russian Club celebrated Russian Day via Zoom on April 24. Students wore Russian attire, and had a sort of "show and tell" with their personal Russian souvenirs, favorite Russian books or just simply sharing encouraging words in Russian.
Awards and Scholarships
Outstanding student for each language class:

RUSN 1502-001: Riley Adams
RUSN 1502-002: Cecilia Smith
RUSN 2302 -001: Lauren Mcnear and Alicia Blackburn
RUSN 2302-002: Nicholas Norton
RUSN 3305-001a: Nikolai Kuzminas
RUSN 3305-001b: Claudia Munoz

American Council of Teachers of Russian Post-Secondary Russian Scholar Laureate Award: Claudia Munoz
Outstanding Graduate: Benjamin Craddock
H.Y. Price Scholarship awarded to Lauren McNear, Sophomore, BA Languages & Cultures-Russian Languages & Area Studies
2020 Céfiro Conference "Literatures, Cultures & Languages: Interdisciplinary Dialogues in the Humanities and Beyond"
The annual conference took place March 5, 6, and 7 at Texas Tech University, Lubbock campus where graduate students, professors, authors and researchers presented their work. Selected papers are published in the 2019-2020 The Céfiro: Enlace Hispano Cultural y Literario, an annual journal that publishes fiction and critical works, research papers and pedagogical intervention papers on a wide range of objects of study, themes and artistic traditions. Publications are in English, Portuguese and Spanish by the graduate student organization of the Spanish and Portuguese program at Texas Tech Department of Classical & Modern Languages & Literatures. The conference provides a venue to showcase the excellent conference papers and poster presentations. Veronica Morales and Yerko Sepúlveda served as the Céfiro Executive Directors for Academic Year 2019-2020. Please click here for CMLL Presenters.
Spanish and Portuguese Graduation Ceremony 2020
Awards and Scholarships
Avery Garcia – Arts & Sciences Ambassador, Spanish minor - Joint Admission Medical Program (JAMP)
Shannon Pyle, Senior, Spanish major - SACS scholarship $3,550 - Fall 2019
Lauren Blomquist, Junior, Spanish minor – Gordon Treadaway Scholarship $1,000 - Fall 2020
Competitive Scholarship: $5,300 – Fall 2020, Clinton Colgin: $3000 – Fall 2020, Honors College Study Abroad: $3,500 – Fall 2020
Saidi Soliz, Senior, Spanish minor, TTU Presidential Scholarship, Helen DeVitt-Jones Scholarship for the College of Arts & Sciences.
Jackson Wymer, Senior, Spanish major - Army ROTC Scholarship - $4,500 a semester for 2 years, Special Award – appointed Army ROTC Battalion Commander 2020-2021
New Courses
New large enrollment classes taught in English: SPAN 2300 (Social Change in the Hispanic World through Cultural Production)
Classical & Modern Languages & Literatures
Address

CMLL Building, 2906 18th St, Lubbock, TX 79409

Phone

806.742.3145