Distinguished Engineer Citations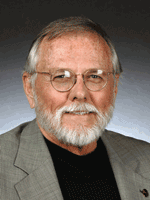 James E. Lowder
Distinguished Engineer
2012
Degree
Mechanical Engineering –

Citation
At Time of Nomination in 2012
James E. "Jim" Lowder was born in Abilene, Texas. After graduating from Wichita Falls Senior High, he, along with his high school sweetheart Betty Jo Splawn, attended Midwestern State University as art majors.
In June 1953, Lowder entered the U.S. Army, and after basic training, was sent to Fort Richardson, Alaska to join a Chemical Corps group. Betty worked as a draftsperson for the U.S. Army Corps of Engineers. Through the association of her coworkers, he was influenced to study engineering. He was honorably discharged in 1955 with a rank of Staff Sergeant.
In the fall of 1956, Lowder enrolled at Texas Tech in the Department of Mechanical Engineering. He also took a part time job with Johnson Manufacturing Co. The company was a manufacturer of Welderz Friend Generators and farm machinery. At the end of 1958, he became a full time employee at Johnson Manufacturing. He designed new products and learned the manufacturing business from his mentor Charles M. "Charlie" Johnson and others.
In the early 1960s, after mastering and obtaining patents on hydraulic drives, the company was able to move its interests into the industrial earth moving market. Soon, a unique relationship with Caterpillar was formed. Johnson Manufacturing designed and produced Caterpillar scrapers and wheeled tractors. One of these models became the all-time best-selling wheeled tractor for Caterpillar.
Johnson Manufacturing was sold to Eagle Picher Industries while Lowder was chief engineer. After the sale, he became vice president of engineering, later vice president of manufacturing, and was eventually president of Eagle Picher Industries' Construction Equipment Division.
After retirement from Eagle Picher Industries in 1994, Lowder established evstar Technologies, Inc., a consulting business.
From 1995 to 2008, Lowder was division manager of Prototype Engineering and Design for Compliance Services Group, Inc., where he coordinated the design and manufacturing of prototype military and non-military equipment projects, exotic systems construction projects, and the promotion of environmental remediation projects. Through research and development, Lowder has obtained 14 U.S. and foreign patents.
His current involvement with the public education sector has become his passion. He is involved with programs in community college career and technology education courses taught in high schools that lead to undergraduate engineering programs. By working with the Texas Legislature, Tech Prep, and the Lubbock Economic Development Alliance, Lowder has assisted in the development of legislation to allow the substitution of advanced career and technology education courses for the fourth year of math and science requirements in Texas public schools. He is currently chair of the advisory committee for the Byron Martin Advanced Technology Center at Lubbock ISD.
He and his wife Betty live in Lubbock and have three children: Clay, Kent, and Elizabeth Holland. They also have 18 grandchildren and one great grandchild.
Edward E. Whitacre Jr. College of Engineering