Distinguished Engineer Citations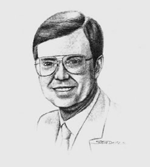 Jimmy D. Williams
Distinguished Engineer
2000
Degree
Mechanical Engineering – 1972

Citation
At Time of Nomination in 2000
Jimmy D. Williams was born in Littlefield, Texas and grew up on his grandfather's farm close to Whitharral, Texas. During the eighth grade he found a description of mechanical engineering in the school library and decided that was what he wanted to do, graduating from Texas Tech University in 1972 with a Bachelor of Mechanical Engineering degree.
His first engineering position was as plant engineer in Production with Southwestern Public Service Company at the Plant X generating station near Earth, Texas, later transferring to the Clifford B. Jones Power Generating Station in Lubbock as a plant engineer. In 1977, he was selected to become a design engineer in the Controls Engineering Group for SPS's Generation Plant Design Department in Amarillo and advanced to Principal Engineer, Controls in 1982. In 1985, SPS made a decision to create a wholly owned subsidiary called Utility Engineering Corporation to enable it to market its engineering expertise to other companies. In 1987, he transferred to Utility Engineering advancing to Manager of Engineering in 1988, and in 1992 was elected Vice President. He currently serves as the Vice President and General Manager of Amarillo Operations for Utility Engineering Corporation.
He is a licensed professional engineer in Texas, Colorado, North Carolina, New Jersey, Florida and Alabama. He has been active in the Kids Incorporated program, coaching t–ball, softball, and basketball and as a member of the Amarillo High School Debate Boosters Club. He is an active member of the Paramount Terrace Christian Church, where he is a member of the handbell choir. In addition, he serves as a board member for the Amarillo Area Center for Advanced Learning and chairs the Partnership Committee. He is a member of the American Society of Mechanical Engineers, the Texas Society of Professional Engineers, and was selected as the Texas Society of Professional Engineers Panhandle Chapter Young Engineer of the Year in 1982 and Engineering of the Year in 1991. He currently serves as the Texas Society of Professional Engineers Math Counts Coordinator, and has received the State Math Counts Lifetime Achievement Award. He has served on the Texas Tech Mechanical Engineering Industrial Advisory Board and is a member of the Mechanical Engineering Academy.
Mr. Williams and his wife, Carolyn, are the parents of two children, Lori Wilhite and Shawn.
Texas Tech University is indeed privileged to designate Jimmy D. Williams as DISTINGUISHED ENGINEER.
Edward E. Whitacre Jr. College of Engineering