Distinguished Engineer Citations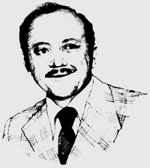 Scott G. Arbuckle
Distinguished Engineer
1979
Degree
Industrial Engineering – 1957

Citation
At Time of Nomination in 1979
Born in Amarillo, Texas, Scott G. Arbuckle received his Bachelor of Science degree in Industrial Engineering from Texas Tech in 1957.
Upon graduation, he accepted a position as research and development engineer with Freeport Sulfur Company. Building upon this experiential cornerstone, he began a dynamic career two years later with Texas Instruments, progressing through the positions of manufacturing engineer and production planner to departmental industrial engineer.
In 1965, he joined United States Brass Corporation as manager of industrial engineering. He moved up to division manager of a manufacturing plant and was then made vice president of manufacturing with responsibilities for all manufacturing activities in plants in Mitchell, Indiana; Los Angeles, California; Abilene and Plano, Texas.
In 1971, he joined Thorsen Tool Company as executive vice president of operations, overseeing plants in Oakland, California; Emporium, Pennsylvania; and Dallas, Texas. In 1973, he was promoted to president. A subsidiary of Hydrometals, Incorporated, Thorsen Tool Company has experienced a phenomenal growth under his leadership with sales currently in excess of $25 million per year.
In February of this year, Scott Arbuckle was presented the Northwood Institute Automotive Replacement Education Award. This unique award exclusively recognizes an individual who has made noteworthy efforts to improve education, communication, and progress in the automotive aftermarket.
Giving to his profession has been a major element of this alumnus' success. A Registered Professional Engineer, he is past president of the Dallas Chapter of the American Institute of Industrial Engineers. Currently, he serves as a member of the Advisory Board to the Texas Tech Industrial Engineering Department.
Mr. Arbuckle dedicates much of his free time to civic activities. He has served on the City Charter Review Board of Richardson, Texas, and is now a member of Toastmasters, International. As a Boy Scout councilman, and YMCA football, soccer, and basketball coach, he is supporting the future growth of his community through its youth.
It is a genuine pleasure for the College of Engineering to recognize the professional and civic achievements of Scott G. Arbuckle with the designation of DISTINGUISHED ENGINEER.
Edward E. Whitacre Jr. College of Engineering