Distinguished Engineer Citations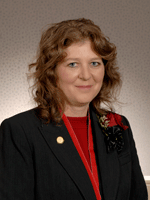 Shelby Johnson
Distinguished Engineer
2009
Degree
B.S. Construction Engineering Technology – 1986

Citation
At Time of Nomination in 2009
Shelby Johnson is owner and president of Theodore Williams Construction Company, Inc., (TWCC), a high quality client–centered New York City construction firm that specializes in corporate interiors.
Shelby was raised in Staten Island, New York and other than the three–years she attended Texas Tech University, Shelby has made her life in the Northeast.
It was the fall semester of 1983 when Shelby walked into her first engineering class at Texas Tech University. Her response to that day sums up her successful philosophy in life. "My first reaction was one of surprise," noted Shelby. "I was the only woman in the classroom. Back then, I had no idea that women didn't do this type of work." She earned a Bachelor of Science in Construction Engineering Technology from Texas Tech in 1986.
Fast forward almost 30 years and that pioneering spirit continues to propel Shelby to new heights. Not only is Shelby one of the only women to own and preside over a highly successful construction company in New York City, she is one of only a handful of leading women to do so across the nation.
Shelby was hired as a project manager for TWCC in 1991, where she established and maintained construction management contracts for a number of well–known clients like Bristol–Myers Squibb and Scudder Kemper Investments. She also managed projects, with values of more than $10 million, from start to finish. As she continued to distinguish herself at TWCC, she was promoted to vice president in 1995, to senior vice president in 1998, and to president in 2001. Under Shelby's leadership, Williams became a certified Women's Business Enterprise in 2004 and continues that distinction to this day.
The annual revenues for TWCC consistently exceed $12 million, with some years approaching $25 million. The company's clients include such well known Fortune 500 companies as Smith Barney, Estee Lauder, Citigroup Global, and Reuters. In 2002, the Staten Island Chamber of Commerce awarded TWCC their Annual Building Award for Exterior, Interior, Craftsmanship and Interior Design.
An active volunteer, Shelby partnered with Harlem Children's Zone to give members of the community a chance to explore opportunities in the construction field. When not working, Shelby supports the Staten Island Horseman's Association. She has been an avid rider since her formative years and enjoys that hobby to this day. Shelby implemented a program for children with special needs to participate in the Island–wide Championship horse shows at no cost to their family. She also arranged for year–end recognition and trophies to be awarded to the young riders.
Shelby has been married to her husband, Rich Johnson for 11 years. Rich is the Senior Vice President in charge of Estimating at TWCC and is an Account Executive on major projects. Shelby has three sons–Richard, Brenden, and Garrett.
It is a privilege and a pleasure for Texas Tech University's Edward E. Whitacre Jr. College of Engineering to select this outstanding alumnus for honor and recognition. Shelby Johnson is declared a DISTINGUISHED ENGINEER.
Edward E. Whitacre Jr. College of Engineering