Distinguished Engineer Citations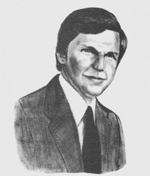 Thomas J. Reeves
Distinguished Engineer
1984
Degree
Civil Engineering – 1963

Citation
At Time of Nomination in 1984
Thomas J. Reeves was born and raised in Corpus Christi, Texas; he graduated from high school at Hakley Prep School, Tarrytown, New York. Mr. Reeves received his Bachelor of Science degree in Civil Engineering from Texas Tech University in 1963.
After graduation from Tech, Mr. Reeves was employed by the Mosher Steel Company where he is presently completing his twenty–first year. Mr. Reeves was initially assigned as an estimator and design engineer at the Lubbock plant. In 1967, he moved to the San Antonio plant as chief estimator, and then to the Houston plant as contract manager in 1972. Mr. Reeves was reassigned as production planning manager at the Mosher Steel Corporation offices in Houston in 1975 where he was later promoted to production vice president, senior vice president for operations and finally to president of the Western Division, his present position.
Mr. Reeves is a member of the American Society of Civil Engineers, American Institute of Steel Construction, Texas Society of Professional Engineers and the Texas Structural Steel Institute. He is a member of the Texas Tech President's Council and a member and past chairman of the Advisory Board for the Engineering Technology Department.
Mr. Reeves is active in Junior Achievement, YMCA, the Houston Chamber of Commerce and is president of the Old Bridge Lake Civic Association.
He is married to the former Bonnie McClain, a 1963 graduate of Texas Tech. They have one son, Mitchell, who will receive his Bachelors degree in Business Administration from Texas Tech in 1984.
In spite of his professional and civic commitments, Mr. Reeves manages to find time for golf, skiing, and jogging.
Texas Tech is proud to be able to bestow upon Thomas J. Reeves the title of DISTINGUISHED ENGINEER.
Edward E. Whitacre Jr. College of Engineering