Distinguished Engineer Citations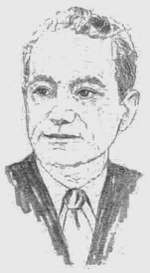 W. Austin Davis
Distinguished Engineer
1968
Degree
Mechanical Engineering – 1936

Citation
At Time of Nomination in 1968
Waymond Austin Davis, a native of Yantis, Wood County, and a graduate of Sweetwater High School, received his B.S. in Mechanical Engineering from Texas Tech University in 1936.
With the United States Air Force, which he joined after graduation, General Davis performed with effectiveness in posts of distinction. He served as assistant engineering officer at Patterson Field in Ohio; as vice commander and chief of the sub–depot control at Tinker Field in Oklahoma; as director of flying training at Peterson Field, Colorado; as commander of the Fifth Photographic Group and operational engineering officer, Twelfth Air Force Military Training Division in the North Atlantic theater of operations; as commander of Air Materiel Command Aeronautical Systems Center and the first commander of Aeronautical Systems Division, Air Force Systems Command, Wright Patterson Air Force Base; as commander of Ballistic Systems Division at Norton Air Force Base, California; and finally, as vice commander of the Air Force Systems Command, Andrews Air Force Base, Maryland.
General Davis earned the Distinguished Service Medal; the Legion of Merit with Oak leaf cluster; the Air Medal; and the Army Commendation Medal.
Upon his retirement from the United States Air Force in 1967, with the rank of Lieutenant General, he accepted the position of vice–president with Aircraft Group, Aerospace and Systems Group, of North American Rockwell Corporation.
In recognition of his having practiced engineering at the highest level, and because of his significant engineering accomplishments. Texas Tech University conferred on General Davis an honorary doctorate degree in 1967.
It is with just respect and genuine pleasure that Texas Tech University confers upon General Waymond Austin Davis the designation: DISTINGUISHED ENGINEER.
Edward E. Whitacre Jr. College of Engineering