Distinguished Engineer Citations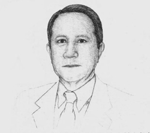 William R. Herrin, Jr.
Distinguished Engineer
1994
Degree
Petroleum Engineering – 1958

Citation
At Time of Nomination in 1994
William Robert "Bob" Herrin, Jr., was born in Mineral Wells, Texas, and graduated from high school in Stephenville, Texas. In 1958, he received his Bachelor's degree in Petroleum Engineering from Texas Tech University.
After graduation, Mr. Herrin went to work for Kewanee Oil Company. Twenty years later, in 1978, Kewanee was purchased by Gulf Oil. In 1985, Gulf merged with Chevron. Mr. Herrin has held various engineering and management positions encompassing four states (Oklahoma, New Mexico, Louisiana, and Texas) and had fifteen relocations. His most recent positions include Vice President of Warren Petroleum (a Chevron subsidiary) in Tulsa, Oklahoma, and Vice President and General Manager of Chevron's Permian Basin Production Business Unit in Midland. Mr. Herrin is currently Vice President and General Manager of the Gulf of Mexico Production Business Unit of Chevron U.S.A. Production Company in New Orleans. He has held that position since July 1992.
In addition to his business activities, Mr. Herrin finds time to participate in various industry organizations and civic endeavors. He is on the Executive Committee and Board of Directors of the Louisiana Mid–Continent Oil and Gas Association, a member of the Society of Petroleum Engineers in New Orleans, a member of the National Ocean Industries Association (NOIA) and is on the Campaign Cabinet for the United Way of the Greater New Orleans area. Mr. Herrin serves on the Executive Board of the New Orleans Area Council of Boy Scouts of America and on the New Orleans Business Council. He is an active member of Munholland Methodist Church.
Mr. Herrin's wife, Lynn, graduated from Texas Tech in 1968. His two children, Kim Fulton and Scot Herrin, both received their degrees from Texas Tech in 1980 and 1983, respectively. It is Mr. Herrin's hope that his six grandchildren will carry on the tradition as future Texas Tech graduates as well.
We are very pleased and honored to name William Robert "Bob" Herrin, Jr., DISTINGUISHED ENGINEER.
Edward E. Whitacre Jr. College of Engineering