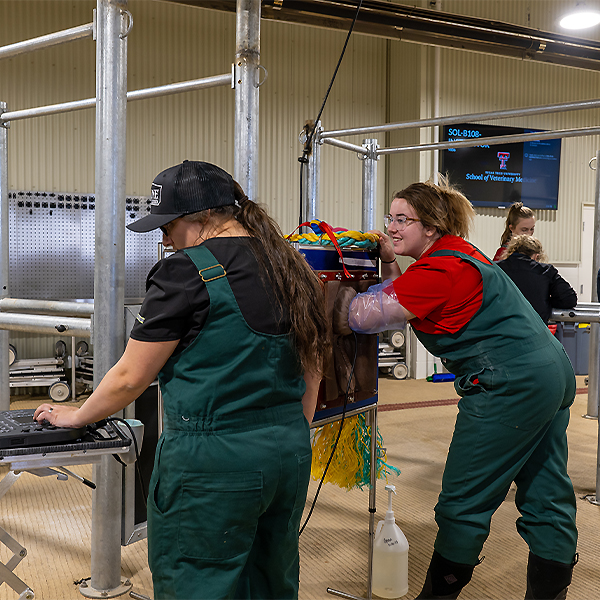 Texas Tech University School of Veterinary Medicine student gains considerable experience externing at two mixed animal practices this summer.
Has there ever been a person in your life that helped spark a passion that would soon become something you pursued? This is exactly what happened to me. My name is Sydney Williams, and I am originally from Paris, Texas.
Surprisingly, I can trace my passion to become a veterinarian all the way back to my kindergarten days when we had career day. However, it wasn't until high school that I became motivated and encouraged to pursue veterinary medicine. In fact, I credit my high school agriculture teacher, Matt Preston, for inspiring me to make my decision to start shadowing and gaining experience in veterinary medicine.
While being part of the National FFA Organization in school, I developed a relentless love for agriculture and, more specifically, animal agriculture. Since I wasn't raised on a farm or ranch, I always had a mentality to push myself to try new things such as raising and showing livestock. The experience that I gained in high school, due largely in part to Preston, solidified my decision to become a veterinarian. If I hadn't been afforded these opportunities with large animals, I do not think I would be on the path I am today.
Soon after high school, I attended Tarleton State University in Stephenville, Texas. While living in Stephenville, I worked as a veterinary technician at a mixed animal veterinary clinic called Bluff Dale Animal Hospital. It was there I began to take an interest in pursuing mixed animal medicine.
This really opened my eyes to see how the veterinarians there, like many in other rural communities, are pillars of their community. I got see how they helped with local organizations, served in different leadership roles, and supported the next generation of veterinarians in their area. This was everything that I wanted to embody as a future veterinarian.
After having a great time working at Bluff Dale Animal Hospital, my next step was to apply to veterinary school. I was fortunate to have a choice as to where I would attend veterinary school. However, my decision was easily made after visiting Texas Tech University's School of Veterinary Medicine in Amarillo.
The atmosphere one encounters when they enter the doors of the School of Veterinary Medicine is unlike any other veterinary school I had visited. Everyone is so welcoming, and the sense of community is immediately evident. This feeling is still something I cherish about the School of Veterinary Medicine.
Another motivating factor to attend Texas Tech was the school's mission to produce practice-ready veterinarians. Our curriculum allows considerable hands-on experiences within the first year and this continues to grow in each subsequent year. The skills I learned during my first year allowed me to participate in various procedures with efficiency and a capable level of engagement. After just one year of veterinary school, I feel Texas Tech has put me on a path to becoming a confident veterinarian on day one of practice.
In fact, I was able to put my skills and knowledge into action during a couple of externships this summer. First, I was with Dr. Brady Luke at Solomon Valley Veterinary Hospital in Beloit, Kansas. Then my second stop was with Dr. Kailey Fitzmorris at Flyin' 3 Veterinary Services in Eureka, Kansas. Dr. Clint Roof, assistant professor of general practice at the School of Veterinary Medicine, put me in contact with these two veterinary practices since Drs. Luke and Fitzmorris were both classmates of his at Kansas State University College of Veterinary Medicine.
I chose to visit these two specific veterinary clinics for a few reasons. One is because their case load was 50% small animals and 50% large animals, and I had never been to a practice with such a well-balanced case load. So, it was something I wanted to see how each clinic operated firsthand. Second, I desired to reinforce my clinical skills and grow in my client education and reasoning knowledge. Third, it was a goal of mine to gain new knowledge and skills so that I can bring those back as I begin my second year of veterinary school.
Both veterinary clinics exceeded my expectations in being able to apply my skills and knowledge while at the same time learning new tips and tricks. At Solomon Valley Veterinary Hospital, I was able to assist in many castrations of every major species except equine, help in laceration and prolapse repairs, process calves, and perform soft-tissue surgeries. I also aided in both small and large animal necropsies to explore a cause of death. While at Flyin' 3 Veterinary Service, I was able to perform neuters, laceration repairs, breeding soundness exams, hoof trims, palpate cows and helped in a dental.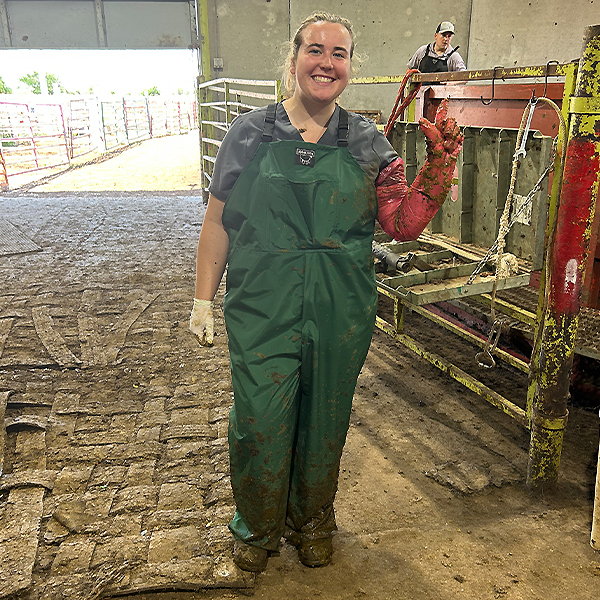 One of the neat things I was able to do at both practices was utilize the skills and knowledge I gained throughout my clinical and professional skills course. I was able to do many cytology tests, blood smears, perform physical examinations of multiple species, suture wounds, draw blood, palpate, assess radiographs, give injections, and perform necropsies. I was also able to reason through cases with the doctors, formulate treatment plans, narrow diagnoses, and gather complete patient histories.
I cannot express how appreciative I am to the doctors at both veterinary practices for believing in me and sharing their expertise. I found this summer to be both refreshing and rewarding. These two experiences have motivated me for the upcoming school year and has made me grateful to be in the position I am in. I feel as though this summer has enlivened a sense of purpose in my drive to be a veterinarian.
In my opinion, getting to see different veterinary practices helps you formulate your idea of what type of veterinary medicine you want to practice. This summer I was very fortunate to pursue my passion in mixed animal practice and I will take the things I learned at both practices and safeguard them in my toolbox. One day, it is my hope to join a clinic like Solomon Valley Veterinary Hospital or Flyin' 3 Veterinary Service in rural Texas to practice mixed animal medicine.